Featured Editorials Home Slider
Jets Fans Wondering Which Cro Will Show in '15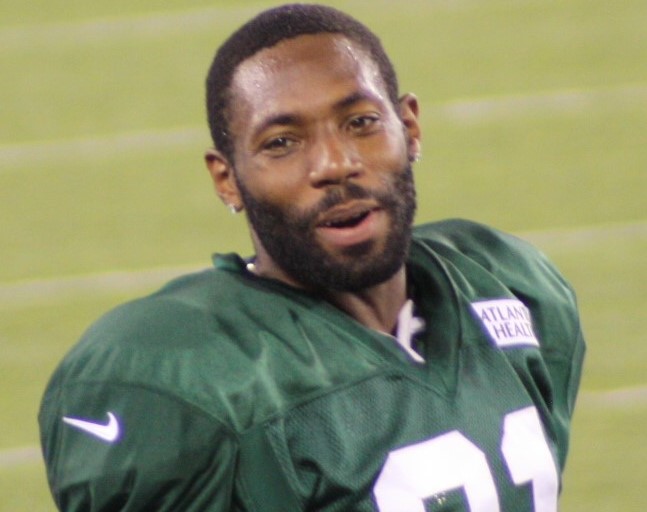 By Glenn Naughton
Quite possibly the biggest highlight from this past weekend's Green & White practice at MetLife Stadium was a long touchdown strike from third-year quarterback Geno Smith to wide receiver Brandon Marshall who was brought in to boost the Jets passing attack.
It was 35-yard pass, right on target, that Smith lofted high in the air for the 6′ 4" Marshall, who joined the team earlier this off-season in a deal with the Chicago Bears along with a seventh-round draft selection in exchange for a fifth-round choice.
The long TD was a good sign for Smith and Marshall as the two continue to build chemistry, but it was the cornerback on the coverage, Antonio Cromartie, who may have raised some eyebrows despite the fact that a legitimate case could have been made for a push-off by Marshall to get separation.
Cromartie is embarking on his second tour-of-duty with the Jets after a one-year hiatus in Arizona where his coordinator was of course, current Jets head coach Todd Bowles, and while we're still just in the early stages of training camp, his performance has been hot-and-cold at best.
Reports from multiple media outlets list Cromartie on a seemingly daily basis as a player in the secondary who is being beat deep on an alarmingly consistent basis, but the veteran has also been praised for outstanding defensive plays from time to time.
Based on the results of Cromartie's 2010-2013 seasons, some Jets fans may not be all that surprised at the wide-ranging results thus far, but they are left wondering which version of the All-Pro will show up in 2015.
Former Jets general manager Mike Tannenbaum made a deal for the dynamic defender to pair with Darrelle Revis after watching Peyton Manning have his way with the likes of Lito Sheepard, Donald Strickland, Drew Coleman and Dwight Lowery in the AFC Championship game to close out the Jets 2009 season.
Revis and Cromartie would wind up being a key cog to another deep playoff run that saw the Jets advance to the AFC Championship game again in 2010, followed by a disappointing 8-8 finish in 2011.
Beyond that, the pair that had formed what was arguably the league's top cornerback duo would spend little time on the field together as Revis' 2012 season ended prematurely when he suffered a torn ACL in week 2.
Cromartie stepped up in Revis' absence and turned in his best performance as a Jet, resulting in his being voted the team's MVP.
Things wouldn't go nearly so well for Cromartie in 2013 as Revis was shipped off to Tampa Bay by former GM John Idzik who then drafted Alabama cornerback Dee Milliner to play opposite Cromartie.  The results were disastrous.
Milliner was benched for poor performance several occasions and Cromartie had his worst season in New York, earning just two overall positive grades from PFF.com.  The corner also graded out as the second-worst pass coverage cornerback in the NFL, finishing ahead of only Brice McCain of the Houston Texans.
Later, it was learned that Cromartie had played a good portion of the season with a hip injury and in 2014 he saw somewhat of a resurgence, earning an overall average grade for the season while compiling seven positive grades throughout the season.
Clearly it wasn't just PFF that saw an improved Cromartie as Mike Maccagnan and the Jets inked him to a 4-year $32 million contract, which in reality is a one-year $8 million deal as no money is guaranteed beyond 2015.
With the start of the Jets pre-season just a few days away, Jets fans will get their first look at the 2015 version of Cromartie that both he and the Jets faithful will hope is a lot closer to what they got just three seasons ago, and that there's no reason to get too concerned over a few hiccups in practice.
Videos
NY Jets Phase 3 OTAs, Expectations and a Minor Calf Tweak with Greg Renoff