Breaking: Rex Ryan Tries to StIK it to Jets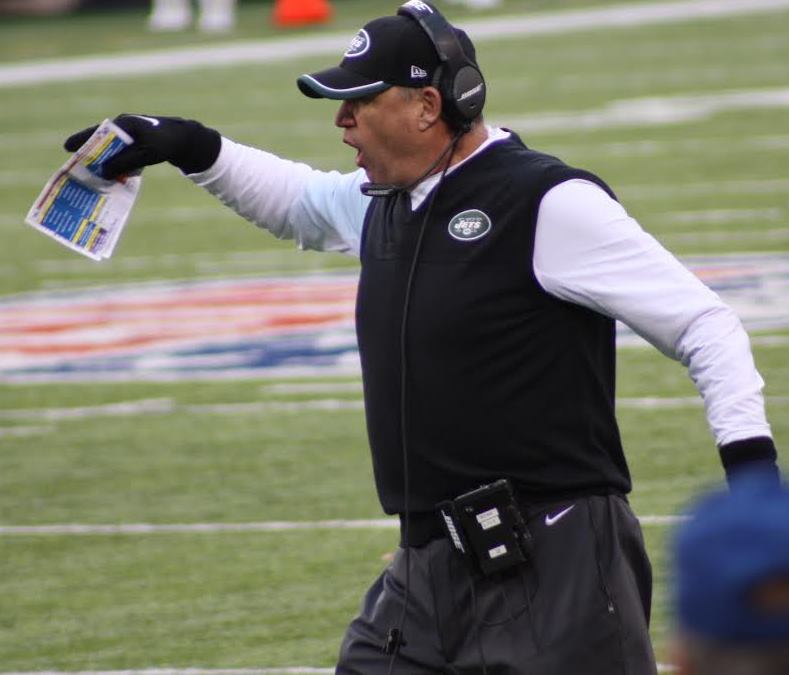 By Glenn Naughton
As if the pending 2015 match-ups between the Buffalo Bills and New York Jets needed any more drama, Jets fans can now look forward to seeing their polarizing former head coach with the intensity dialled up a notch or two. the bombastic Rex Ryan and the Bills made a controversial move that will fan the flames on the renewed rivalry even further.
Just one day after the Jets released promising young pass-rusher IK Enemkpali for breaking the jaw of teammate and starting quarterback Geno Smith over a financial dispute, news broke that he will in fact be re-joining Ryan in Buffalo for the 2015 season.
During his introductory press conference with the Bills, the brash head coach was clear in his intentions, saying that he wanted to go to Buffalo to build a bully, and he's doing just that…literally.
With Enemkpali's addition, Ryan now has two players on his roster who were involved in highly publicized physical confrontations within the locker room as former Jets receiver Percy Harvin reportedly assaulted a teammate prior to the Super Bowl two seasons ago as a member of the Seattle Seahawks.
In addition to Enemkpali and Harvin, Ryan also has offensive lineman Richie Incognito who was, at one point, public enemy number one for his involvement in the alleged bullying of former teammate Jonathan Martin.
Due to limited playing time as a rookie in 2014, some Jets fans are sure to write the move off as Ryan scooping up some Jets leftovers.  However, for those who paid attention to Enemkpali in his limited action, along with his performance early on in camp this season there will be some disappointment in losing IK Enemkpali the player to a division rival.  Losing IK Enemkpali the person could be a different story altogether.
Ryan, seeing an opportunity to not only add a promising young pass-rusher, but one who just ko'd his former quarterback was too much to resist.
Given the Bills' stacked front-seven, Enemkpali would likely be a situational player.  Should he make the final roster, is there any doubt that he'll see plenty of action when the Jets face the Bills in weeks ten and seventeen when Ryan gives him a shot to get after Geno Smith on the field instead of in the locker room.
Jets fans are sounding off on IK signing with the Buffalo Bills in our forums.
Videos
Aaron Rodgers Injury Fallout & Jets/Bills Recap