Home Slider Injury Report NY Jets Training Camp
Bowles: No Update on Geno's Return; Other Injury Updates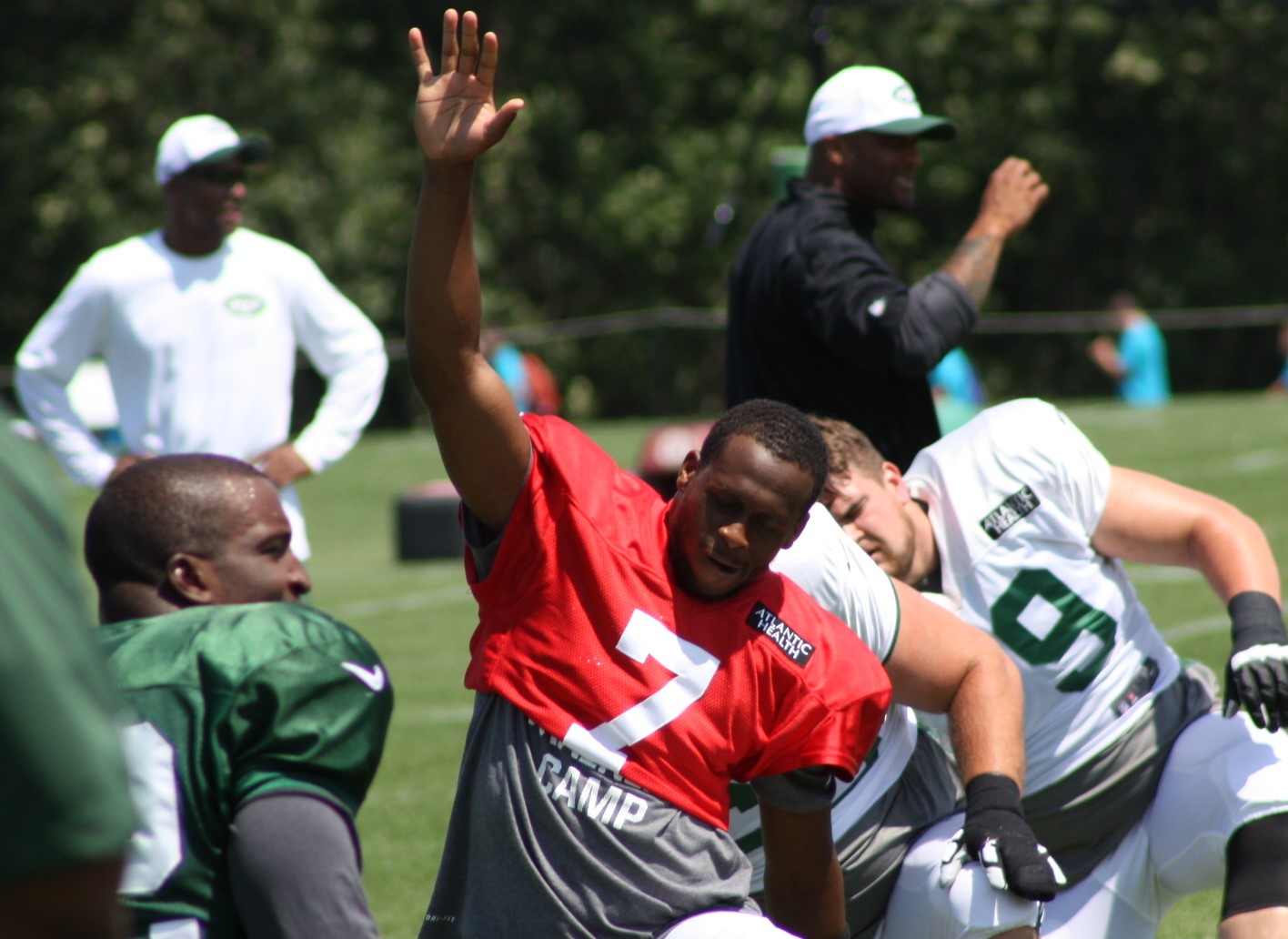 Coach Bowles gave a few few updates on injured players today. He didn't provide an update on Geno Smith's timeline. There has been speculation that Geno Smith could return as soon as week one, but that has not been confirmed. Here is what Todd Bowles had to say about the injured NY Jet players:
On the injuries…
(Erin) Henderson has a knee sprain, probably be out about a week. (Jace) Amaro has a shoulder sprain, so he wasn't out here today, still evaluating him, but right now, count him out. And obviously Mo's (Muhammad Wilkerson) is day-to-day, we'll see when he feels better. Everybody else I think is pretty much status quo.
On whether Amaro is week-to-week or day-to-day…
I would say week-to-week, I wouldn't say day-to-day.
On if Amaro's injury will carry into the regular season…
I think it will be confined to camp, hopefully. As far as I know, we haven't had a status for week one yet.
On whether Amaro had an MRI…
Yes.
On what Amaro's injury is…
Sprained shoulder.
On whether he will be cautious with Wilkerson on Friday…
Yeah, if he gets to that I will always err on the side of caution with him because you don't want him to have a setback, especially live in a game. So we can afford to right now, we don't want him to have a setback. At some point in time he'll need to get better and start getting some reps in. Right now, it's day-to-day and we're going to err on the side of caution.
On when Stevan Ridley will be off the PUP…
I still have no update on that. He's day-to-day. He could be taken off next week, he could be taken off in the next couple of weeks depending on his cutting and everything else we still have to play that out.
On whether he has seen improvement in Ridley…
I've seen him run full speed, straight ahead. I've seen him make some cuts, but I haven't seen him make some cuts full speed when he can't think about it, when a there's a lineman there and he's got to jump cut and go to the other side. I haven't seen that part yet.
On if he has any update of a post-surgery timeline on Smith…
Not yet, no.
On the condition of Marcus Gilchrist…
He's fine. Got the wind knocked out of him. Poor acting job (joking). He's fine.
On Damon Harrison….
He's tough, he works at it. He's our nose tackle. He's dealing with little nicks here and there, but he's one of our best players so we expect him to perform well.
Videos
Was Boomer Right to Blast Becton? Former Jets QB Sounds off Against Jets Tackle.