Home Slider NY Jets Training Camp
Sunday Notes: Geno's Jaw, Jets Preseason Debut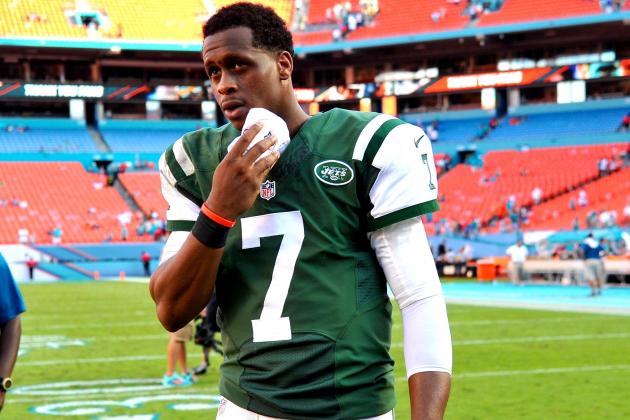 A Quick Recap of This Week in JetNation:
Geno Returning Soon?
Good news for @nyjets fans. GENO SMITH plate/screws, jaw not wired shut. Anticipate less than 6-10 wks. Week 1likely. http://t.co/5dVIJdzFfx

— David J. Chao, MD (@ProFootballDoc) August 14, 2015
Tuesday morning former Jets linebacker IK Enemkpali "sucker punched" Geno Smith in the locker room fracturing his jaw in two separate places. According to David Chao, an orthopedic surgeon that focuses on athletes, Geno's recovery time could be significantly shorter than originally anticipated. After the incident, the prognosis was a 6 to 10 week recovery time, but Chao believes Smith could be ready for action by week one of the regular season. It was thought that Smith would need to have his jaw wired shut, but he ended up having a plate and screws inserted instead making the timeline for recovery shorter. Smith was seen at the Jets' facility Sunday morning with trainers and medical staff.
Todd Bowles may have already turned the page on the Geno saga, even if he's healthy by week one. Bowles has made it clear that if Ryan Fitzpatrick is playing well, he won't hand the starting spot back to Geno. "If the other guy's playing well, and the boat's going right and there are no waves and everything and we're 4-, 5-, 6-, 7-0, you're not coming back to start." Bowles' quote obviously implies that Smith wouldn't be eligible to return until week four, but would Bowles still feel that way if he was cleared to play by week one?
Jets' Starting Defense Struggles in Preseason Debut
Many Jets fans were anticipating the debut of reunited cornerback tandem Darrelle Revis and Antonio Cromartie, even though it was only in preseason action. Unfortunately, the Jets' starting secondary was torched giving up multiple big gainers. The two main culprits were Antonio Cromartie and Calvin Pryor blowing coverage and missing tackles. Marcus Gilchrist also missed a tackle and committed a penalty on Ameer Abdullah's 41-yard rush. The run defense wasn't much better getting burned on multiple rushing attempts, and missing key tackles.
Jets fans can take solace in the fact that it is only preseason, and Todd Bowles was using a vanilla defensive scheme running mostly zone defense. Bowles emphasized the missed tackles saying "I thought our tackling was extremely sloppy… We've practiced it. We're going to practice it a lot more." The game also came on the heels of the Smith-Enemkpali fiasco, possibly adding a little more pressure. The defense will look to rebound week two against the Falcons at home.
While the starting defense struggled, the starting offense had more production. Ryan Fitzpatrick only had one drive, but looked to be in command of the offense. Fitzpatrick went 2-3 for 16 yards on a 10 play drive, the drive would have continued if it wasn't for a drop by Jeff Cumberland inside the 10 yard line. Nick Folk ended the drive with three points. The running game looked solid as well with nice gains by both Chris Ivory and Bilal Powell. The starting offense only saw one drive, then sat out the rest of the game. Bryce Petty was in for the remainder of the game, failing to put together a scoring drive.
Even though Fitzpatrick was anointed starter less than a week ago, he looked to have a decent rapport with the wide receivers. Throughout training camp Fitzpatrick was working exclusively with the backups, and will have to continue to develop chemistry with the starting offense.
While the game was mostly disappointing for the Jets, there were a few players who made a good impression against the Lions. Players who stood out include: Walter Powell, Bilal Powell, Trevor Reilly, Joe Mays, Keon Lyn, and Durrell Eskridge. The play of the day for the Jets had to be Walter Powell's 48-yard kick return, setting up the Jets' lone scoring drive. Marcus Williams' interception was in the running, but it came after he gave up multiple completions on the same drive.
Other Notes
The Jets are still getting bitten by the so called "injury bug," Jace Amaro and Erin Henderson both went down against the Lions. Erin Henderson has a sprained MCL and is day-to-day, Amaro has a shoulder injury and is week-to-week. As of Sunday's practice: Muhammad Wilkerson, Chris Owusu, Devin Smith, Dee Milliner, Erin Henderson, Stevan Ridley, Jace Amaro, Steve Maneri, and of course Geno Smith weren't participating. Calvin Pryor didn't participate due to a death in the family, and Bowles mentioned Pryor would be out for "quite a few days." Marcus Gilchrist, Antonio Cromartie, and Brandon Marshall all left the field at some point during Sunday's practice, only Gilchrist and Cromartie returned. According to Bowles, Marshall's injury wasn't serious.
The Jets brought in quarterback Matt Flynn for a physical, but no deal is imminent. With the only viable back up being Bryce Petty, the Jets will likely bring in a veteran arm for the remainder of the preseason at some point. Other notable names in the free agent market include: Mike Vick, Rex Grossman, Tyler Thigpen, Jordan Palmer, Brady Quinn, and Jason Campbell. The Jets have already spoken to Vick, and both sides agreed a reunion wasn't in their best interests.
After the incident with IK Enemkpali and Geno Smith the Jets promptly released Enemkpali and signed free agent cornerback Javier Arenas. Arenas is a journeyman cornerback who could add some depth to a secondary that has taken some hits. The Jets have also been trying Arenas out at kick/punt returner in practice. Arenas could make an appearance at kick returner during the Jets next preseason game against the Falcons.
Former Jets head coach Rex Ryan pulled another brash move by picking up IK Enemkpali after he was released. Rex Ryan said Enemkpali was a "great teammate" while he was the head coach of the Jets, and stressed that Enemkpali will be on a tight leash. Picking up Enemkpali after he broke Geno's jaw was a classic Rex Ryan move. Ryan will likely try to get as much information as he can out of Enemkpali, while also taking joy in "sticking it" to his former team. Enemkpali struggled during his debut as a Bill, getting "pancaked" by a Panthers lineman.
During Sunday's practice the Jets had two skirmishes on the field, the first one was between Breno Giacomini and Quinton Coples while the second was between Dalton Freeman and Jason Babin. The second was the worse of the two, although no punches were thrown. Bowles wasn't very pleased, and made the entire team run "gassers" or sprints. Bowles also mentioned both Freeman and Babin could be fined. The Jets will need to retain that intensity to have a good showing in their upcoming game against the Falcons.
Videos
Aaron Rodgers Injury Fallout & Jets/Bills Recap