Featured Editorials Home Slider
Undrafted Barnes Impressive in Jets Debut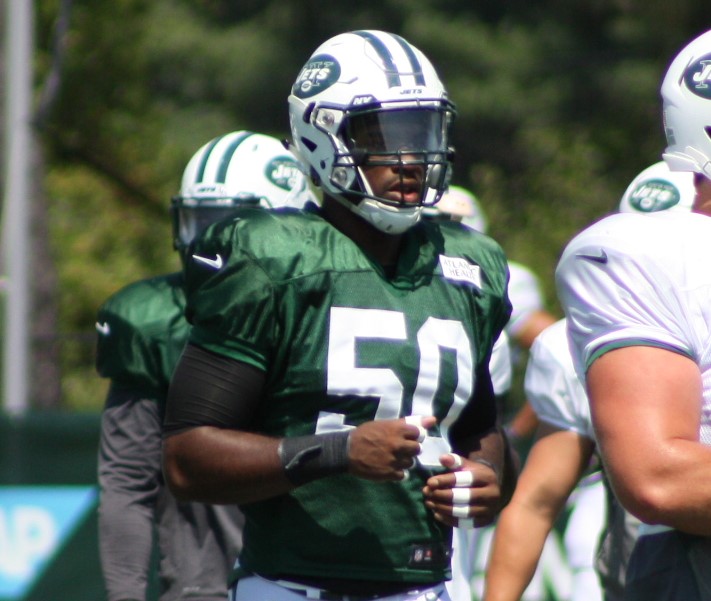 By Glenn Naughton
There weren't many bright spots in the Jets pre-season opening 23-3 loss to the Detroit Lions in which the Jets starting defense allowed two long scoring drives and no offensive personnel group managed to get the ball in the end zone for Gang Green.
Even still, the game wasn't without any strong individual efforts for the Jets as undrafted free agent Deion Barnes had a solid showing in his pro debut.
A Penn State product, Barnes checks in at 6′ 4", 255 lbs and was scooped up by the Jets immediately after the draft.
During his time at Penn State, the Philadelphia native earned some impressive accolades following  a freshman year in which he posted six sacks and 10 tackles for loss.  That production would slip the following season (2 sacks/4 TFL) before a junior-year resurgence.
Barnes matched his first-year total of six sacks while racking up another 12.5 tackles for loss, but it wasn't enough to get him drafted.
Against the Lions however, Barnes got himself off to a solid start.  Lining up on both the left and right sides of the formation, sometimes with his hand in the dirt and upright at others.
Barnes held up well at the point of attack and appeared to do a good job of tracking the ball-carrier while engaged with a blocker.
We saw several plays in which he was able to set the edge before disengaging and making a tackle, along with a few instances in which his pursuit in traffic was solid.
Barnes was credited with three tackles in the limited action he saw, as well as a hit on the quarterback on a play that saw him come across the line unblocked, missing the sack by a split second.
A quick glance at PFF.com's player ratings for the contest confirmed what we saw on film.  Barnes tied veteran Leger Douzable for the top-graded Jets player in the front-seven.
It's not a name we've heard much of throughout camp, but it was an impressive debut for the rookie defender who will look to build on an impressive showing when the Jets take on the Atlanta Falcons on Friday night.
Videos
Aaron Rodgers Injury Fallout & Jets/Bills Recap