Home Slider NY Jets Training Camp
8/16 New York Jets Camp Notes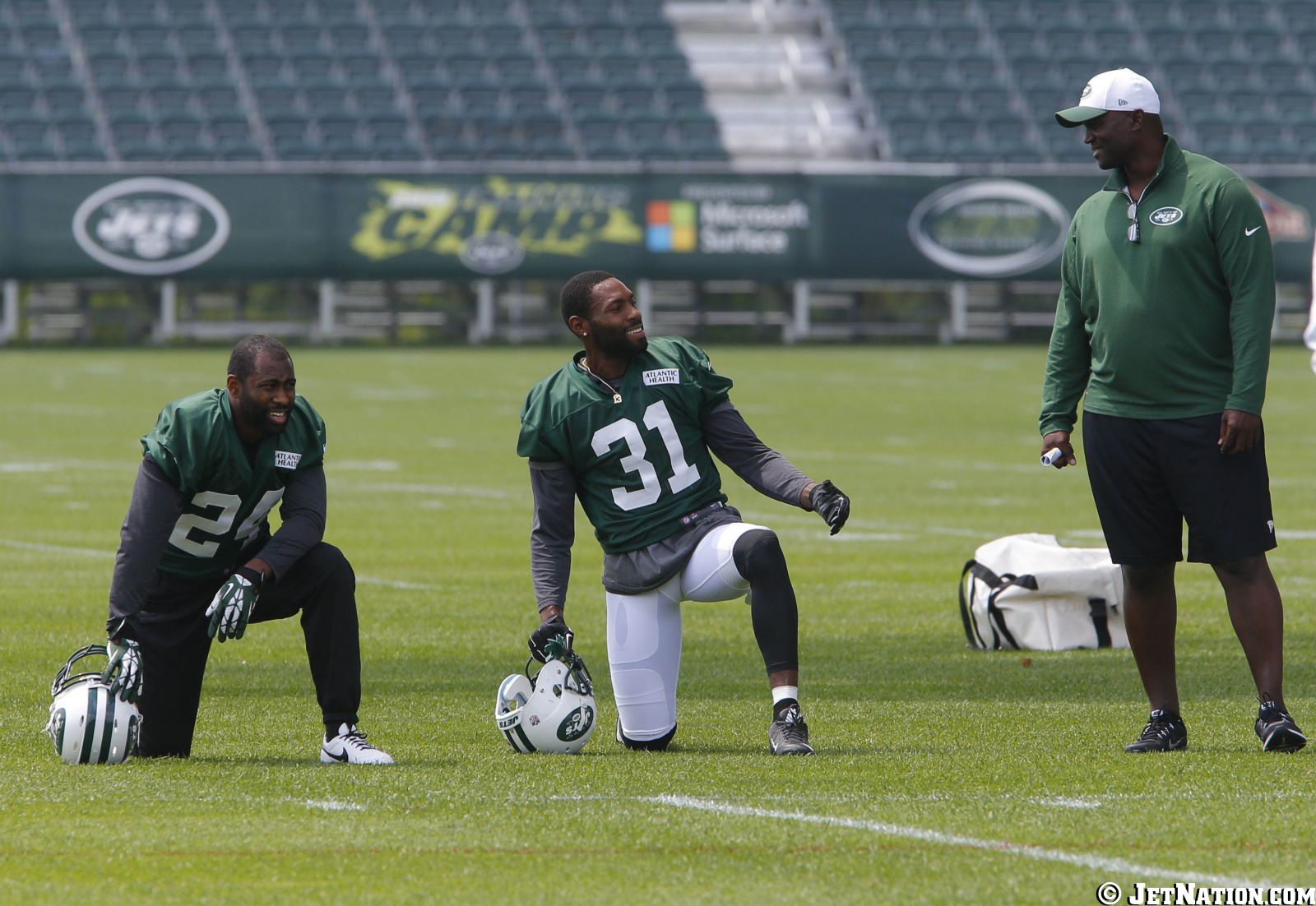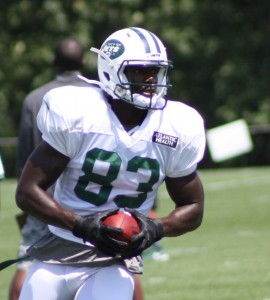 By Glenn Naughton
Todd Bowles' no-nonsense leadership style was on full display once again at Florham Park yesterday when, after two separate altercations, he lined up his entire roster to run five gassers mid-practice.
Team pays the price…sprints for everyone.

— JetNation.com (@JetNation) August 16, 2015
The latter (and more serious) of the two took place between back-up center Dalton Freeman and outside linebacker Jason Babin.  In terms of what went on before and after Todd Bowles handed out the punishment, here are a few notes.
– Trevor Reilly continues to impress at OLB, racking up some pressures while also getting in on some tackles behind or at the line of scrimmage.
– Newcomer Javier Arenas has been getting work returning punts and kicks.  A wise move by the Jets as Arenas racked up 7 punt returns for touchdowns during his time at Alabama.
– A tale of two camps came together on one play when second-year receiver Quincy Enunwa beat Antonio Cromartie despite what looked to be good coverage from the cornerback.  Cromartie has struggled throughout camp but head coach Todd Bowles said he's not concerned about his slow start, while Enunwa has found a way to get mentioned on a seemingly daily basis.
Enunwa beats Cro despite excellent coverage.

— JetNation.com (@JetNation) August 16, 2015
– Once again, Willie Colon running with the 1's.  The battle at RG definitely appears to be tilted in his favor at this point.
– It's a name we don't hear often, but Julian Howsare showed decent hands for a converted linebacker who is getting a look at fullback.  Howsare, out of Clarion University also had a reception in the pre-season opener against the Lions to go along with an impressive tackle on special teams.
– Longshot rookie tight end Wes Saxton had the catch of the day, a ball thrown behind him down the  middle of the field on which he spun around and pulled it in with one hand, drew some "ooh's" from the crowd.
– The hot weather was clearly getting to some players.  Damon "Snacks" Harrison wasn't pleased when he was pulled out for a breather and probably did more work on the sidelines than he would have on the field.  Harrison went on a 10-15 minute tirade, screaming at the offense and encouraging his fellow-linemen to make plays.  All in attendance took notice…lots of laughs.
– With Brandon Marshall lined up on Revis , a fan shouted some words of encouragement, "shut him down Revis" at which point Marshall, already in his stance, glanced in to the crowd and said "not gonna' happen".  As it turned out, it did happen, but not without a little excessive contact from Revis.  With his left hand grabbing Marshall's left shoulder and shoving him,  Revis batted the ball down as it got to  Marshall who had a few words for the officials who didn't throw a flag.
Revis breaks up pass to Marshall…Marshall barking at officials…right to do so…Revis had good hold on his jersey.

— JetNation.com (@JetNation) August 16, 2015
– Bilal Powell went the distance on a screen pass from Ryan Fitzpatrick, showing some nifty moves as he darted between defenders on his way to the end zone.
– Jeremy Kerley had himself a good practice, giving defenders fits in 1-on-1 drills and then had a one-handed grab during the team session.
– Jake Heaps showed better arm strength that we've seen from him thus far but the accuracy wasn't there yet as he overthrew a wide open TJ Graham down the left sideline.
– Rookie quarterback Bryce Petty also overthrew Graham on a long ball, but I suppose the silver lining is that if TJ Graham keeps getting behind defenses, somebody is going to get him the ball eventually.
– We did see some hurry-up offense late in practice and while Fitzpatrick looked solid in his session, practice came to an end when Petty was intercepted by Buster Skrine when it was his turn to go without a huddle.  Skrine's play didn't just finish practice, but may have been the best defensive play of the practice, hauling it in while leaping/twisting.
Want to discuss training camp and the upcoming 2015 season?  Log on to our forums and share your thoughts.
Videos
Aaron Rodgers Injury Fallout & Jets/Bills Recap