Jets cut ties with Schum, Claim TE Lynch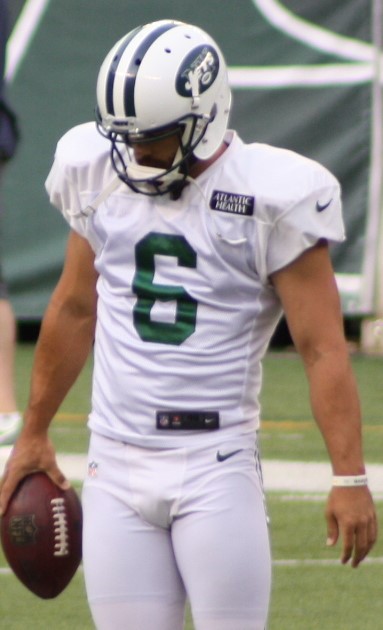 By Glenn Naughton
Earlier today, the Jets released back-up punter Jacob Schum and have since claimed tight end Arthur Lynch.
Lynch, a 6′ 4" 254 lb Georgia product was drafted by the Miami Dolphins in the 5th round of the 2014 draft after racking up 56 receptions for 907 yards and 8 touchdowns in four seasons at Georgia.
Lynch's scouting report per NFL.com reads:
OVERVIEW
Highly recruited TE/DE who migrated from Massachusetts. As a true freshman in 2009, appeared in 11 games (one start) and recorded two catches for 17 yards (8.5-yard average) and zero touchdowns. Was redshirted in '10 in order to preserve a year of eligibility. Was used exclusively as a blocker in '11 when he played all 14 games (one start). Started 13-of-14 games in '12 and contributed 24-431-3 (18.0). Started 11-of-12 games in '13 and caught 30-459-5 (15.3). Bruised his ribs against Florida and sat out against Appalachian State. Team captain.
ANALYSIS
STRENGTHS
Good size. Functional short-to-intermediate target. Can adjust to throws and extend to catch. Strong and competitive after the catch. Willing to engage and compete as an in-line blocker. Has special-teams experience. Hardworking and football smart. Tough and durable.
WEAKNESSES
Needs to develop more finishing strength — not yet ready to match physically 1-on-1 with NFL defensive ends. Can improve his base and leverage. Average quickness off the line. Pedestrian foot speed. Tight hips. Unsudden — cannot separate. Shaky hands (too many drops). Needs to improve his route running. Straight-linish after the catch. Thinks he's better than he is. Will be a 24-year-old rookie.
DRAFT PROJECTION
Round 7-Priority free agent
BOTTOM LINE
Big, competitive, inconsistent tight end lacking special traits for the NFL game. Will have to dedicate himself as a blocker to have a chance to stick as a No. 3
Lynch becomes the sixth TE on the 90-man roster.
Videos
Aaron Rodgers Injury Fallout & Jets/Bills Recap