Featured Editorials Home Slider
Hello Leonard Williams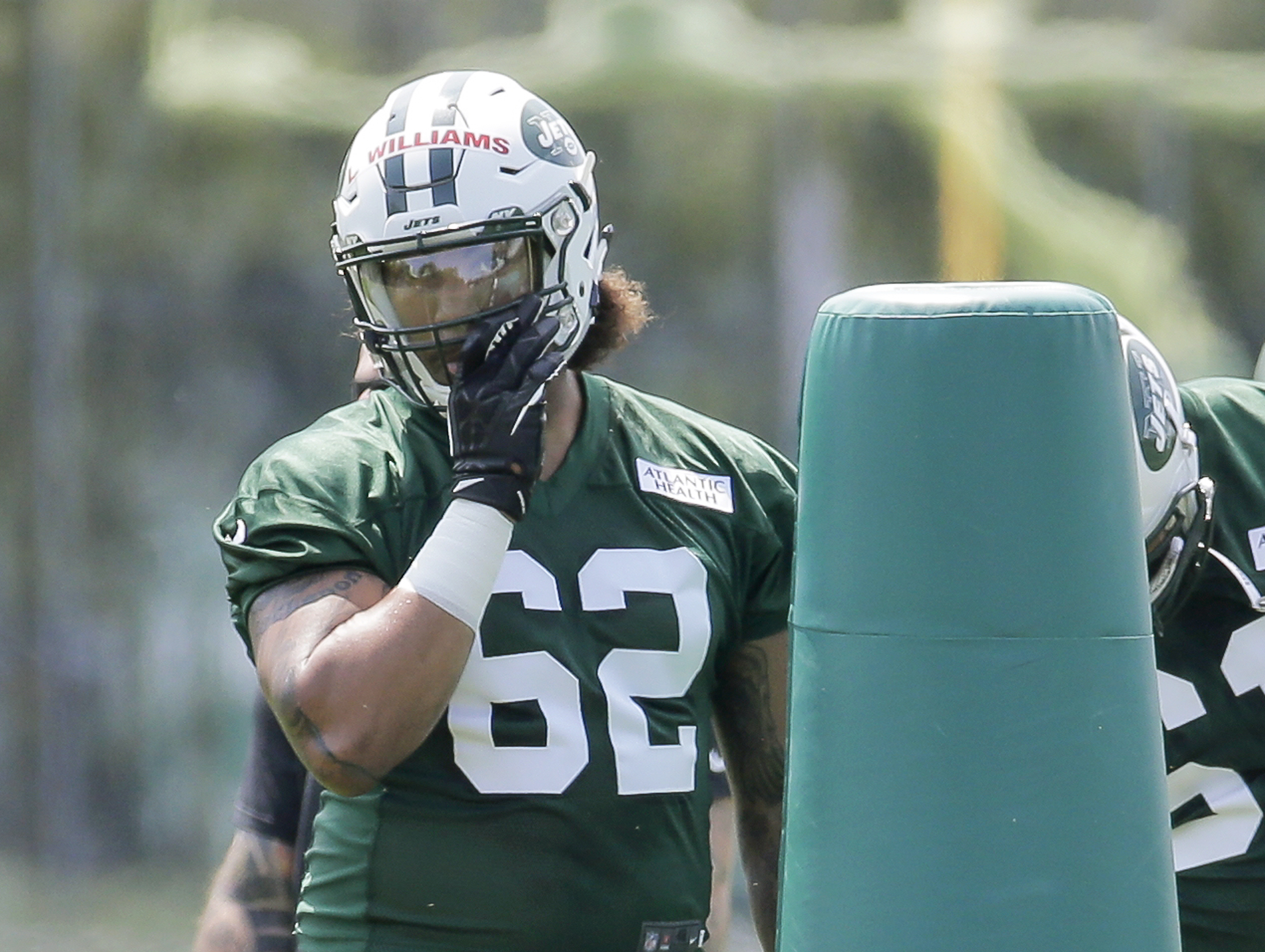 When the Jets drafted Leonard Williams in the 1st round it was a surprise for a few reasons. The first one was that he wasn't supposed to be available when the Jets were on the clock. It seemed like there were a million different scenarios but each one had Williams not being available for the Jets. The 2nd surprise to some was that GM Mike Maccagnan stuck to his draft board. It is easy to say that you will take the best player available. But when you are a new GM and you already have a defensive line with Muhammad Wilkerson, Damon Harrison, Sheldon Richardson, some quality depth and even Quinton Coples who can play end depending on the alignment, it would be easy to skip that position. Especially when the Jets have so many other needs. Mike Maccagnan stayed true to his word and stayed with his draft board.
Fast forward to last night and you see why Maccagnan couldn't pass on Williams. Willie Colon is a veteran offensive lineman that sees Williams in practice every day. He says his upside is huge.
He's big. He's big bodied. He's so young, he doesn't realize the potential he actually has. He has that Richard Seymour-type body, that prototype (body), and sky's the limit for the kid.
Williams had a safety that changed the momentum of the game. Here are his thoughts on the play.
No. I know preseason doesn't really count and also it was a wide open sack, I think it was a missed assignment on their part, but it still felt great being out there and making plays. That's one thing last week, I felt like I wasn't in enough to make plays and stuff like that, so this week really helped me a lot because I was able to make a few tackles and plays.

It felt great finally hitting the quarterback. We practice all the time and when we get to the quarterback we have to ease up, so it finally feels great being able to not stop.

It was weird. I kind of thought the guard was pulling or something so when I first got past the line, I looked for the running back thinking the ball was going to go that way, but then I saw the quarterback pull it up. It surprised me, but I'm going to take it.
Williams also shared another sack with Jason Babin.
That was great because it was a great play call as well. We ran it (was) excellent. The MIKE came and picked the guard for me so I looped around and it came wide open.
Early in the season the Jets will be without Geno Smith, so there will be more pressure on the defense. Sheldon Richardon is suspended for the first four games of the season, so that will put more pressure on the defensive line. Last night Leonard Williams looked like he was up to the task. When you add in Muhammad Wilkerson who is coming back from his hamstring injury and the Jets hope to control the line of scrimmage and keep the team in games. This is important, especially early in the season, while the team trys to learn Chan Gailey's new offensive system.
After last night it seems like Leonard Williams will be able to make an immediate impact.
Videos
Aaron Rodgers Injury Fallout & Jets/Bills Recap