Featured Editorials Home Slider
At Least for one Night, the Kids Were Alright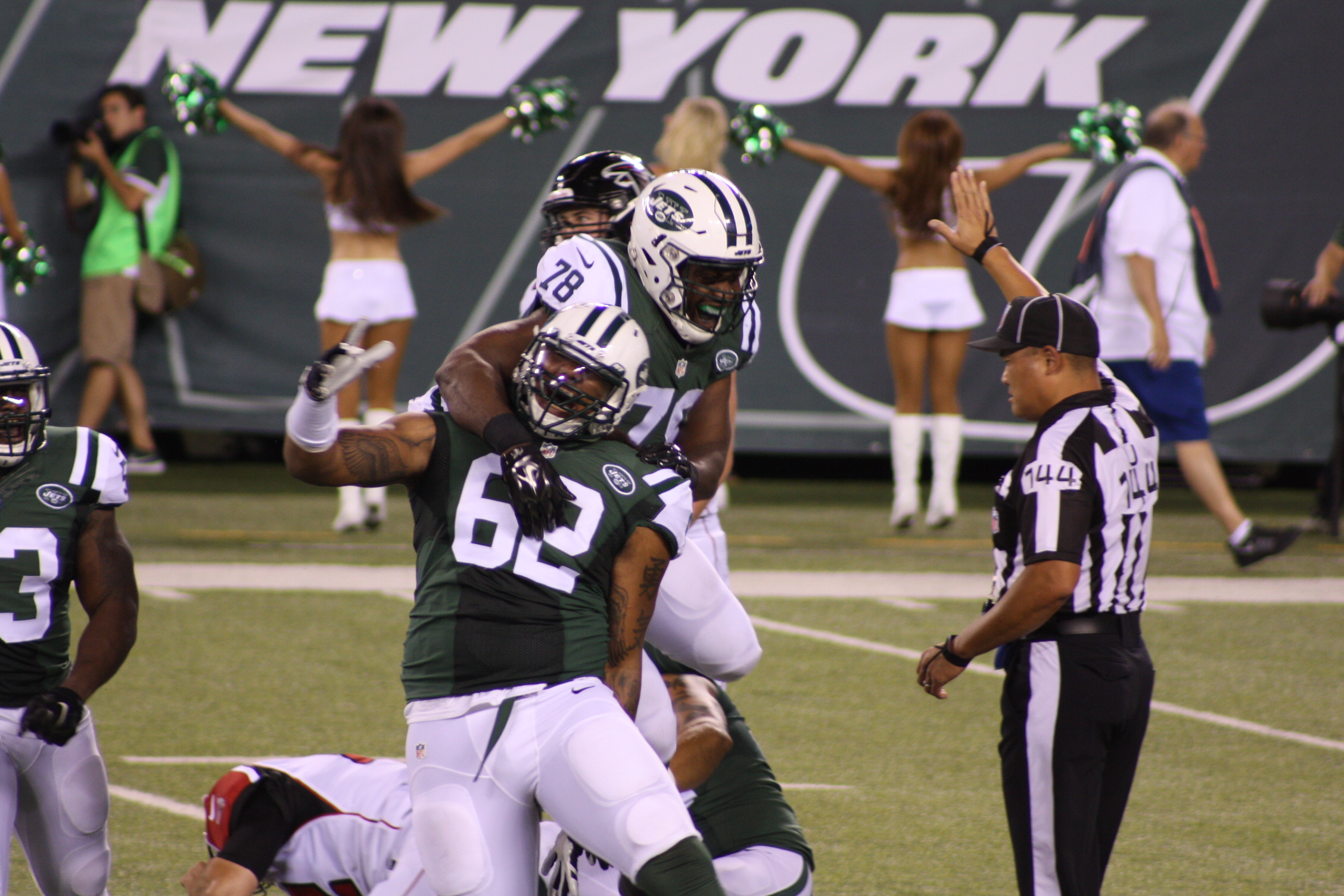 By Glenn Naughton
Yes, it was a largely meaningless preseason game in which the Jets starters played just under one half of football, but given Gang Green's long history of draft flops and inept rookie classes, can anyone blame the Jets faithful for exhibiting even the slightest bit of optimism over the performance of several key members of this season's group against the Falcons on Friday night?
It started at the top with their first-round draft choice, defensive lineman Leonard Williams, chosen sixth overall, when picked up a sack and a half, one of which went for a safety.
In fairness, both sacks saw the big man going virtually untouched against Falcons reserves which shouldn't be ignored, but it was more production in just two quarters of play than what the Jets got out former sixth-overall choice Vernon Gholston in three seasons of pre-season and regular season football.
While it's the sacks that grab the headlines, Williams was also very impressive in holding up against the run, coming away with a team-high five tackles according to NFL.com.
Then of course there was quarterback Bryce Petty,  displaying greater poise in the pocket than he had just a week ago in his pro debut against the Detroit Lions.
Again, while facing back-ups, Petty completed 12 of 19 passes for 168 yards, including a thirteen yard scoring strike to off-season addition Devier Posey.
While Petty's performance should be taken in stride, the improvement he showed over last week's outing was a step in the right direction for the Baylor product.
In addition to Williams and Petty, on Atlata's first possession of the second-half, rookie linebacker Lorenzo Mauldin was credited with a hit on quarterback Sean Renfree when the QB dumped the ball off to running back Jerome Smith who was on his knees. but the heavy pressure from Mauldin forced the incomplete pass.
It was one of at least two instances in which Mauldin came "this close" to getting a sack, the other negated by a penalty.  A strong showing for another member of the rookie class who is putting pressure on the veterans ahead of him on the depth chart.
Another member of the Jets 2015 draft class who is apparently moving up the depth chart is guard Jarvis Harrison, who turned in a solid showing against Atlanta which may have helped him leapfrogging Brian Winters.
Wesley Johnson (C) and Jarvis Harrison (RG) getting all the second-team reps over Dalton Freeman and Brian Winters, respectively. #Jets

— dom cosentino (@domcosentino) August 24, 2015
But it wasn't just the rookies who heard their name called during the NFL draft contributing either.
Even though he didn't show up on the stat sheet, for the second consecutive week, undrafted free agent linebacker Deion Barnes held up well against the run in limited action.
While Barnes was on the field for just six run plays, his 22 reps last week put him at 28 snaps against the ground game and has him atop PFF.com's run defense rankings for Jets defenders through two games.  Barnes was a player highlighted by JetNation.com for his stellar play in the preseason opener and could be a player to watch in the coming weeks.
So no matter what the class of '15 turns out to be, Friday night was a nice change of pace for Jets fans.  It was a reason to watch and a reason to smile, a welcome departure from so many failed drafts of the past.
Videos
New York Jets OTA Presser Takeaways, Aaron Rodgers' Impact and Summer Delusion