Ryan Fitz the Big Blueprint as Jets Topple Giants 28-18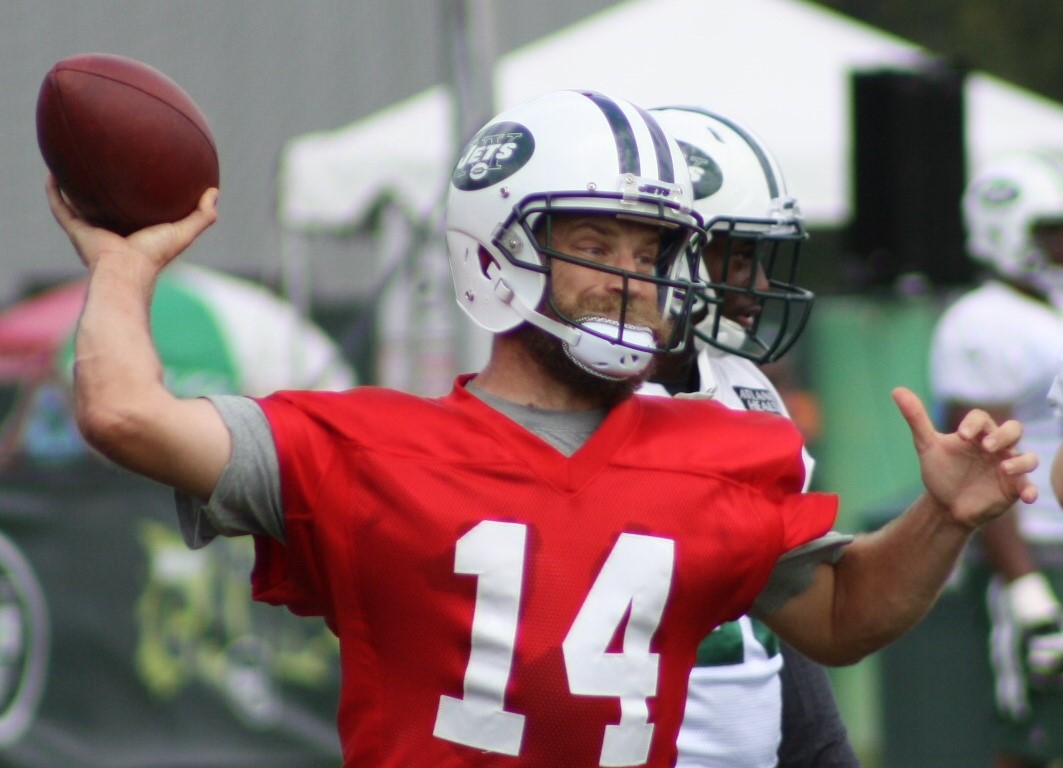 By Glenn Naughton
The Jets couldn't have hoped for anything better.  In their third pre-season game, a dress rehearsal for the real thing in just a couple of weeks, Gang Green got exactly what they'd hope for from their highly touted defense, and more importantly, from veteran starting quarterback Ryan Fitzpatrick.
Fitzpatrick wasn't spectacular, but he was efficient, and for the third consecutive game, didn't turn the ball over, a stark contrast to what the team has become accustomed to over the past several years.  The veteran came out firing in the first quarter, attempting two deep passes in the early going.  Both passes were catchable but neither was completed.
First, on a rollout to his right, Fitzpatrick lofted a pass down that side of the field to a wide open Brandon Marshall.  With the pass underthrown, Marshall had to break off his route to wait on the ball.  The pass was catchable, but Marshall's foot was out of bounds before it arrived, and he couldn't hold on either way as he tried to stretch out-of-bounds.  If Fitzpatrick got more on the throw, Marshall had beaten the coverage for what would have likely been an easy score.
On the very next pass, Fitzpatrick went to the same spot, this time to receiver Shaq Evans who couldn't get his arm free from a Giants defender and unsuccessfully attempted a one-handed catch on a pass that he should have pulled in for a big gain.
Later in the quarter, Fitzpatrick's first touchdown pass of the pre-season came at the 8:11 mark when he dropped a perfect pass in over the Giants defense to wide receiver Eric Decker on a post route for an 18-yard score.
All in all, Fitzpatrick went 9 for 14 with 127 yards and two touchdown passes without a turnover.
The second scoring pass came on a perfectly executed screen play to running back Zac Stacy who hurdled a Giants defender at the goal-line en route to his 24-yard catch and run score, going untouched all the way.
Then of course there was the much talked about Jets defense.  Facing veteran quarterback Eli Manning and phenom Odell Beckham Jr., the Jets held Manning to a 12-16 day with just 91 yards passing, no touchdowns and an interception by Antonio Cromartie that the cornerback returned 59 yards for the touchdown just before the half.
The re-built Jets secondary delivered but that wasn't all.  Their much-heralded defensive line also played well as Giants running backs couldn't get anything going on the ground, tallying just 76 yards on 25 carries.
The somewhat surprising development came in the form of Walt Powell's 54-yard punt return for a touchdown that gave the Jets a score in all three phases of the game, and a little bit of hope at a position that has been largely unproductive in recent years.
While it is of course just the pre-season, GM Mike Maccagnan had to be pleased as he sat and watched his team do exactly what it's built to do.   Stingy defense with an efficient offense pulling out a victory.
That's the blue print, and in two weeks Fitzpatrick and the Jets defense will put on their helmets and get back to work in trying to re-construct what was a very encouraging performance for the team and their fans on a day when it all counts.
Videos
Aaron Rodgers Injury Fallout & Jets/Bills Recap