Featured Editorials Home Slider Injury Report
Injury Updates From Coach Bowles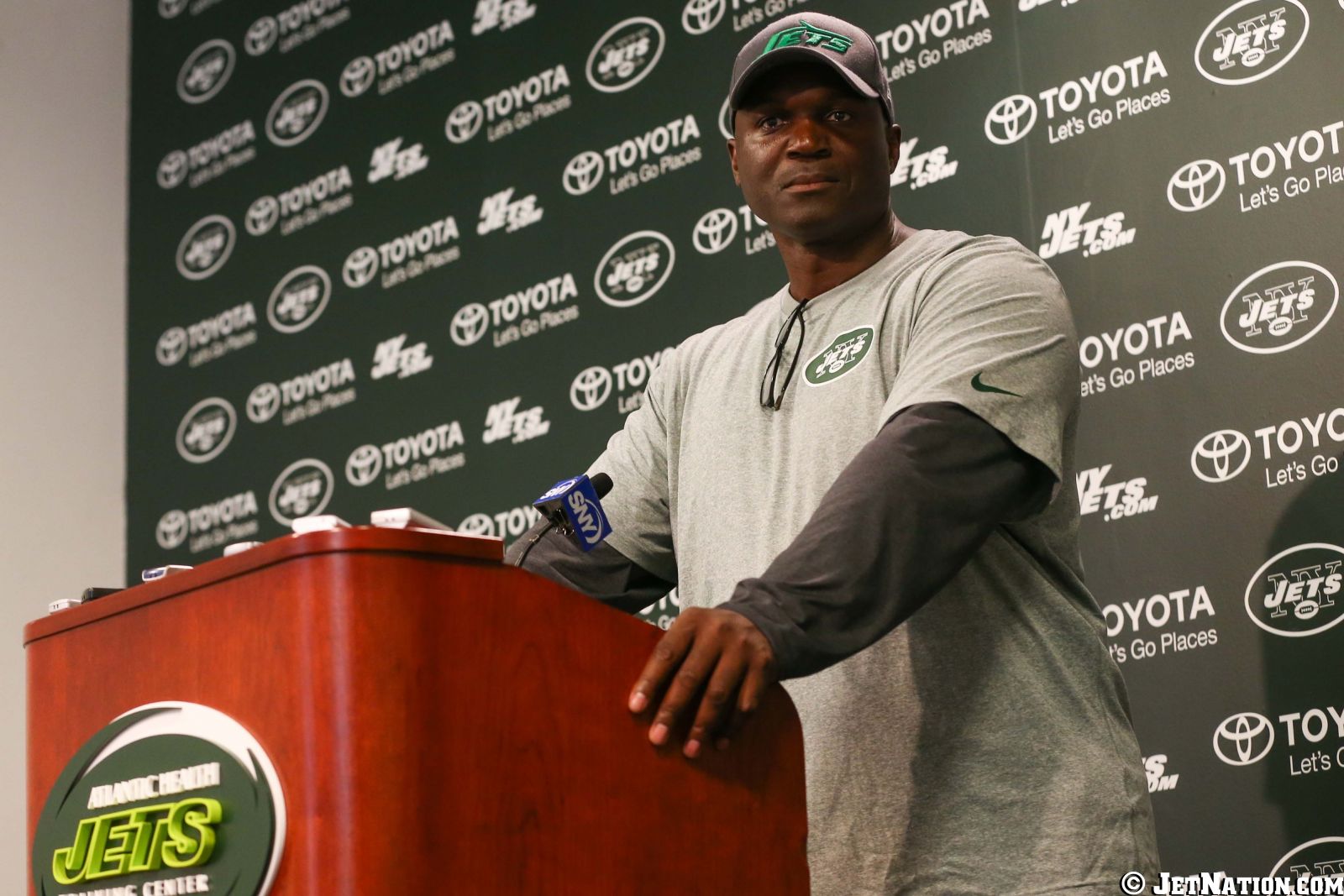 The Jets open the regular season in just under two weeks. The final preseason game is on Thursday against the Eagles, but the starters don't normally play in the last preseason game. Todd Bowles was asked about that today.
I'm leaning towards some, just because we're down quite a few people. We're going to see who's the healthiest and try to at least have them available if something happens to some of the guys out on the field.
So where do the Jets stand injury wise? Todd Bowles gave some updates to the media on Monday.
On who did not participate in practice today…
I held Brandon (Marshall) out, (Eric) Decker didn't practice, Willie (Colon) didn't practice, (Calvin) Pace didn't practice, (James) Carpenter didn't practice. Obviously, Leonard (Williams) didn't practice, (Lorenzo) Mauldin, the same guys that hadn't practiced last week didn't practice. (Durrell) Eskridge did practice, everybody else practiced today.
On if those were rest days for the veterans…
Just sore days, they could play if they had to play. But, we have an extra week, so I'm just keeping most of them out. Decker had a personal issue that I allowed him to go deal with, so he wasn't here.
On if Carpenter has an injury…
Just a sore back, he's fine. No sense in having him practice, so we gave him a rest day.
On how relieved he was regarding Williams' injury and if he believes he will be able to play in Week One…
I was relieved to have it and I'm hopeful for Week One. He says he's starting to feel better by the day. When I see him running, I'll feel a lot better, but right now he's walking pretty good and he's in good spirits, so I'm hopeful.
On if he has any better idea on Mauldin and Jace Amaro as well as other injured players for Week One…
Not yet. I mean, they're jogging, they're not running yet, according to the pain tolerance I guess. We'll see as we go forward next week.
On Jeremy Kerley…
I just talked to him after practice. He's feeling better but he hasn't done anything, so I don't know what that means. He's feeling better, he doesn't have a headache anymore, but he still has to pass some tests.
On if Geno Smith practiced much today…
He threw the ball some. He took some center snaps but nothing full speed or anything particular that he hasn't been doing.
On if he's seen any progress from Devin Smith…
He's jogging around. He's not full speed. I haven't seen any progress.
On if Stevan Ridley could start the season on the Physically Unable to Perform list…
It's possible. It takes as long as it'd take to heal. You want to be better safe than sorry. There's no need to rush him back. When he gets better in the process, then we'll make that decision as we go. We have some quality running backs right now and they're all playing good, so Ridley can take his time and get healthy. Whether we take him off PUP or whether he starts on PUP, he's still going to need some time in pads. He's just not going to come in and you say "Bam, put him out there." He's still going to need some time.
On if Milliner could start the year on short-term IR…
It's possible, if his hand's not healthy.
Videos
NY Jets Phase 3 OTAs, Expectations and a Minor Calf Tweak with Greg Renoff