PSA: Revis Is Back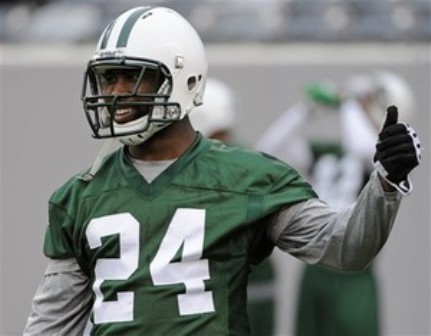 Public Service Announcement: Darrelle Revis is back
Yes, we know that you know. But with the Jets heading into the season opener we just wanted to remind you that Revis is back.
Remember when you were 12 years old and you had that one kid on your little league team that seemed invincible? You couldn't lose when he showed up? Well, prepare to feel that way again when Revis comes out of the tunnel on Sunday.
What does Revis think about facing the Cleveland Browns? Here are his thoughts…
On what he's seen from the Cleveland offense…
A lot of quick throws, a lot of quick gains. A lot of down the field passing as well, especially when (they cross the) 50, they like to take chances. They've got a lot of fast receivers on their team. As a defense, as a secondary, we have to stay on top of their fast receivers.
On preparing for Week One with limited game footage…
You just got to go off of some of the preseason games they played. You start getting into who is the offensive coordinator, and where was he last year. If he was with another team, or maybe you might look if he was offensive coordinator at another team, you might go back and look at their film where he coached at the previous year. That's what we've been trying to do as well just trying to collect as much information as we can on offense and what they're trying to do this season.
On Josh McCown…
Yeah, he's a savvy vet. He's been around a long time. I know Josh very well, he's a great guy. We're looking forward to playing against him. The film we've got, everything that we've got, their information, we're going off of that and just trying to get prepared for this week.
On his goals for the secondary…
It's to win as a team. It's to come out and be 1-0. Hopefully, when it's 4:00 p.m. Sunday, we come out with a victory.
On how the secondary has jelled…
We've been doing that this whole offseason. Now it's time to play and we're excited about this first week. We can't wait to play.
On how the fans can impact the defense…
Our fans are really excited about this year. I think because of the acquisitions we've got this offseason. We're bringing a lot of guys in that are key players to help win this year. We're just looking forward to it. I think the fans are looking forward as well. It's our first game, it's the kickoff of the 2015 season. I think we're as excited as the fans.
Videos
New York Jets OTA Presser Takeaways, Aaron Rodgers' Impact and Summer Delusion