Home Slider Injury Report Jet News
Inactives Report: Smiths Sit Against Browns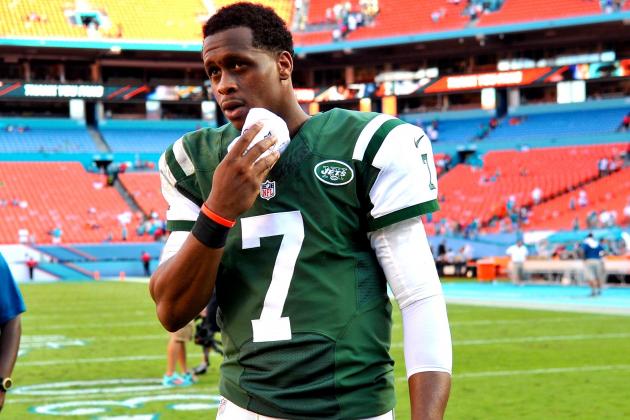 Our inactives for #CLEvsNYJ: QB Geno Smith WR Devin Smith CB Dexter McDougle RB Zac Stacy OL Jarvis Harrison OL Ben Ijalana DL Deon Simon

— New York Jets (@nyjets) September 13, 2015
As expected, both Geno and Devin Smith won't play week one against the Browns. Geno isn't expected to return until week three or week four. Devin Smith was listed as probable for the game, but wasn't expected to play. It's possible Devin could be good to go by week two. Geno isn't guaranteed to play once he's fully recovered. Todd Bowles made it clear that if Ryan Fitzpatrick is playing well, he will remain the Jets' starter. As for Devin, once he returns he will likely be the Jets' deep threat downfield behind Brandon Marshall and Eric Decker.
Other inactives include: Dexter McDougle, Deon Simon, Ben Ijalana, Jarvis Harrison, and Zac Stacy
Dexter McDougle will be inactive today, buried on the depth chart behind backups such as Darrin Walls, and Marcus Williams. McDougle didn't exactly impress during the preseason, and had a few hiccups. McDougle is likely shaking off the rust after missing all of last season, and has time to work his way back up the depth chart.
Backup and rookie lineman Ben Ijalana and Jarvis Harrison will be inactive today. Unless some serious injuries occur, Ijalana will be inactive for the season as will rookie Jarvis Harrison. It is common for a mid-round rookie lineman to have a "red shirt" year.
Zac Stacy will be inactive today, and Stevan Ridley started the season on the PUP list. Ridley won't be available for six weeks. That means the only active running backs will be Chris Ivory and Bilal Powell as well as fullback Tommy Bohanon. Chris Ivory figures to carry the load but Powell will come in as the spell back to relieve Ivory.
Rookie Deon Simon will begin the season on the inactives list. T.J. Barnes will be the backup to Damon Harrison, Simon will try to work his way up the roster to become Harrison's backup. Simon finished the preseason with an impressive performance and has shown promise.
It's a new season, and hope abounds for Jets fans. With a revamped roster, specifically secondary, the Jets are in win-now mode. Everyone will be watching to see whether or not Ryan Fitzpatrick can lead a rebuilt Jets team to the promise land. Will Geno Smith return, and finally prove himself or will the veteran hold onto the starting job? It's a new season, and many questions remain to be answered.
Videos
New York Jets OTA Presser Takeaways, Aaron Rodgers' Impact and Summer Delusion