Inactives Report: Devin Smith Out, Cromartie In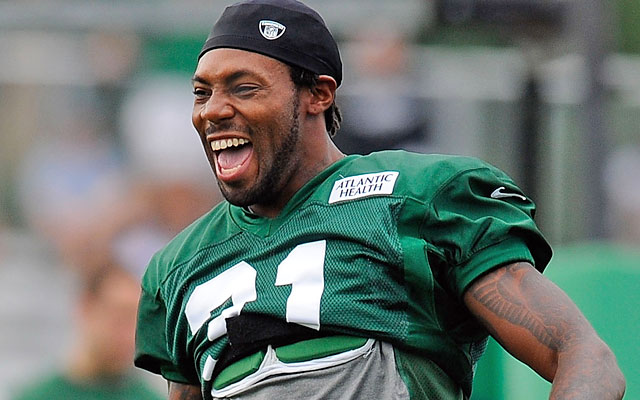 .@CRO31 active for #NYJvsIND #Jets inactives: J. Harrison B. Ijalana L. Mauldin D. Simon D. Smith G. Smith D. Walls pic.twitter.com/gorfhSMy7v

— New York Jets (@nyjets) September 21, 2015
In a surprise move the Jets have chosen to make Antonio Cromartie active, while keeping rookie Devin Smith on the sidelines for the Monday night game against the Colts. It's a risky move by the Jets, Cromartie was diagnosed with a sprained knee. The average recovery time for a sprained knee is two to three weeks. Devin Smith practiced fully this week, and was looking to make his debut. Even if Smith had played, he would have likely seen a condensed amount of time on the field. Smith will have to work his way up the depth chart after missing almost all of training camp, and the entire preseason.
Other inactives include: Geno Smith, Darrin Walls, Lorenzo Mauldin, Deon Simon, Ben Ijalana, and Jarvis Harrison
Geno Smith is expected to be healthy, and eligible by week four. Even once Geno is healthy, he isn't guaranteed the starting position. Todd Bowles has made it clear that if Ryan Fitzpatrick is leading the team, and minimizing any mistakes he will remain the starting quarterback. It's a smart philosophy, why change a winning formula? It'll be interesting to see what happens if Fitzpatrick begins to falter though. Will the Jets turn back to Smith, or possibly rookie Bryce Petty?
Darrin Walls was doubtful for the game with a hamstring injury. If Cromartie wasn't able to go for today's game, Walls and Marcus Williams would have likely alternated at the second cornerback position with Buster Skrine in the slot if Walls was healthy. It's highly likely we could still see Williams in certain packages to relieve Cromartie with his injury, and Williams' impressive week one performance.
Lorenzo Mauldin is out for today's game, and he's likely okay with that. It's essentially the best case scenario for the rookie who suffered a concussion in last week's game against the Browns. The injury initially seemed much worse, and with the good news that Mauldin will be okay the Jets can ease him back into the lineup.
Rookie Deon Simon will also be inactive for today's game. Simon had an impressive finish to the preseason, but will likely receive a "redshirt" season with so much depth on the defensive line. As of now, T.J. Barnes is backing up nose tackle Damon Harrison.
Both Ben Ijalana and Jarvis Harrison will be inactive again in today's game. It will be good news for Jets fans if they don't have to see either Ijalana or Harrison getting any playing time this season. If that were the case, it'd likely mean there were multiple injuries or one of the starters was doing their best Wayne Hunter impression.
Facing the Colts on Monday Night Football will be a true test of where Todd Bowles' Jets are. If they can come away with a win, it'll be the first time in four years that the Jets have started 2-0. Many believe the Jets' win against the Browns came against a push-over opponent. This will be a chance for the Jets to prove they're the real deal in front of the nation on Monday Night Football in Indianapolis.
Videos
Aaron Rodgers Injury Fallout & Jets/Bills Recap