Featured Editorials Home Slider
Marshall's Blistering Start his Best Ever?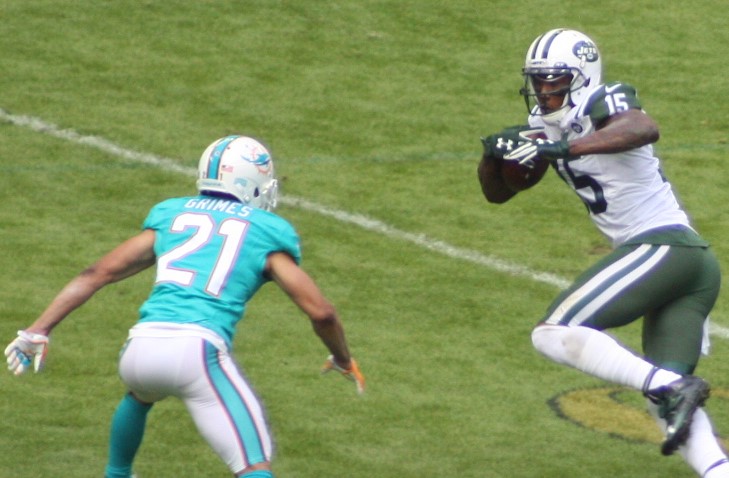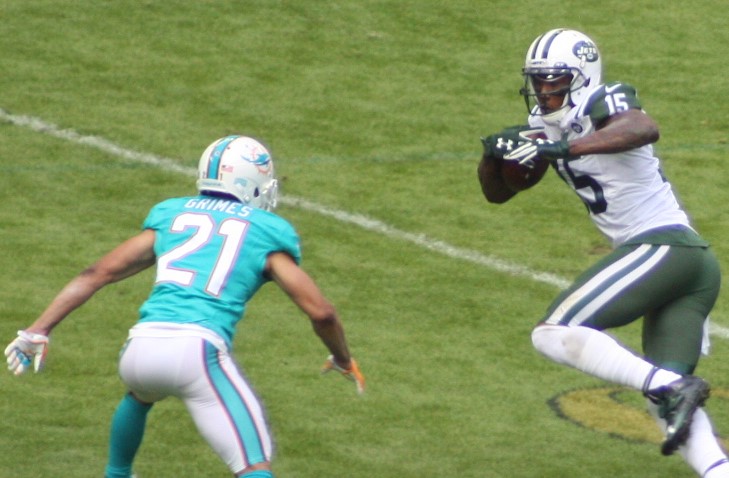 By Glenn Naughton
When the New York Jets acquired wide receiver Brandon Marshall and a seventh-round draft pick from the Chicago Bears this offseason in exchange for a fifth-round choice, fans expected big things from Marshall, but nobody could have anticipated the future Hall of Famer coming out of the gate the way he has through the season's first four games.  Perhaps not even Marshall himself.
Just four games into the season, Marshall is averaging exactly 100 yards per contest to go along with three touchdowns.  Whether or not he continues to produce at that level remains to be seen, but Marshall's torrid start has put him on pace to post some gaudy numbers, even by his standards.
In nine full NFL seasons, Marshall has surpassed the 1,500 yard mark just once, in 2012 when he posted 1,508 yards and 11 touchdowns. The following season he would see his receiving yards dip to 1,295, but he managed to score a career-high 12 touchdowns.  Marshall's 2015 start has him on pace for 1,600 yards and another 12 scores.
As a matter of fact, the only season that saw Marshall start off at a hotter pace was 2008 in Denver with the Broncos when then-Broncos quarterback Jay Cutler targeted Marshall an eye-popping 31 times, resulting in 24 receptions for 321 yards in the season's first two games.  Marshall would finish that season with 1,265 yds and 6 scores.
With Ryan Fitzpatrick as his trigger man, Marshall has been targeted at a rate more consistent with his 2011 and 2012 seasons when the ball
was thrown his way 39 times through four games of each season, compared to 44 from Fitzpatrick, all of which pales in comparison to his 51 total targets from Cutler in 2008's first four weeks.
Given the disparity in total targets, one could make the case that 2015 is Marshall's best start ever in terms of sheer impact despite being 23 yards shy of his most productive start from a purely statistical standpoint.
The positives don't end there either.
Making Marshall's production even more impressive is the fact that he's done it not only against some of the best cornerbacks in the NFL in Joe Hayden, Vontae Davis and Brent Grimes, but when facing the struggling Byron Maxwell and the Philadelphia Eagles, Marshall was often double-teamed but he didn't seem to mind.  Regularly facing multiple defenders with Eric Decker injured, Marshall pulled in a season-high 10 receptions for 109 yards and a touchdown.
The skeptics say that Marshall is no longer a threat to beat defenses deep, but this past Sunday in London's Wembley Stadium, he kicked off the action by plucking a 58 yard reception out of the air while matched up one-on-one against Grimes.  That's not something we're likely to see from Marshall very often, but just showing he can do it from time to time will mean it's something defenses have to respect and prepare for.
Equally deserving of praise for Marshall's big numbers has to be offensive coordinator Chan Gailey.
Several times this season, we've seen Gailey line Marshall up in the slot while calling on Fitzpatrick to hit him on a low-risk crossing route over the middle or on an out-route while having other receivers run some clear-outs.  This has given Marshall the opportunity to not only find some open field, but to do so against defenders he's able to out-muscle to gain yards after the catch.  The result has been an average of 13.3 yards per reception, a number he has achieved just once over the course of his career as a full-time starter back in 2011 when he topped out at 15.0
Marshall has done everything the Jets have asked of him on offense this season, and it seems he's determined, at the age of 31, to prove to the rest of the league that he means it when he says he's still among the NFL's elite pass-catchers.
If the 6′ 4" Central Florida product continues at his current pace, he won't have to say it to anyone because the numbers to speak for themselves.
Videos
New York Jets OTA Presser Takeaways, Aaron Rodgers' Impact and Summer Delusion