Featured Editorials Home Slider
Jets Don't Miss a Beat With Winters at Guard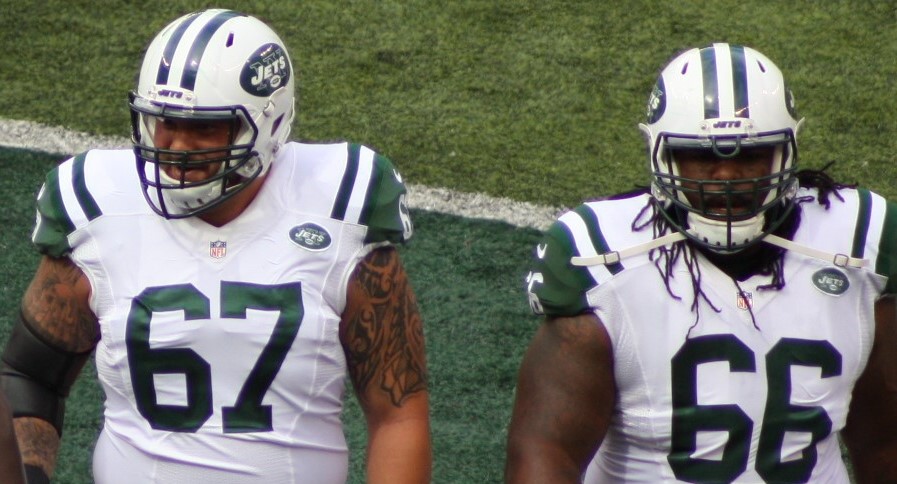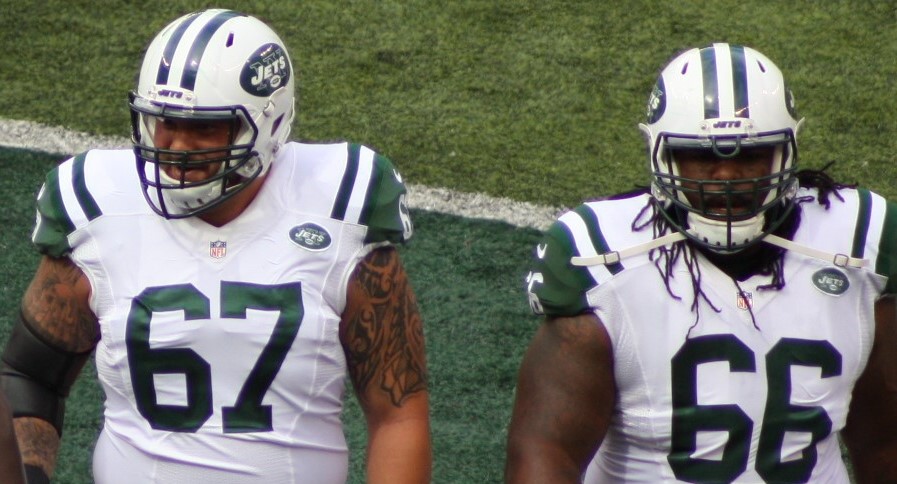 By Glenn Naughton
Admit it Jets fans, when you heard the news about starting right guard Willie Colon's pending absence last week and that his replacement was Brian Winters, you weren't thrilled.  When you realized Winters would be lining up against All-World defensive lineman Ndamukong Suh, you felt even worse.
As it turned out, Winters turned in what was possibly his best effort as a pro, holding Suh without a sack and just three tackles.  All while functioning as  part of a unit that saw Chris Ivory run for a career-high 166 yards and a touchdown on 29 carries as the Jets pounded the Dolphins 27-14.
Winters hasn't had the smoothest transition to the pro's since being selected in the 3rd round (no. 72 overall) of the  2013 out of Kent State by former GM John Idzik.
Converted from offensive tackle in college to left guard in the pro's, Winters managed to work his way in to the starting line-up as a rookie when former bust Vlad Ducasse washed out.  It was an up and down year for Winters as he rated among some of the leagues worst o-linemen according to PFF.com, and he didn't show any improvement in year two.
Before going down with a torn ACL in his left knee against the Broncos in week six, Winters was rated 74th of 75 qualifying guards and was probably best remembered for allowing a key hit on quarterback Geno Smith in week two against the Packers on a play that saw Smith's under-thrown pass get intercepted near the goal-line on a momentum-changing play that saw the Jets squander away a 21-3 lead.
After new GM Mike Maccaganan went out and drafted Texas A&M product Jarvis Harrison, Winters was thought to be on thin ice after being outplayed by his in-season replacement Oday Aboushi last season.
However, Harrison's inexperience and Aboushi's off-field transgressions coupled with an underwhelming pre-season performance meant Winters would stick around and was named Colon's back-up later in the pre-season.  Against Suh and a cast of others on Sunday, Winters more than held his own.
For example, on Chris Ivory's two-yard touchdown run, Winters was head-to-head with Suh and was able to drive him off the line before an assist from Nick Mangold drove Suh to the ground, allowing Ivory to plow in for the score.
Later on that quarter, on their second drive, Suh lined up in the A-gap on Winters' inside shoulder, even adjusting slightly more to the inside just before the snap.  The move was an effort to get Winters looking to cheat inside when Suh fired out and tried to loop around Winters' outside shoulder but the guard didn't bite.  He immediately met Suh before he could get any significant penetration and held his own once he got his hands on him.
Starting off head-to-head against Suh a couple of drives later, the Dolphins used their superstar lineman for the initial punch against Winters before stunting another defender in behind him after he disengaged.  Still, Winters stood Suh up at the line, and seamlessly transitioned from Suh to the blitzing linebacker who went nowhere.
Winters also played a role in one of the biggest plays of the game when he stood Suh up before dragging him to the ground on a play that would see quarterback Ryan Fitzpatrick roll out to his right before eventually cutting back inside for a 19-yard gain.  A neutralized Suh clearly made the play much easier for Fitzpatrick to complete.
He wasn't perfect by any measure, allowing quick penetration on one or two occasions, but for a player who many viewed as a liability before OTA's even began, Winters may be another name Jets fans can add to an ever-growing list of quality back-up players who can step in at a moments notice without seeing much of a dropoff in production.  What a difference a year makes.
Videos
JetNation
4.6K
Subscribe
Broken Brains; Critics of Jets Quarterback Aaron Rodgers Begin Stirring up Conspiracy Theories