Featured Editorials Home Slider
Fitzpatrick, Jets Fans Wait for Third Option to Emerge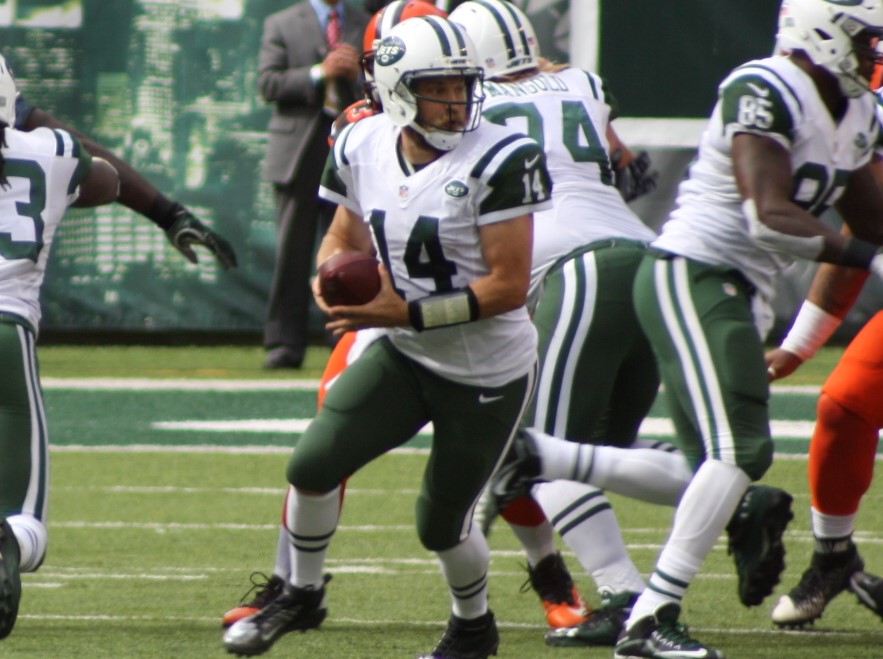 By Glenn Naughton
Off to a 3-1 start this season, the New York Jets have surprised observers around the league as a 4-12 team in 2014 has a chance to equal their win total from last season with a win over the Washington Redskins in Sunday's week five meeting at MetLife Stadium.  Not many pundits pegged the Jets to come out of the gate this hot, so now the experts, and Vegas odds-makers have taken notice.
The team's hot start can be attributed to a stout defense that tops the NFL, allowing just 13.8 points per game, a running game that ranks 8th in the league (127 yards per game) and the steady play of quarterback Ryan Fitzpatrick who has thrown 7 touchdowns and 6 interceptions while completing just over sixty percent of his passes.
Far from spectacular, Fitzpatrick has done what's been asked of him thus far, but a look at the numbers show that the signal caller is relying heavily on wide receivers Brandon Marshall and Eric Decker to move the chains as the duo has been targeted 43% by of the time by Fitzpatrick.  While the Jets are likely to stick with that formula for as long as it's working, the emergence of a third reliable target could make life a lot easier on the bearded one.
Ideally that third target would be speedy rookie Devin Smith who missed training camp and the early portion of the season while he recovered from a fractured rib and punctured lung.  Smith has managed to get on the field in each of the Jets last two games but a lack of chemistry with Fitzpatrick, with whom he's had very few reps, has been a clear obstacle in the very early going.  Smith is worth keeping an eye on this Sunday and beyond as the bye week would have given him the most extensive opportunity to get some reps with Fitzpatrick thus far.
Another option of course is second-year player Quincy Enunwa who has been the primary H-back since the team lost Jace Amaro for the season with  a torn labrum in his left shoulder.
Drafted as a wide receiver out of Nebraska, Enunwa's stellar pre-season has allowed him to see extensive action up to this point, but things haven't gone so well.
In four games this season Enunwa has six receptions for 77 yards while struggling to hold on to several passes that were right on the mark.
Fitzpatrick and Enunwa looked to be developing some chemistry during training camp at Florham Park so it makes sense that Enunwa is fourth on the team with 14 targets behind Marshall (44), Decker (19) and Smith (15).  As he gets more comfortable in the Jets new offense with additional reps from Fitzpatrick, Enunwa has a chance to be a big part of what the Jets are doing on offense moving forward.
While Gailey's offense has been productive early on, the downside to  his scheme is that the team's best slot receiver, and an ideal third option on most teams, Jeremy Kerley, doesn't fit what the Jets are trying to do.
The more we see Marshall, Decker and Enunwa being used in the slot, it's clear that Gailey wants bigger targets in the middle of the field with his speedsters on the outside.
Kerley fits neither profile, so he'll continue to sit and wait for spot duty to get on the field and make plays as he did in his lone game against the Philadelphia Eagles in which he made a diving grab of a Fitzpatrick pass early on, before scoring his only touchdown on the season later in the contest.
Chris Owusu, another training camp standout, is due to return from a knee injury in the near future.  A speedy prospect who opened a lot of eyes late last season and again in this year's home opener when he beat Pro-Bowl cornerback Joe Hayden on a 43 yard reception, Owusu has done little since as he's spent the past several weeks recovering from knee surgery.  His skill set is quite similar to Smith, so whether or not he's active on game day remains to be seen
The tight ends meanwhile, have been largely invisible up to now, accounting for a paltry 10 yards on two receptions.  With that being the case, a sudden emergence from Jeff Cumberland is unlikely at best.
In the coming weeks, as teams look to find a way to slow down the duo of Marshall and Decker, Fitzpatrick hopes to find a third pass catcher who can keep the offense flowing as the reborn journeyman, on pace for career highs in touchdowns and interceptions, attempts to lead Gang Green to their first playoff berth in four years, and the first playoff appearance of his eleven year career.
Videos
NY Jets Phase 3 OTAs, Expectations and a Minor Calf Tweak with Greg Renoff