Inactives Report: Quigley Out, Weatherford Reutrns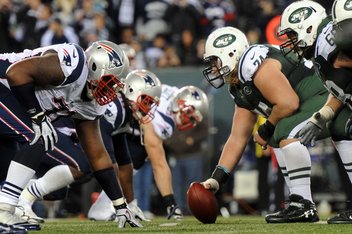 #Jets inactives for #NYJvsNE: R. Quigley B. Petty K. Thompkins B. Powell J. Harrison B. Ijalana T. Barnes pic.twitter.com/tUChEpwG81

— New York Jets (@nyjets) October 25, 2015
Punter Ryan Quigley will be inactive as expected. Newly signed punter Steve Weatherford will be taking care of punts today. Quigley was run into a couple of times against the Redskins and apparently sustained a leg injury. Weatherford rejoins the Jets after being released by the Giants at the beginning of the season. From 2009-2010 Weatherford served as the punter for the Jets.
Other inactives include: T.J. Barnes, Bryce Petty, Kenbrell Thompkins, Bilal Powell, Jarvis Harrison, and Ben Ijalana
Today T.J. Barnes will be inactive for the defensive line instead of Stephen Bowen. Last week Bowen was inactive while the Jets faced his former team, but will be active today. It was a somewhat strange move, but made sense at the time due to Sheldon Richardson's return. This week it'll be Barnes sitting on the bench though. Normally a coach will let their player have a crack at their former team, not Bowles though.
Only two quarterbacks are dressed for today's game against the Patriots: Ryan Fitzpatrick, and Geno Smith. Bryce Petty won't be active today. As long as Fitzpatrick can continue to lead the Jets and play smart football, he'll remain the starter. The only way Geno will see any time on the field would be due to an injury. As for Petty, the Jets are likely trying to bring him along slowly but surely. They don't want to rush him into action unnecessarily. It will leave time for him to develop and become more familiar with the game on a pro level.
Kenbrell Thompkins will not be active to face his former team either. Thompkins was signed to replace suspended WR Quincy Enunwa. If there was a time to use Thompkins it'd probably be against his former team, but Thompkins likely hadn't learned much of the playbook and wasn't ready to go for today's game. That leaves the Jets with only five active receivers: Brandon Marshall, Eric Decker, Jeremy Kerley, Devin Smith, and Chris Owusu. Owusu was limited all week, but will dress for today's game.
The Jets decided not to activate Stevan Ridley from the PUP list to face his former team. Ridley himself admitted he still wasn't 100%. With Bilal Powell also out today, that leaves the Jets with only Chris Ivory, Zac Stacy, and Tommy Bohanon as their active running back/fullbacks. Chris Ivory will see the most of the workload as usual, with Stacy coming in for relief.
Per usual, both rookie Jarvis Harrison and Ben Ijalana won't dress for today's game. Harrison and Ijalana have been the only two locks on the inactives list this season. The other five spots have been in a rotation with some new faces here and there. It'd be a bad thing if the Jets had to activate either Harrison or Ijalana because it would mean there were multiple injuries to the offensive line, a worst case scenario.
Todd Bowles and the Jets would have you believe it's just another game, but the Jets go up against their bitter rivals for the first time this season with the division lead on the line. It's a game with big implications for the AFC East. The Jets coming in at 4-1 have a chance to hand the 5-0 Patriots their first loss of the season. It will take consistent play from the quarterback position, a good run game, and of course good defense. The last two are usually pretty common for the Jets, so their fate may rest on the shoulders or arm of Ryan Fitzpatrick.
Videos
Aaron Rodgers Injury Fallout & Jets/Bills Recap