Featured Editorials Home Slider
Can Jets Keep Ignoring Jeremy Kerley?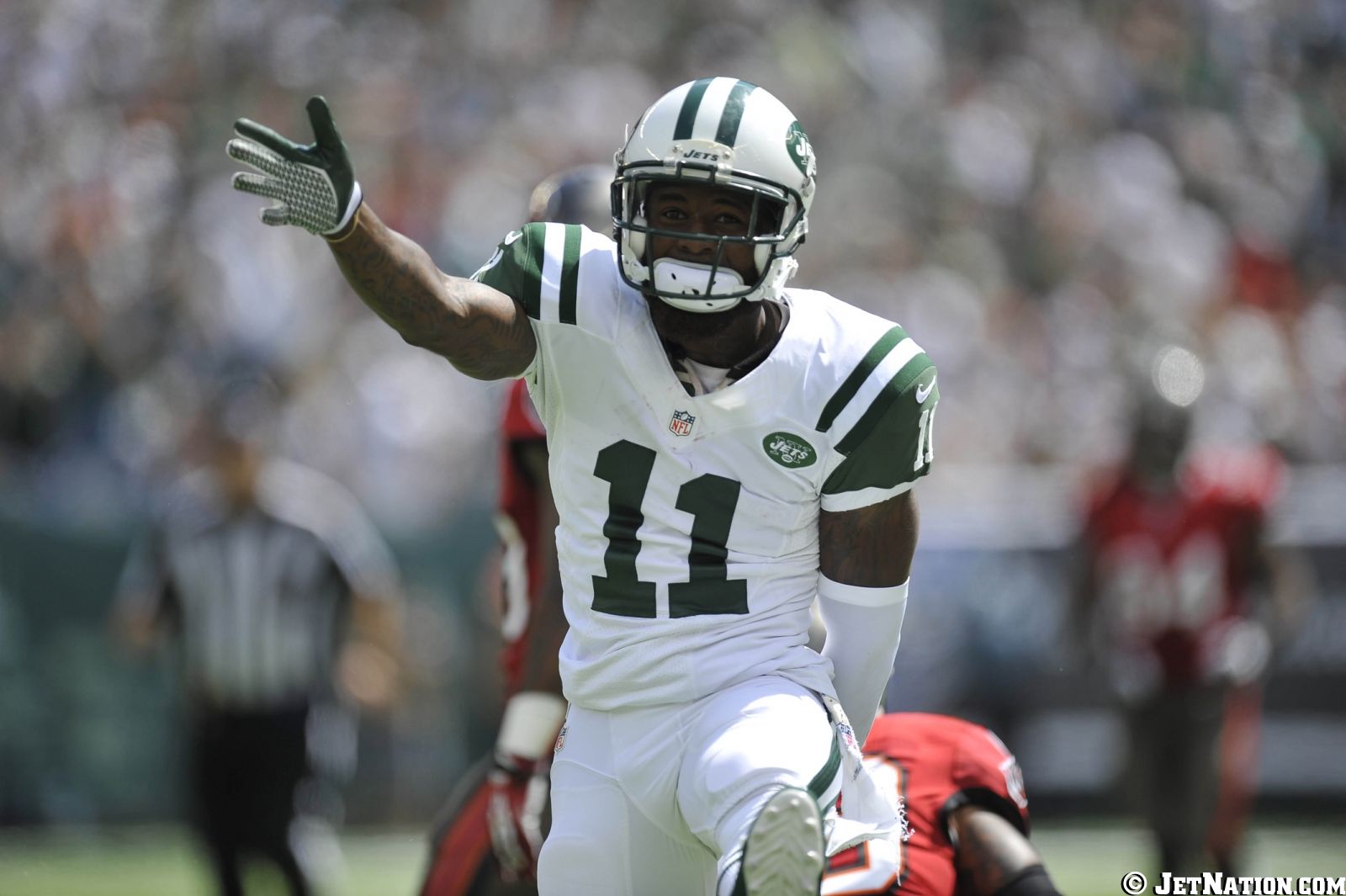 By Glenn Naughton
It was one of the more surprising developments during training camp in Florham Park just a few months ago.  Long-time Jets wide receiver Jeremy Kerley appeared to be the odd man out in the competition for the third wide receiver spot.
Following the offseason addition of Brandon Marshall who would pair with Eric Decker to be the Jets starters, putting Kerley in the slot was a foregone conclusion.  The quick-footed 5′ 9" TCU product has been one of the team's more reliable pass catchers over the course of the last three seasons when given the opportunity.
In 2012, Kerley showed himself to be an underrated talent as he hauled in 56 catches for 827 yards while playing on an anemic offense with the unreliable and almost always erratic Mark Sanchez under center.
Despite struggling in each of the past two seasons with Geno Smith as his trigger man, the Jets rewarded Kerley with a 4-year contract extension during last year's campaign, but with Michael Vick and Smith at QB, there wasn't much action coming Kerley's way.  A heavy emphasis on their rushing attack to cover up for the duo's many shortcomings didn't help Kerley's cause either.
Now, after finding himself on the sidelines without ever getting a legitimate opportunity to step in the field, Kerley has made the most of his limited opportunities while out-performing a number of receivers being given a shot over him.
Despite getting significant playing time in just two games this season, week 3 against the Eagles, and this past Sunday against the Patriots, a couple of things stand out about Kerley.
First and foremost, is that quarterback Ryan Fitzpatrick appears to like him, targeting Kerley 15 times in those two contests.  Meanwhile, Quincy Enunwa, Chris Owusu and Devin Smith, all of whom have seen significantly more reps than Kerley, have gotten a similar number of looks from Fitzpatrick with 17, 13 and 17 respectively.
With those targets, Kerley has also been the most productive of the four as his two touchdowns represent the only scores the group has produced, and he's also tops in receptions with nine.  His 60 yards tie him with Smith for third with Enunwa (94) and Owusu (80) leading the way.
Of course Enunwa has also been used in the H-back role where Kerley would never be a fit, but we have also seen him used in favor of Kerley at the wide receiver spot.
So the question remains,  how long can the Jets continue to ignore Jeremy Kerley.
It's clear that he doesn't fit what Chan Gailey is trying to do.  We've regularly seen Gailey go with his "burners" on the outside with Owusu, Smith or Enunwa on occasion, and he's had a great deal of success putting Marshall and Decker in the slot.  Given Kerley's stature and pedestrian 40-time, you can see why he hasn't been a fit.
Even still, Gailey came to the Jets with a reputation as a coordinator who finds ways to get the most out of his players.
Given Fitzpatrick's willingness to get the ball to Kerley, and the results it has yielded, hopefully Gailey decides the time to stop ignoring Jeremy Kerley is now.
Videos
New York Jets OTA Presser Takeaways, Aaron Rodgers' Impact and Summer Delusion