Mangold Likely to Return, Milliner Status Uncertain for Sunday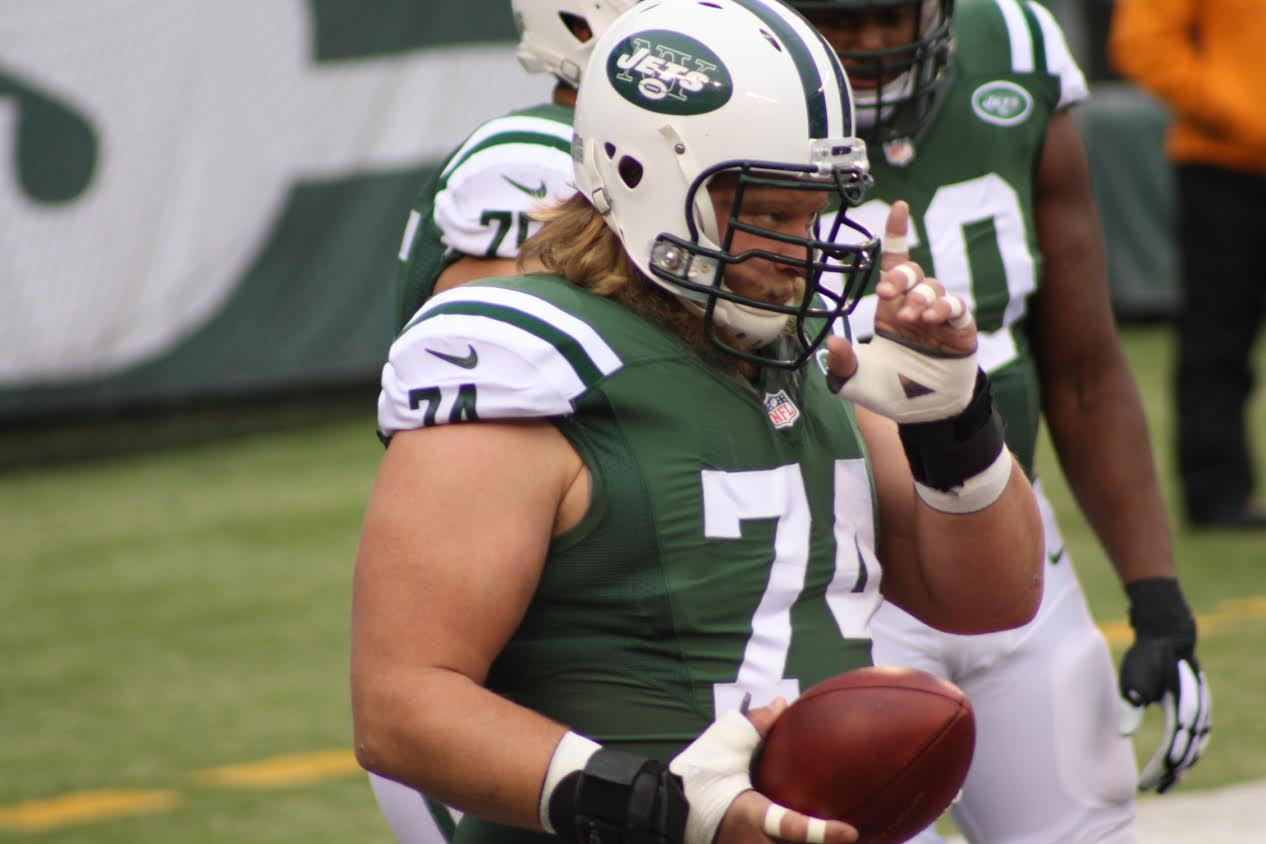 By Glenn Naughton
It looks like New York Jets Pro-Bowl center Nick Mangold will be making his return this Sunday against the Jacksonville Jaguars having missed last week's contest in Oakland after suffering a neck injury in the closing minutes of the previous week's game against the Patriots.
Meanwhile, the status of cornerback Dee Milliner is still uncertain as the Jets have yet to activate him from short-term IR.
Below is the most recent injury report as released by Gang Green.
Status Report
Doubtful
Friday
WR Marqise Lee (hamstring)
Questionable
Friday
G Zane Beadles (foot), S James Sample (shoulder)
Probable

Friday

S Josh Evans (groin), WR Allen Hurns (ankle, thigh), TE Julius Thomas (abdomen)
Practice Report
Did Not Participate In Practice

Wednesday

G Zane Beadles (foot), S Josh Evans (groin), WR Marqise Lee (hamstring)

Thursday

WR Marqise Lee (hamstring)
Limited Participation in Practice

Wednesday

WR Allen Hurns (ankle, thigh), S James Sample (shoulder)

Thursday

G Zane Beadles (foot), S Josh Evans (groin), WR Allen Hurns (ankle, thigh), S James Sample (shoulder)

Friday

WR Marqise Lee (hamstring), S James Sample (shoulder)
Full Participation in Practice

Wednesday

TE Julius Thomas (abdomen)

Thursday

TE Julius Thomas (abdomen)

Friday

G Zane Beadles (foot), S Josh Evans (groin), WR Allen Hurns (ankle, thigh), TE Julius Thomas (abdomen)
Status Report
Out

Friday

S Calvin Pryor (ankle)
Doubtful

Friday

RB Bilal Powell (ankle)
Questionable

Friday

G Willie Colon (knee), WR Brandon Marshall (ankle, toe), CB Buster Skrine (shoulder, hand)
Probable

Friday

CB Antonio Cromartie (hip), TE Kellen Davis (hand), WR Eric Decker (knee), QB Ryan Fitzpatrick (left thumb), RB Chris Ivory (hamstring), C Nick Mangold (neck), CB Dexter McDougle (ankle, hand), RB Stevan Ridley (knee), WR Devin Smith (foot), QB Geno Smith (left shoulder)
Practice Report
Did Not Participate In Practice

Wednesday

G Willie Colon (knee), WR Eric Decker (knee), C Nick Mangold (neck), WR Brandon Marshall (ankle, toe), S Calvin Pryor (ankle), WR Devin Smith (foot)

Thursday

G Willie Colon (knee), WR Eric Decker (knee), S Calvin Pryor (ankle)

Friday

S Calvin Pryor (ankle)
Limited Participation in Practice

Wednesday

TE Kellen Davis (hand), RB Bilal Powell (ankle), CB Buster Skrine (shoulder, hand)

Thursday

C Nick Mangold (neck), WR Brandon Marshall (ankle, toe), RB Bilal Powell (ankle), CB Buster Skrine (shoulder, hand), WR Devin Smith (foot)

Friday

G Willie Colon (knee), WR Brandon Marshall (ankle, toe), RB Bilal Powell (ankle), CB Buster Skrine (shoulder, hand)
Full Participation in Practice

Wednesday

CB Antonio Cromartie (hip), QB Ryan Fitzpatrick (left thumb), RB Chris Ivory (hamstring), CB Dexter McDougle (ankle, hand), RB Stevan Ridley (knee), QB Geno Smith (left shoulder)

Thursday

CB Antonio Cromartie (hip), TE Kellen Davis (hand), QB Ryan Fitzpatrick (left thumb), RB Chris Ivory (hamstring), CB Dexter McDougle (ankle, hand), RB Stevan Ridley (knee), QB Geno Smith (left shoulder)

Friday

CB Antonio Cromartie (hip), TE Kellen Davis (hand), WR Eric Decker (knee), QB Ryan Fitzpatrick (left thumb), RB Chris Ivory (hamstring), C Nick Mangold (neck), CB Dexter McDougle (ankle, hand), RB Stevan Ridley (knee), WR Devin Smith (foot), QB Geno Smith (left shoulder)
Videos
NY Jets Phase 3 OTAs, Expectations and a Minor Calf Tweak with Greg Renoff