Featured Editorials Home Slider
Can Reilly, Mauldin be far Behind Struggling Coples?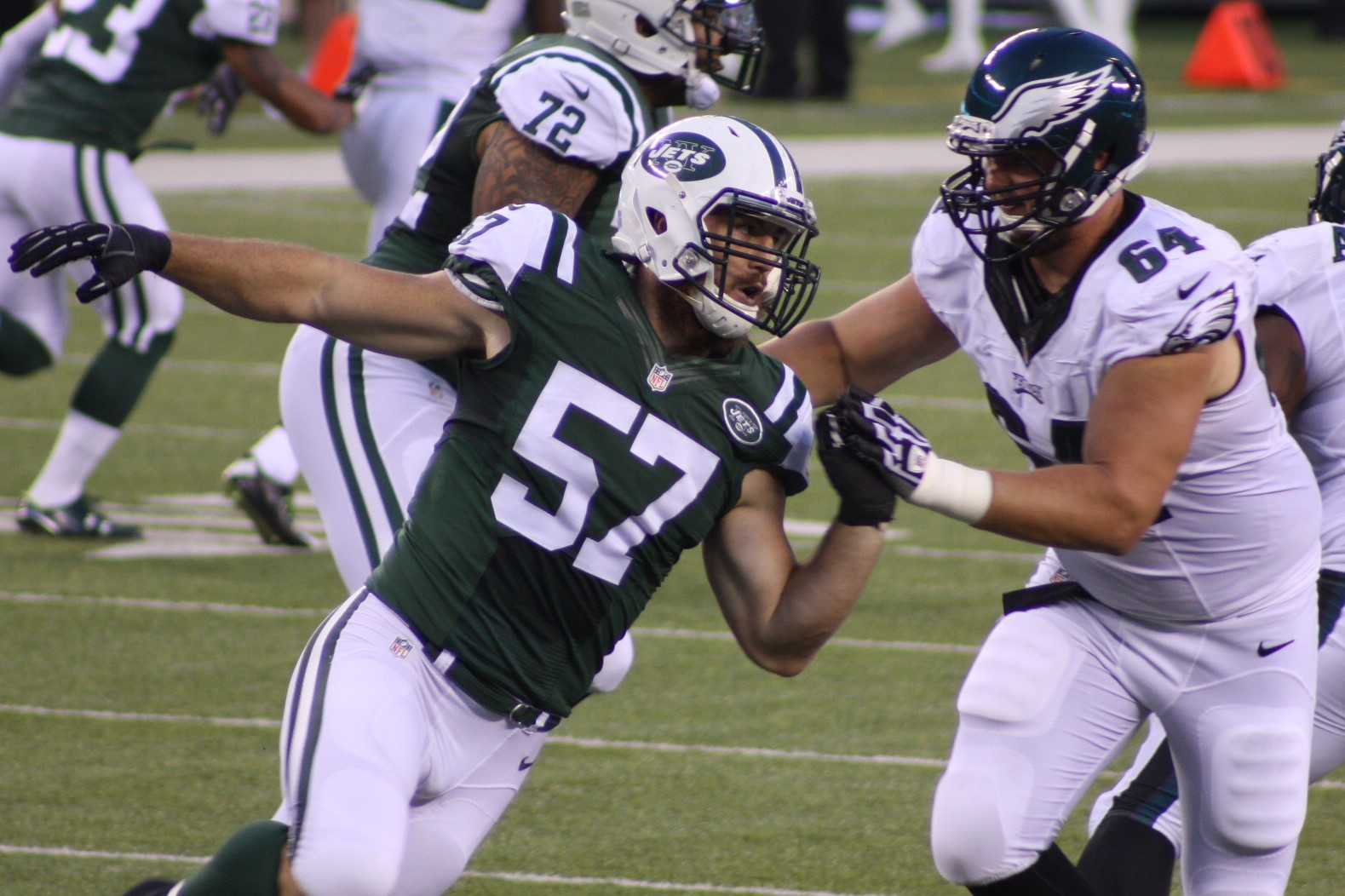 By Glenn Naughton
It's not much of a secret anymore.  No matter how Todd Bowles spins it, starting outside linebacker Quinton Coples is losing his grip on his starting job, and one has to wonder if second-year player Trevor Reilly or rookie Lorenzo Mauldin are nipping at Coples' heels.
Viewed largely as a disappointment since being chosen 16th overall in the 2012 draft, Coples is having his least productive season as a pro as his sub-par performance and diminishing snap count has led to just four solo tackles (8 combined) and zero sacks.  This, despite averaging 5.5 sacks per season prior to the start of the 2015 season.
Through his first three seasons in Green and White, Coples was inconsistent but showed flashes that would lead onlookers to believe there were big things in the future for the 6′ 6", 290 lb North Carolina product.  The bursts were few and far between, but Coples' physical skills and draft slot led to many giving him the benefit of the doubt.
Just a few weeks ago, Head Coach Todd Bowles addressed Coples' lack of playing time and insisted it had to do with the personnel packages the Jets were employing and not the player.  Coples, he said, wasn't on the field because the Jets nickel package was used on the majority of the team's snaps. While that may be the case, the fact that Coples isn't on that unit shows how little faith the Jets have in his ability to get to the quarterback.
As Coples continues to struggle, the Jets have a pair of less experienced linebackers who may get the opportunity to steal some snaps on a more frequent basis.
Waiting in the wings is second-year player Trevor Reilly who had a strong training camp and picked up a strip sack in week one against the Cleveland Browns, but whose playing time has been sparse, and his lone sack is one more than Coples has produced despite playing just 43 snaps against the pass versus 116 for Coples according to PFF.com.
If last weeks loss to the Raiders is any indication, Reilly may be working his way in to the Jets defensive rotation on a more regular basis.
Prior to the Oakland game, Reilly had been used almost exclusively on passing downs this season but he saw a more equal split last Sunday when he was on the field for six running plays after having seen the field on just seven running plays through the season's first six games.
While some had high hopes for rookie linebacker Lorenzo Mauldin, he too has been used in a role similar to Reilly's, almost exclusively on passing downs.
Of the 53 snaps Mauldin has played thus far, only nine have come on running plays.  As a result, Mauldin has notched just 5 tackles and a forced fumble.
It's entirely possible that Bowles means it when he says Coples' lack of playing time is due to personnel packages and matchups, but should the former first-round continue failing to produce in the opportunities he's been given, how long does Bowles wait to give Reilly or Mauldin a shot at a starting job?
Coples, whom the Jets exercised their fifth-year option on, at a price tag of $7 million next season is clearly hoping it's a decision Bowles doesn't have to make as the Jets could cut ties with Coples at season's end with no negative salary cap ramifications.
Facing the Jacksonville Jaguars this Sunday could present Coples with the opportunity to get to the quarterback and re-establish himself as the unquestioned starter while distancing himself from the likes of Reilly and Mauldin.
Videos
Aaron Rodgers Injury Fallout & Jets/Bills Recap