Featured Editorials Home Slider
Marshall, Decker Welcome Jets Offense to new Millenium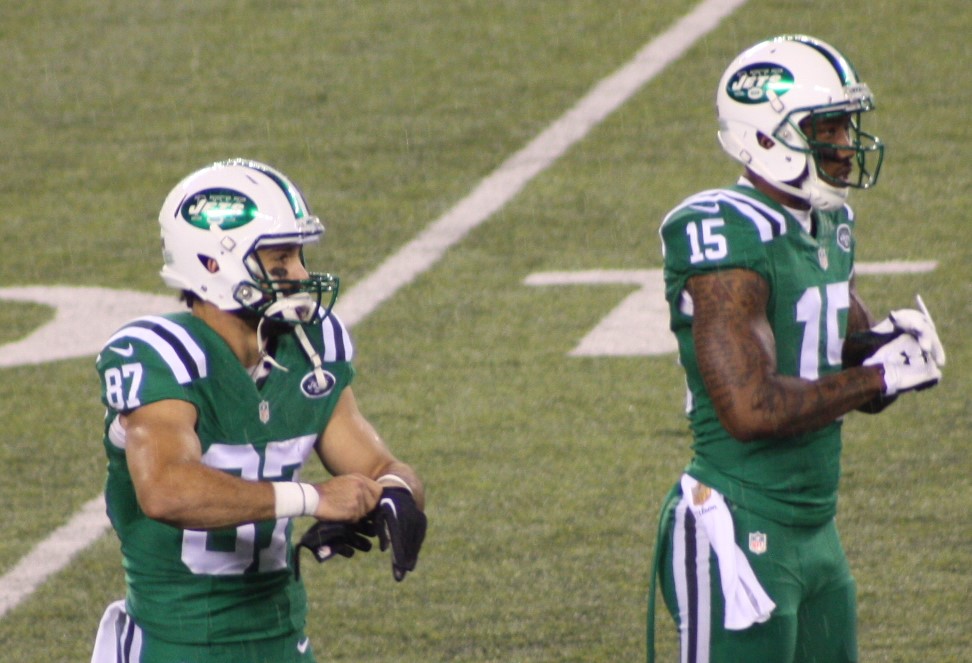 By Glenn Naughton
While it may be more  indicative of decades of inept play at the quarterback position and countless incompetent offenses as a whole, the fact that this season's Jets wide receivers, Brandon Marshall and Eric Decker, are on pace to be the most productive tandem the Jets have ever fielded, should be a refreshing thought for Gang Green fans who have suffered through a lifetime of often unwatchable offensive football.
Since the start of the new millennium, NFL teams have had a wide receiver post double-digit touchdowns 139 times.  Of those 139, only one was a New York Jet.  Santana Moss, who scored 10 touchdowns in 2003 stands alone in an age that has seen the passing game explode as scoring records fall on a seemingly weekly basis.
This season however, Decker and Marshall are both on pace to connect with quarterback Ryan Fitzpatrick for over ten scores apiece as they sit at 7 and 6 touchdowns respectively, with seven games still remaining.
Should Marshall and Decker remain healthy and reach the 10 touchdown mark, it would be the first time not just this millennium, but in team history that fans will have been treated to a duo of double-digit scores.
Offensive coordinator Chan Gailey deserves plenty of credit for the production, as he has moved both Decker and Marshall in and out of the slot at various times, doing all he can to create mismatches with the bigger bodied receivers frequently winning making big plays.
Marshall has been guilty of his share of head-scratching drops, several of which could have gone for scores, but has also balanced that out by turning in some spectacular touchdown catches (see scores vs. Washington and Jacksonville) along the way.
If the Jets are serious about making a playoff run, they're going to need Fitzpatrick to continue racking up the touchdown passes to Marshall and Decker while they wait for a struggling Jets defense to get on track.
Together, Marshall and Decker have teamed with Fitzpatrick and Gailey to post the NFL's 12th highest scoring offense which is light years away from what has become the norm for a team that routinely finishes in the bottom-five in points from season to season.
Coming off of a heartbreaking loss to the Buffalo Bills in which both receivers scored a touchdown for the fifth time this season, Jets fans can only hope that increased playing time with Fitzpatrick will help grow the chemistry between the three veterans and the points will lead to victories as the Jets inability to score through the air becomes a thing of the past.
Videos
Aaron Rodgers Injury Fallout & Jets/Bills Recap