Featured Editorials Home Slider
Bowles Says no Lineup Changes for Struggling Jets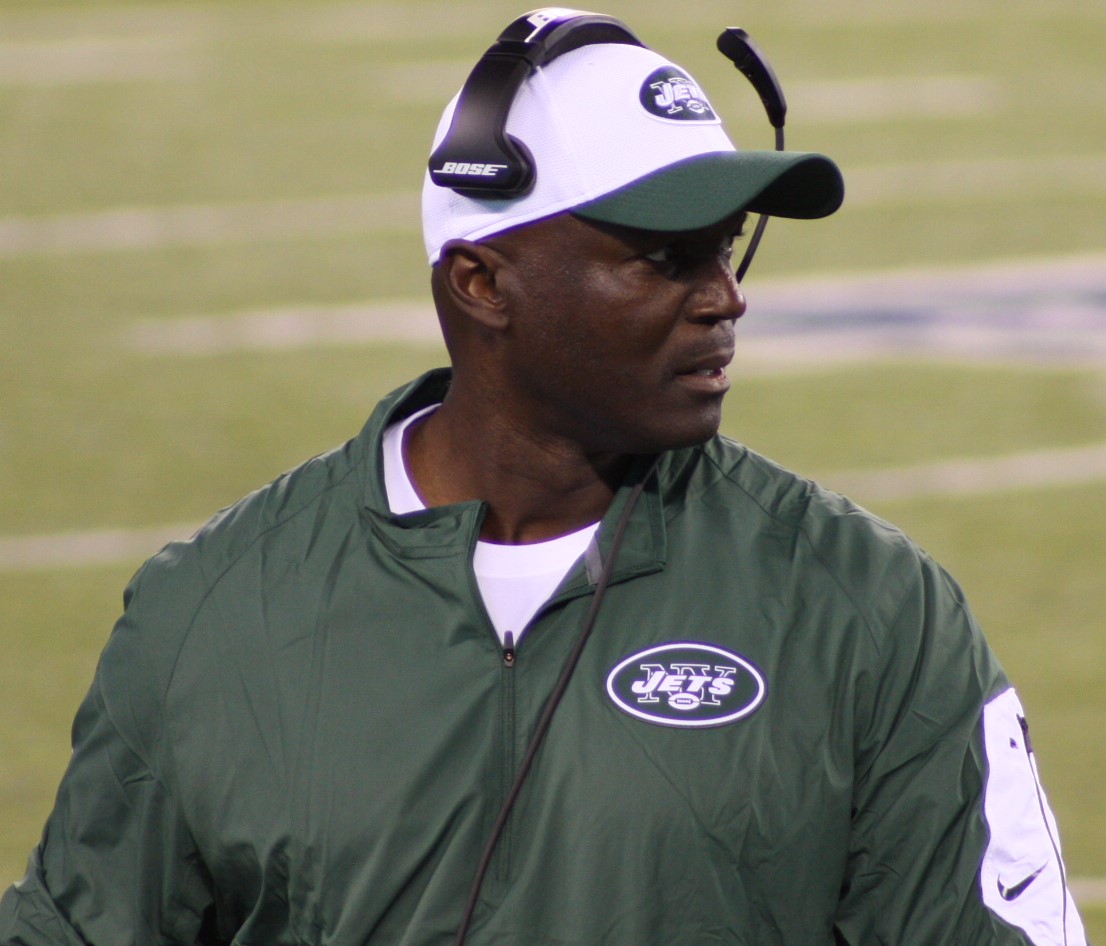 By Glenn Naughton
Jets fans hoping to see some changes this weekend for their struggling team won't be thrilled to hear what head coach Todd Bowles had to say when asked about any lineup changes this Sunday.
Bowles offered up a simple, "No, we didn't make any", when asked by a reporter if there were any changes to announce.
Losers of four of their last five games, a few names have been thrown around by fans and media alike as cornerback Antonio Cromartie, inside linebacker Demario Davis and rookie wide receiver Devin Smith  have had more downs than ups lately.
The decision to stick with the struggling trio is somewhat of a surprise at this point as the Jets continue fighting for their playoff lives. Making the lack of adjustments somewhat of a disappointment is that unlike recent seasons, there are viable, proven options on the roster who could be called upon to step in if changes were to be made.
Cromartie, of course could be spelled by second-year cornerback Marcus Williams who has outplayed Cromartie for much of the season when called upon.
Having surrendered six touchdowns through the air thus far, Cromartie has been a liability since the season opener when he was beaten by Cleveland receiver Travis Benjamin on a 54-yard bomb from Johnny Manziel.
However, Cromartie is a Bowles favorite. He started for the rookie head coach last season in Arizona where Bowles was the defensive coordinator on one of the top defenses in the NFL.
When the Jets went free agent shopping this off-season, it's believed that Bowles played a big part in bringing Cromartie back to New York. It's entirely possible that this is why Cromartie still gets the nod on Sunday's despite his struggles.
Another position where there are some legitimate questions regarding whether or not the best players are playing is wide receiver.
Rookie Devin Smith has been given more looks than veteran Jeremy Kerley since recovering from a fractured rib and punctured lung suffered in training camp that kept him on the shelf in the early going.
The Jets clearly favor Smith's speed to Kerley's short-area quickness, but at what point do the Jets factor in the ability to catch or hold on to the ball?
Smith has had a rough run over the past two weeks as he fumbled away a kick return that was brought back for a touchdown against the Bills in a 5-point loss two Sundays ago, before dropping two bombs from quarterback Ryan Fitzpatrick, one that would have gone for a touchdown, in a 7-point loss against the Texans last week.
In fairness to Smith, returning kicks is not something he has a great deal of experience doing as he returned only 13 in four seasons at Ohio State, 12 of which came during his first two years.  In addition to the inexperience, Smith said after the game that he wasn't made aware of his role until just a few minutes before kickoff, although he had put in some work returning kicks during practice that week.
Meanwhile, Kerley has been healthy all season but has played close to the exact number of plays Smith has (217-204) and has far out-produced the Ohio State product.
Kerley's 16 catches and 2 touchdowns are good enough for 3rd on the team among wide receivers, while Smith has hauled in only 7 catches without a score and is still waiting to eclipse the 100-yard mark for the season as he sits at 82, compared to Kerley's 152.
Then there's inside linebacker Demario Davis.  In the final year of his rookie contract, Davis has struggled in pass coverage, and now in his fourth season, rarely seems to make impact plays on defense.
According to pro-football reference, in 58 career games (45 starts), Davis has 5.5 sacks and one interception while having never forced a fumble as a pro.
Behind Davis, Bowles has seventh-year pro Erin Henderson who was a starter for the Vikings in Minnesota for the past three seasons before being let go in 2014 as a result of multiple DUI's.
Trying to get his career back on track with the Jets, Henderson, who played both outside and middle linebacker for the Vikings where he racked up 262 tackles, 8.5 sacks and 5 forced fumbles in 33 career starts, continues to see the filed on a limited basis, topping out at 17 reps in against the Miami Dolphins in week 4.
Just how long Bowles can continue to stick with his under-performing starters while his team struggles to find a win remains to be seen.
On the cornerback front, there's not much question this Sunday against the Dolphins as Darrelle Revis has been ruled out which will mean increased reps for Williams with Cromartie set to start on the other side.
Once healthy however, Cromartie starting over Williams, Davis over Henderson and more playing time for Smith over Kerley will continue to be scrutinized by a fan base forced to put up with a previous failed regime that appeared to go with veterans on the downside of their careers while younger, unknown players with a need to be tested and developed stood and watched from the sidelines.
The biggest change this time around is that Bowles has a roster that's ready to contend for a playoff spot now, unlike Rex Ryan who was putting himself before the team, coaching to save his job.
Should Bowles decide to make meaningful lineup changes in the event of one or two more key losses, it may prove to be too little, too late.
Videos
Aaron Rodgers Injury Fallout & Jets/Bills Recap