Featured Editorials Home Slider
Winters Freezes out Miami's Suh Once Again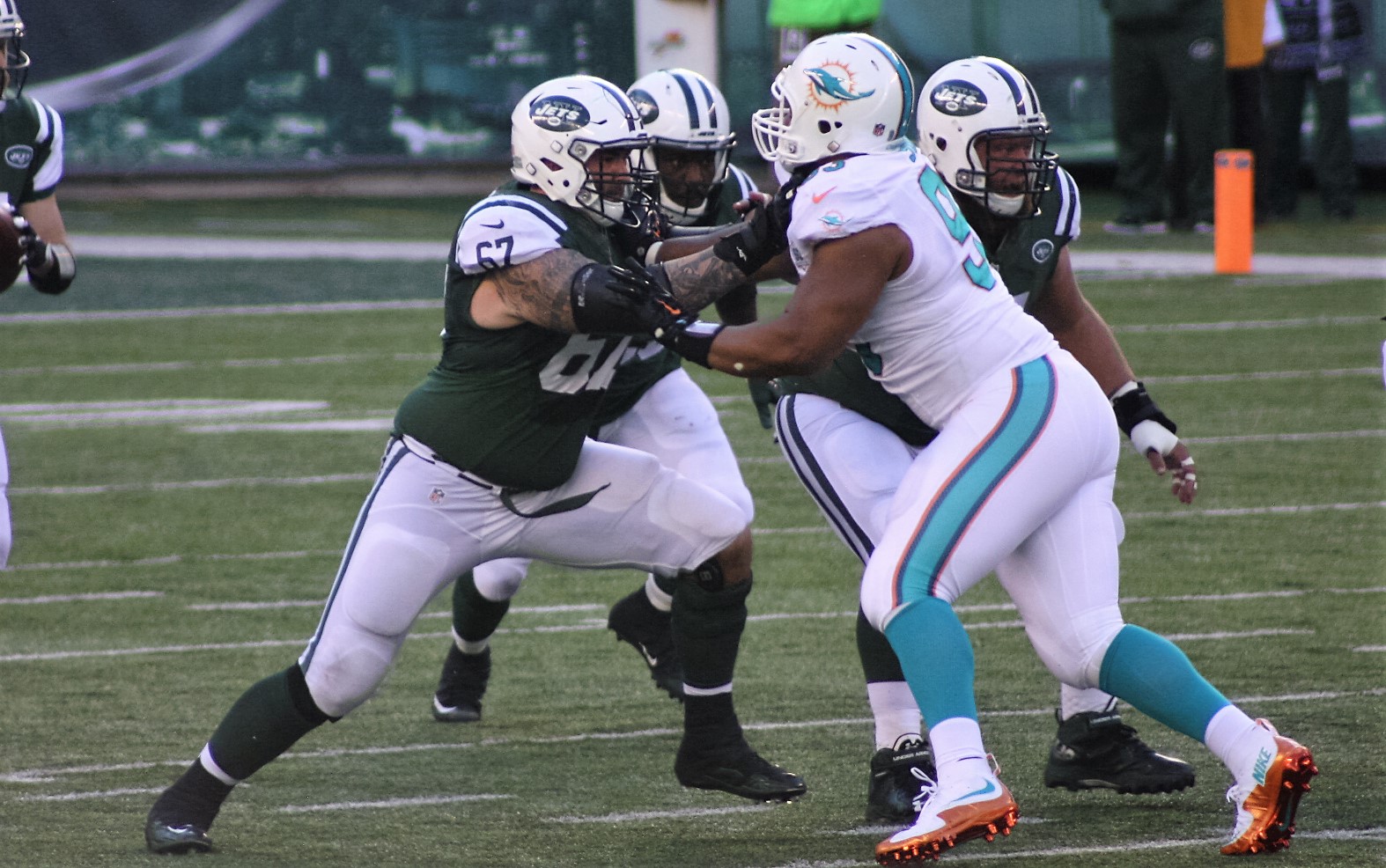 By Glenn Naughton
For the second time this season, New York Jets guard Brian Winters was asked to take on the unenviable task of protecting quarterback Ryan Fitzpatrick from often menacing defensive lineman Ndamukong Suh of the Miami Dolphins.
Winters won the first round against Suh earlier this season in London when he neutralized the polarizing defensive lineman after being called upon to fill in for the injured Willie Colon.
There was reason for optimism following the showdown as Winters, who has struggled for the better part of his first two pro seasons turned in a stellar performance, holding Suh sackless and allowing just one hit on Fitzpatrick.
As much as the optimism was justified, fans were equally cautious regarding Winters' performance as it was believed Suh wasn't going "all out" under former Dolphins Head Coach Joe Philbin and the numbers backed up that assertion.
One of the most physically talented defensive lineman in the NFL, Suh had logged just nine tackles through the season's first four games without picking up a single sack.  Grading any player who faced Suh through those first four weeks came with a justified skepticism.
Since Philbin's ouster however, Suh has been closer to the force the Dolphins had hoped when they signed him to a six-year, $114 million contract this offseason.
In the six games since Philbin was given his walking papers, Suh elevated his play to the tune of 18 tackles and 4 sacks heading in to yesterday's showdown with the Jets.  His match-up with Winters would be key as the Jets saw how a single disruptive force on the defensive line could impact the outcome of a game last week against JJ Watt and the Texans.
So encouraged by his recent surge was Suh, that he reportedly had a meeting with his fellow defensive players that may have backfired.  Trying to fire the unit up, Suh allegedly had this to say in regards to his role in Miami.
"I run this defense, I'm going to be here for the next five years, there is no guarantee any of you will be as well," Suh said, according to the NFL Network report. "Only a handful of guys are good enough to play with me right now."

With that report circulating, Suh went up against Winters once again, and for a second time his performance was nowhere near what one might expect from an All-Pro facing the unproven Winters.

Suh's final stat line was pedestrian to say the least as he finished with 1 solo tackle, 3 assists, 1 QB hit and once again had no sacks.

Unlike round one, this time Winters was facing a highly motivated Suh who wanted to prove to his teammates that he was the cornerstone of their defense.  If ever there was  a day he needed to take over a game and dominate, it was yesterday against Winters and the Jets.

Yet, for the second time this season, he was a near non-factor in pressuring the quarterback.

So while Dolphins fans wonder when Suh will be a consistently dominant force, Jets fans should take a moment to realize that Winters may finally be turning the corner, giving them a quality young starter on a unit that's a bit long in the tooth and in need of some young talent.

Time will tell if this is a turning point in his career,  but as of now, it certainly appears Winters has arrived.

 

 

 
Videos
Aaron Rodgers Injury Fallout & Jets/Bills Recap