Featured Editorials Home Slider Jets Report Card
New York Jets Report Card: Week 13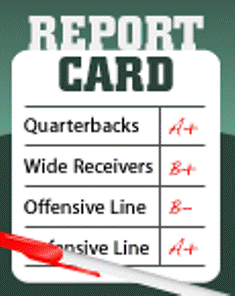 New York Jets Report Card: Week 13
New York Jets @ New York Giants
Quarterback: A-

Fitzpatrick: 36/50, 390 yards, 2 TD, 0 INT, 5 rushes for 22 yards
Fitzpatrick earns a good grade yet again this week, but for different reasons. Ryan was very efficient today, once again posting a turnover free game but with an excellent completion percentage. However, the Jets struggled in the red-zone as much as they have all season, settling for field goals because they couldn't get in through the air against a weak secondary. Nonetheless, Fitzpatrick was still able to post a whopping 390 yards through the air and make a few plays with his wheels, to boot.
Running Backs: B+

Ivory: 10/47/0, 5 receptions for 22 yards
Powell: 6/17/0, 8 receptions for 91 yards, 1 TD
Ridley: 3/4/0
The sure-handed Chris Ivory lost a fumble today and the Jets moved away from force-feeding him the ball and he finished with only 10 carries, which may have been a mistake. Bilal Powell wasn't too strong on the ground, but provided several moments of brilliance on screens, finishing with a surprising 91 yards receiving. It was his best effort of the season. He looks well-rested and ready to contribute down the stretch. Ridley has yet to produce much of anything all season.
Wide Receivers/Tight Ends: A

Marshall: 12/131/1
Decker: 8/101/0
Enunwa: 2/37/0
Davis: 1/8/0
After putting up the 1st TD grab of his career, rookie WR Devin Smith was nowhere to be found this week. That's OK: Brandon Marshall and Eric Decker were all over the field as both went over 100 yards receiving on the day.
Offensive Line: C-

The offensive line fought tough against a Giants defensive front that, let's be honest, isn't all that impressive. Of course it doesn't help when Jason Pierre-Paul is allowed to smack you in the helmet with his club hand without getting flagged. Fitzpatrick was under far too much pressure
Defensive Line: C

It was disappointing to see the Jets d-line struggle at times against a putrid Giants offensive line. They did create pressure but they had a tough time sealing the deal. Williams, Wilkerson and Catapano each added a sack to their stat sheet, though. Catapano in particular has come out of nowhere to become an effective pass rusher for the Jets.
Linebackers: C+

The Jets held a weak running game down all day, as the Giants were unable to produce more than 50 yards on the ground.
Secondary: C-

Calvin Pryor and Rontez Miles both made impact plays from the safety position, but an ailing Jets secondary (missing Darelle Revis and Marcus Williams) was torched over and over again by an aggressive Eli Manning and Beckham, Jr. Beckham, Jr. finished with 149 yards and a TD.
Special Teams: F

You can't tell me with a straight face that there aren't better punters hanging out on the streets that are better than Ryan Quigley. Once again, the Jets allowed a special teams touchdown: this time off of a punt return. They were also responsible for a costly penalty on a punt that gave the Giants a free first down. Kerley dropped a punt return as well, though the Jets did recover that. This unit has been an absolute disaster all season.
Coaching: C-

We should credit the Jets coaching staff for an impressive comeback win against a team of a similar talent level, but the Jets never would have needed to mount a comeback if it wasn't for the sloppiness and mistakes that are a classic indication of a lack of preparation. Time management mistakes and a lack of urgency have been responsible for several New York losses this season, and they almost hurt the team again today.
Videos
Aaron Rodgers Injury Fallout & Jets/Bills Recap