Featured Editorials Home Slider
Titans: Players To Watch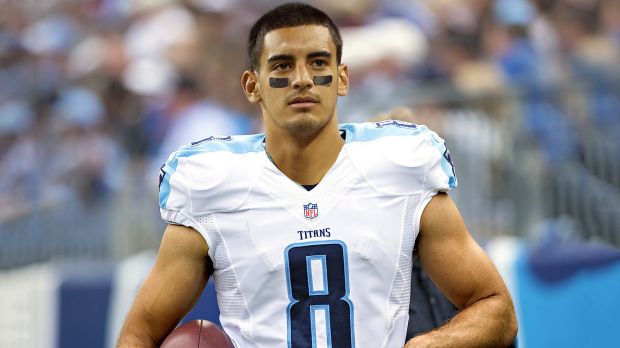 By Glenn Naughton
As the 7-5 Jets prepare for a home matchup against the 3-9 Titans, JetNation.com takes a look at some potential key contributors for Tennessee as the Jets enter the final quarter of the season with an opportunity to improve their chances of playing post-season football.
1. Marcus Mariota
Topping the list of course is Titans rookie quarterback Marcus Mariota who is putting together a solid rookie season as he's completed 63.4% of his passes with 19 touchdowns and just 9 interceptions.  Add to that the fact that he's rushed for 249 yards, including an 87 yard score last week, and a pair of touchdowns and the Titans should be quite pleased with Mariota, who they chose with the second overall pick in the draft.
Despite the strong numbers, Mariota has struggled tremendously with the deep ball.  In fact, heading in to last weeks contest, no quarterback in the NFL was worse than Mariota in completing passes over 20 yards.  Mariota's 16.1% completion percentage ranked him dead last in the NFL.
Should Mariota continue to struggle with the deep ball, it could allow the Jets secondary to cheat just a little bit possibly pressure the rookie with a heavy dose of blitzes giving the Jets secondary some opportunities to make plays on defense.
2. Delanie Walker
Next in line for the Titans is tight end Delanie Walker who leads the team in receptions, yards and touchdowns (67/800/4).  Given Mariota's struggles throwing it deep, look for him to attempt to utilize Walker in the passing game where he should see plenty of action against Jets linebackers as well as safety Marcus Gilchrist who is quietly having a very solid season for gang green.
Walker is also playing some of  his best football at the moment, having gone over 90 yards in 4 of the Titan's last 5 games so the Jets will have their work cut out for them.
3. Brian Orapko
Last, but certainly not least, is Tennessee's Brian Orapko, an outside linebacker who leads the team with 7 sacks.  Jets quarterback Ryan Fitzpatrick has done a fantastic job of getting the ball out quickly this season which has led to just 14 sacks in 13 games (one of which he left after just one full series) but D'Brickashaw Ferguson has looked vulnerable at times of late, and Breno Giacomini tends to be inconsistent from week to week.
If the Titans want to generate pressure on Fitzpatrick to force some bad throws, it should all start with Orapko who can get to the quarterback on his own, or command a double-team that may allow another defender the opportunity to break through.
Also worth noting is rookie wide receiver Dorial Green-Beckham.  Beckham, a 6′ 5" freak of nature didn't see much playing time early on this season, but as the weeks have moved on he's seeing some increased playing time, posting his first ever 100-yard game last week against Jacksonville.
In all, Beckham has just 21 receptions, but all three of his touchdowns have come when the Titans have had the ball inside the 5-yard line.  Should they be in that position against the Jets, keep an eye on number 17.
Be sure to log in to our JetNation.com forums to discuss this week's matchup and all things New York Jets.
Videos
New York Jets OTA Presser Takeaways, Aaron Rodgers' Impact and Summer Delusion