Defense, Fitz Shine as Jets Trounce Titans 30-8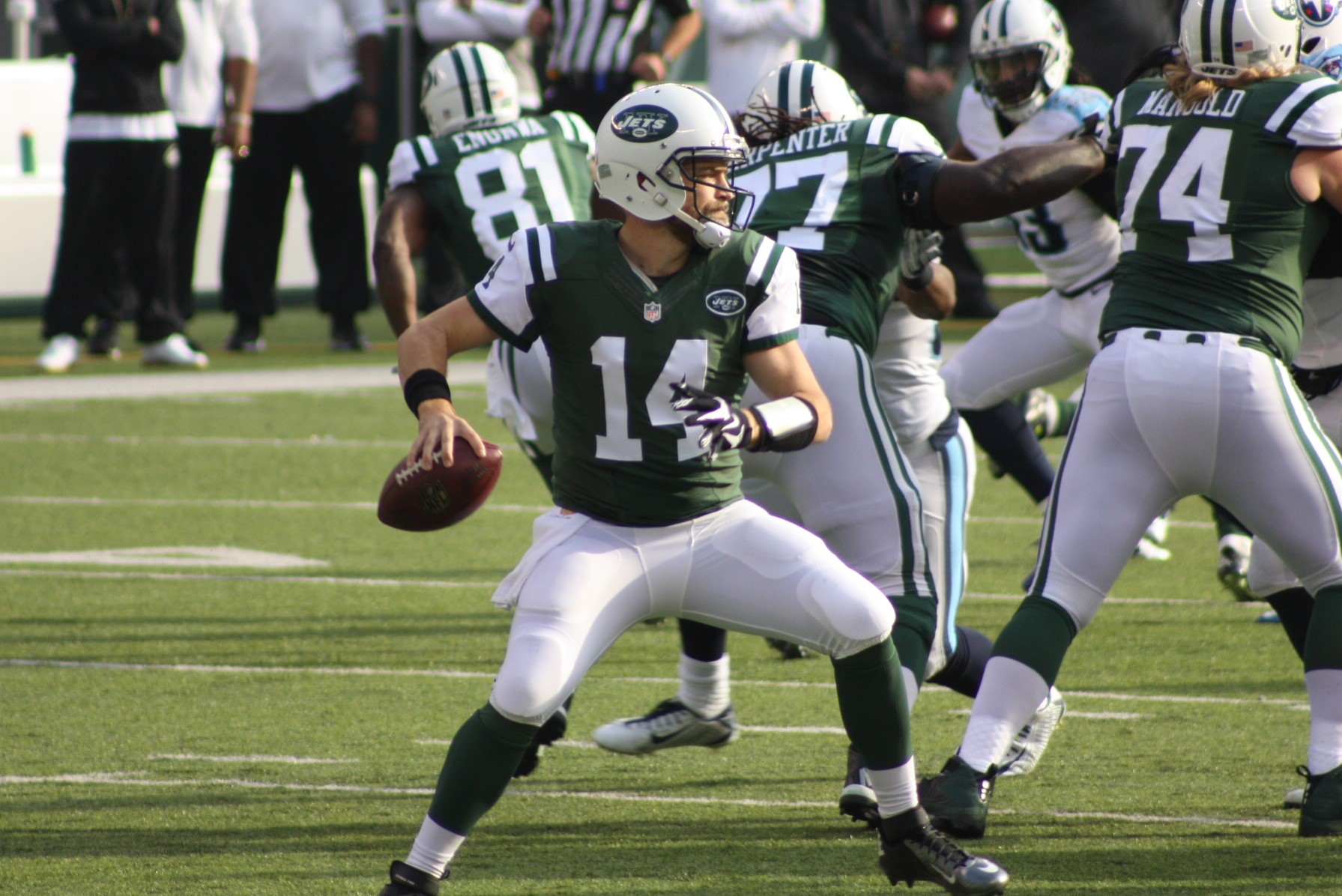 By Glenn Naughton
In what was easily their most complete game of the 2015 season, the New York Jets today pounded the visiting Tennessee Titans by a final score of 30-8, and it wasn't even really that close.
New York jumped out to a 27-0 half time lead on the strength of three touchdown passes from Fitzpatrick, to three different receivers.  Eric Decker, Bilal Powell and Brandon Marshall all found the end zone in the opening half.
Decker's score came first on an opening drive that was highlighted by a Fitzpatrick scramble for nineteen yards on a 2nd down and 10 before eventually hitting Decker in the end zone for his ninth touchdown of the season, making him and Brandon Marshall the first pair of Jets receivers in team history to hit paydirt nine times.
A Jets defense that dominated throughout, followed the score by forcing a three and out against Marcus Mariota and a Titans offense that struggled to get anything going all day.
After a pair of Keith Bullock field goals put the Jets up 13-0, Fitzpatrick and the offense went back to work in the 2nd quarter, marching 72 yards in 3:18 on 7 plays, culminating in  a scoring pass to Bilal Powell who picked up his first career receiving touchdown just last week.
Reading a Titans blitz, Fitzpatrick got rid of the ball over the middle to Powell who had come out of the backfield as a check-down receiver and took it across the right side of the field, beating a pair of Titans defenders into the end zone, giving the Jets a 20-0 lead.
The next Jets score would come just a bit faster than the 3-plus minutes needed on the previous drive.
Starting from their own 31-yard line, the Jets came up to the line of scrimmage for what was supposed to be a play out of the shotgun formation.  However, upon realizing the Titans were in the midst of a substitution, Fitzpatrick recognized that Brandon Marshall was uncovered.  With that being the case, he got under center, called for the snap, and fired a pass to the uncovered Marshall who would streak down the sideline for a 69-yard touchdown catch.
At 27-0, the game was clearly over as Mariota faced constant pressure and was off the mark when he had time to throw, which wasn't very often thanks to an attacking front led by Muhammad Wilkerson.
As a unit, the Jets sacked Mariota five times, three of those five were courtesy of Wilkerson who continues to play at a high level without a contract beyond this season.
Rookie Leonard Williams picked up a sack for the second week in a row and linebacker Demario Davis had one of his own, while cornerback Buster Skrine grabbed his first interception as a Jet.
The lone Titans score against the stingy Jets defense came on a wildcat play in which Mariota was split out wide and hauled in a 41-yard touchdown catch from running back Antonio Andrews when Jets safety Calvin Pryor took a tumble on the coverage.
On offense, it wasn't all about Fitzpatrick and the receivers as it was last week against the Giants.
Running back Chris Ivory had his first 100-yard rushing game since gaining 146 yards against the Redskins in week five while Powell and Stevan Ridley picked up 36 and 23 yards respectively.  In all, the Jets churned out 183 net yards on the ground.
It would appear the Jets are peaking at the right time as Fitzpatrick's 3 touchdown passes give him a total of nine over the past three games without a single interception, while a smothering defense has stymied opposing offenses three weeks in a row.
If the Jets are going to continue their late season playoff push, they certainly appear to be off to a great start.
Next up is a trip to Dallas to face the struggling Cowboys, but as we saw earlier this season against TJ Yates and the Texans, this team can't take anything for granted.
However, if they play well in all three phases as they did today, the post-season should be well within their reach.
Videos
Aaron Rodgers Injury Fallout & Jets/Bills Recap