Home Slider Injury Report Jet News
Kerley Returns to Practice; Injury Updates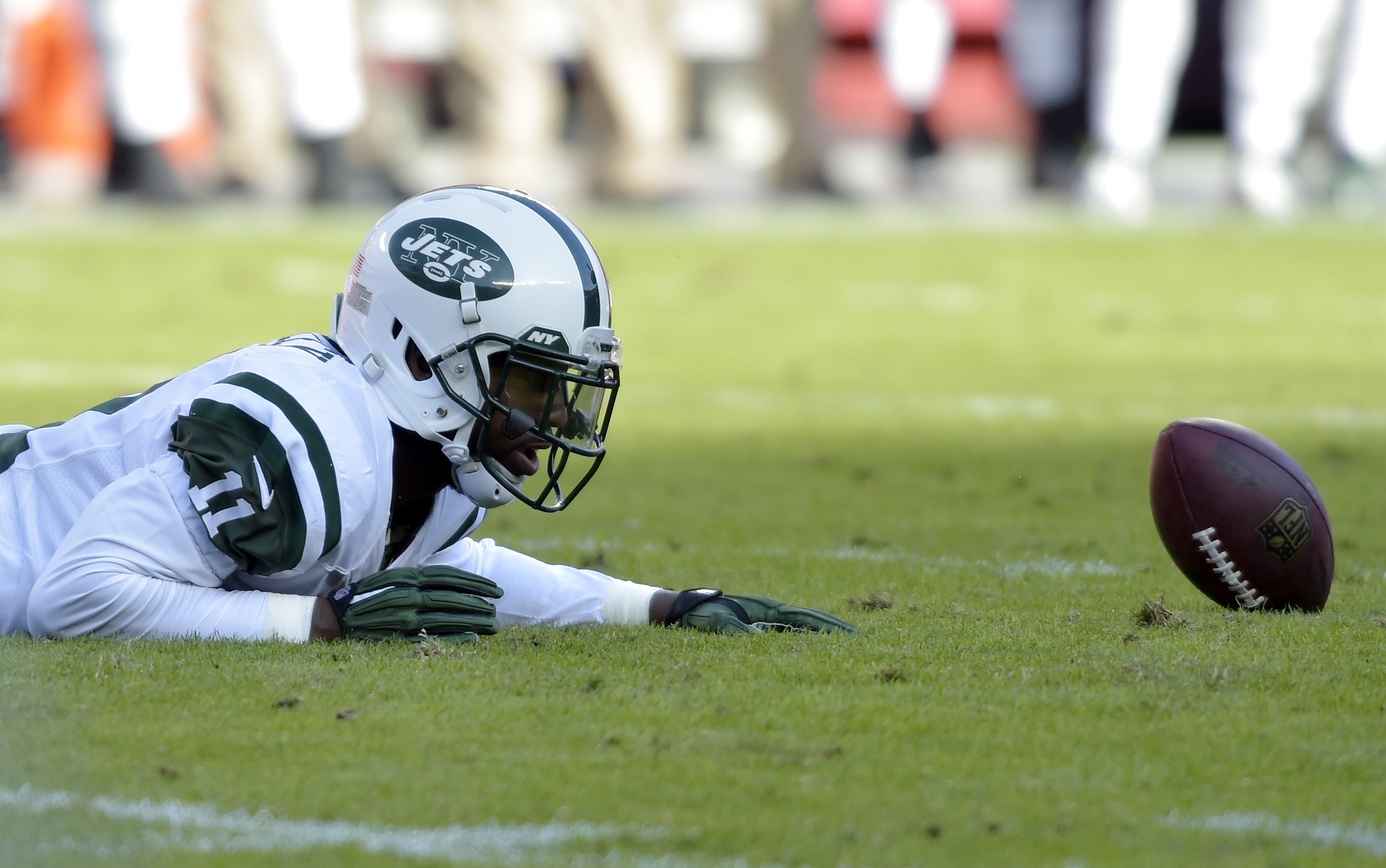 The Jets have a shorter week since their game against the Dallas Cowboys is on Saturday night. Todd Bowles listed these players on the injury report and said they are all questionable: Jeremy Kerley, limited, Breno Giacomini was limited, Nick Mangold was limited, Calvin Pace was limited.
What are Kerley's chances of playing on Saturday night?
He did pretty good today. I'd like to see him do a little bit more tomorrow and then I'll feel better about it if he doesn't have any setbacks.
Here is the full injury report.
Practice Report
Did Not Participate In Practice
Wednesday
WR Jeremy Kerley (calf), WR Devin Smith (knee)
Thursday
WR Devin Smith (knee)
Limited Participation in Practice
Wednesday
T Breno Giacomini (hip, ankle), C Nick Mangold (hand), LB Calvin Pace (abdomen, knee)
Thursday
T Breno Giacomini (hip, ankle), WR Jeremy Kerley (calf), C Nick Mangold (hand), LB Calvin Pace (abdomen, knee)
Full Participation in Practice
Wednesday
S Dion Bailey (ankle), TE Kellen Davis (wrist), WR Eric Decker (knee), DE Leger Douzable (ankle), QB Ryan Fitzpatrick (left thumb), WR Brandon Marshall (ankle), S Ronald Martin (groin), S Rontez Miles (achilles), CB Dee Milliner (ankle), DE Muhammad Wilkerson (wrist), CB Marcus Williams (knee)
Thursday
S Dion Bailey (ankle), TE Kellen Davis (wrist), WR Eric Decker (knee), DE Leger Douzable (ankle), QB Ryan Fitzpatrick (left thumb), WR Brandon Marshall (ankle), S Ronald Martin (groin), S Rontez Miles (achilles), CB Dee Milliner (ankle), DE Muhammad Wilkerson (wrist), CB Marcus Williams (knee)
Practice Report
Out (Definitely Will Not Play)
Wednesday
QB Tony Romo (left shoulder)
Thursday
QB Tony Romo (left shoulder)
Did Not Participate In Practice
Wednesday
CB Morris Claiborne (hamstring), DE Demarcus Lawrence (chest), LB Rolando McClain (concussion)
Thursday
CB Morris Claiborne (hamstring), LB Rolando McClain (concussion)
Limited Participation in Practice
Wednesday
S Jeff Heath (shoulder), DE David Irving (back), LB Kyle Wilber (shoulder)
Thursday
DE Demarcus Lawrence (chest)
Full Participation in Practice
Wednesday
WR Dez Bryant (foot)
Thursday
WR Dez Bryant (foot), S Jeff Heath (shoulder), DE David Irving (back), LB Kyle Wilber (shoulder)
Videos
NY Jets Phase 3 OTAs, Expectations and a Minor Calf Tweak with Greg Renoff