Featured Editorials Home Slider
Buffalo Showdown Brings Fitzpatrick, Gailey Full Circle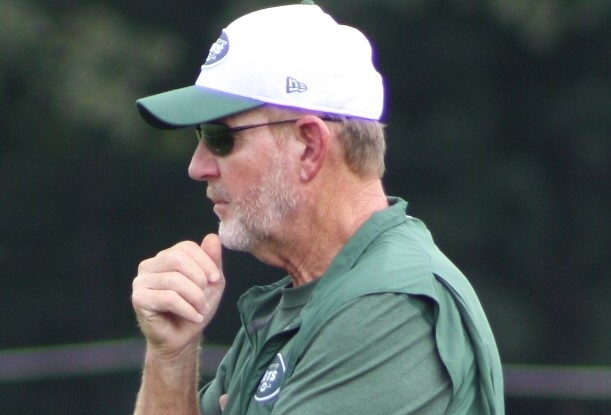 By Glenn Naughton
While most of the media-driven drama leading up to the Jets upcoming showdown against the Buffalo Bills will surely center around former Jets Head Coach Rex Ryan and his opportunity to hurt his previous team's playoff chances, it's not the only story line tied to a former head coach (and quarterback) for one of Sunday's participants.
New York Jets starting quarterback Ryan Fitzpatrick and his offensive coordinator Chan Gailey may have a bit of revenge on the brain. Fitzpatrick, now in his 11th (and most productive) season, and Gailey, who has been coaching professionally for much of the past 40 years, first worked together with the Bills from 2009-2012, posting a win-loss record of 20-33.  With Gailey serving as the Bills' Head Coach, Fitzpatrick threw 80 touchdowns and 64 interceptions on a slew of teams whose defenses often had him on the losing end of several shootouts.
Neither of the two would be likely to admit if they have, but one can't help wonder if the pair ever discussed the possibility of their week seventeen showdown in Buffalo having as much meaning as it does now.  With a chance to go back to where they first crossed paths, and an opportunity to make the playoffs in front of a fan base that ran them out of town years ago, but hasn't seen the post season themselves in sixteen years.
There's no doubt a Jets win and eventual playoff berth would be painful for the Bills faithful to watch unfold in their own building, but losing to Fitzpatrick with their former Head Coach calling the plays would undoubtedly add a bit of salt to the wound.
When asked earlier today about his time with the Bills, Fitzpatrick hat this to say:
It'll be the first time that I've been back there in a different jersey, playing in front of those fans. I mean, it's got some extra meaning to me, just because I was there for four years and the fans were so great to me and my family. There's a little bit of extra meaning there but I don't think there needs to be with just the significance and importance of this game in terms of what's at stake for us.
Both Fitzpatrick and Gailey are enjoying a resurgence with Gang Green.
With Gailey, who had been out of the NFL since being let go by the Bills, running the offense, Fitzpatrick has already thrown a career high 29 touchdowns in just over 14 games.  He'll have a chance to set the Jets single season record should he toss just one more against the Bills as those 29 tie him with Vinny Testaverde's 1998 total for the Jets top spot.
Why have the two had so much success together?  According to Fitzpatrick, it's their similar approach to the game. "We just have a great feel for each other. He knows me so well. I think our philosophies line up, just in terms of the way to attack a defense."
Also back in the picture is quarterbacks coach Kevin Patullo who worked as an offensive quality control coach as well as an assistant wide receivers coach with Gailey and Fitzpatrick together during their days in Buffalo.  Now Fitzpatrick's position coach, Patullo may be the one member of the Jets staff who knows him as well as, if not better than Gailey.
While addressing reporters earlier this season, Patullo, a former quarterback for the University of South Florida, offered the following in regards to the evolution of Fitzpatrick over the years.
"He's a lot more mature in that his knowledge has grown even more, if that's possible. … We've changed gears a little bit here and there [with our system], and he went to Tennessee and Houston, and I can tell his knowledge has grown. He's a lot more mature in that aspect, seeing looks, which is great because you want the quarterback to see defensive looks the right way."
Meanwhile, Gailey has been applauded for a season in which his play calling has been far superior to anything Jets fans have seen in years.
He's used the size of receivers Brandon Marshall and Eric Decker to line up in the slot on a regular basis, creating mismatches that has helped make them the first tandem of Jets receivers to ever post double-digit touchdowns (13 and 11 respectively) in team history
Once H-Back Jace Amaro was lost for the season with a torn Labrum, Gailey shifted second-year wide receiver Quincy Enunwa to the position where he has flourished as a blocker in the running game, and has come on recently as an added weapon for Fitzpatrick in the Jets' passing attack.
Despite what seemed to be the prevailing opinion regarding Fitzpatrick's limitations and need for a dominant running game in order to succeed, Gailey has called on Fitzpatrick to throw 30 or more passes 11 time this season, often being asked to overcome a stagnant running attack, with the Jets having posted a 7-4 record in those contests. Fitzpatrick also attempted 29 passes in a week four victory over the Miami Dolphins.
Now Gailey and Fitzpatrick would like nothing more than to walk out of Buffalo, being jeered by the Bills faithful once again.  Only this time being for a key victory as they march out of Buffalo, and into the playoffs.
Videos
NY Jets Phase 3 OTAs, Expectations and a Minor Calf Tweak with Greg Renoff