Featured Editorials Home Slider
Willkerson's Contract Status More Complicated Than Most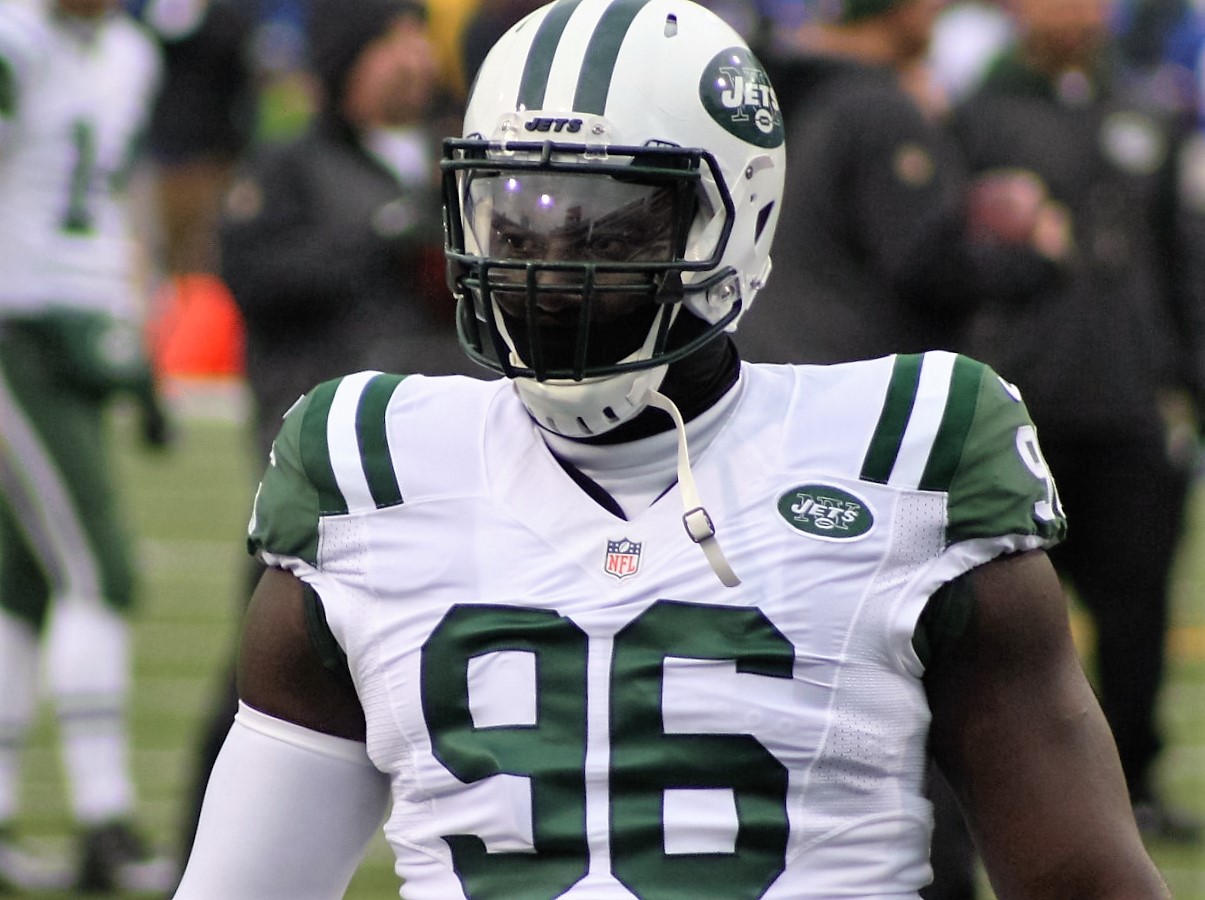 By Glenn Naughton
We hear it all the time in pro sports.  A team has a surplus of talent at a particular position and the pundits talk about how it's "a good problem to have".  In most cases they're right,  however, it seems the Jets currently find themselves in that exact predicament on their defensive line, but multiple factors are making GM Mike Maccagnan's job more difficult than it should be.
In what many consider to be his first "true test" since assuming his post, the GM has to do what's best for his team in regards to signing star defensive lineman Muhammad Wilkerson, who is set for a considerable pay raise.
Still playing under his rookie contract, Wilkerson made just $6.96 million with the Jets last season.  They'll get no such bargain moving forward, and Maccagnan will have to decide if he should commit to Wilkerson for the long-term, slap him with the franchise tag at roughly $16 million for next season, or entertain the possibility of a sign and trade to acquire what would likely be a first-round draft pick at the very least.
Deciding the fate of a cornerstone player like Wilkerson is complicated enough on its own, but there will be several factors for Maccagnan to consider that muddy the waters just a bit.
First and foremost, there's Sheldon Richardson.
Wilkerson's younger, more talented teammate would be expected to shoulder the load if Wilkerson were to be shipped out.  While nobody questions whether or not he has the ability to do it, Richardson has significant legal matters hanging over his head, meaning the Jets are faced with the possibility of losing him for an extended time frame next season.  Eventually the league will dish out a penalty in his case in which  he was reportedly driving 143 MPH in a residential area with a minor and a loaded firearm in a vehicle that police reports claim also smelled of marijuana.
Given the fact that Richardson's transgressions occurred while he was awaiting the league to hand down his punishment for multiple positive drug tests, Maccagnan and the Jets can't simply assume he'll keep his nose clean from this point on as it's an isolated incident.
This means weighing not only the talent level of the two players, but the likelihood of any future off field incidents that could leave the Jets without Wilkerson on their roster should they deal him, and without Richardson on the field should he have another misstep.
A positive development for Maccagnan to take in to account in considering the Wilkerson situation was the play of rookie defensive lineman Leonard Williams who is garnering defensive rookie of the year consideration after a strong debut season.
It's Williams' presence and high level of play that truly make Wilkerson expendable as it's fair for the Jets to assume at this point that they have three blue chip players along the defensive line if there are no disciplinary or health issues moving forward.
Despite a strong 10-6 season in 2015,  Maccagnan still has plenty of holes to fill up and down  his roster.  The offensive line should be a top priority along with addressing the linebacker position, both inside and outside.  Then of course there's the quarterback depth chart which has been solidified at the top with Ryan Fitzpatrick, but question marks linger in the near future with Geno Smith and an unproven Bryce Petty behind him.
Surely the Jets would love to go in to draft day with additional picks to fill some of those holes.  What team wouldn't?
Depending on Wilkerson's asking price, which, despite countless claims by armchair GM's that he is looking for JJ Watt money, is completely unknown at this point, Maccagnan may have to entertain trade offers for the Temple product.
Finding a way to keep all three linemen together for an extended time frame is a near-impossible task, so Maccagnan must decide.  Pay Wilkerson now, which would likely mean the departure of the immensely talented Richardson in the not so distant future, or move on from Wilkerson and retain the more volatile Richardson with an eye on building around him and Williams.
So while the plethora of talent on the defensive line is indeed a nice problem to have, deciding on who stays and who goes based on production, price and character risk means the decision is much tougher than it should be, so now Jets fans will sit and wait, hoping for Maccagnan to "ace" his first big test.
Videos
Aaron Rodgers Injury Fallout & Jets/Bills Recap