Rex Ryan, Other Division Rivals to Hone in on Jets Free Agents?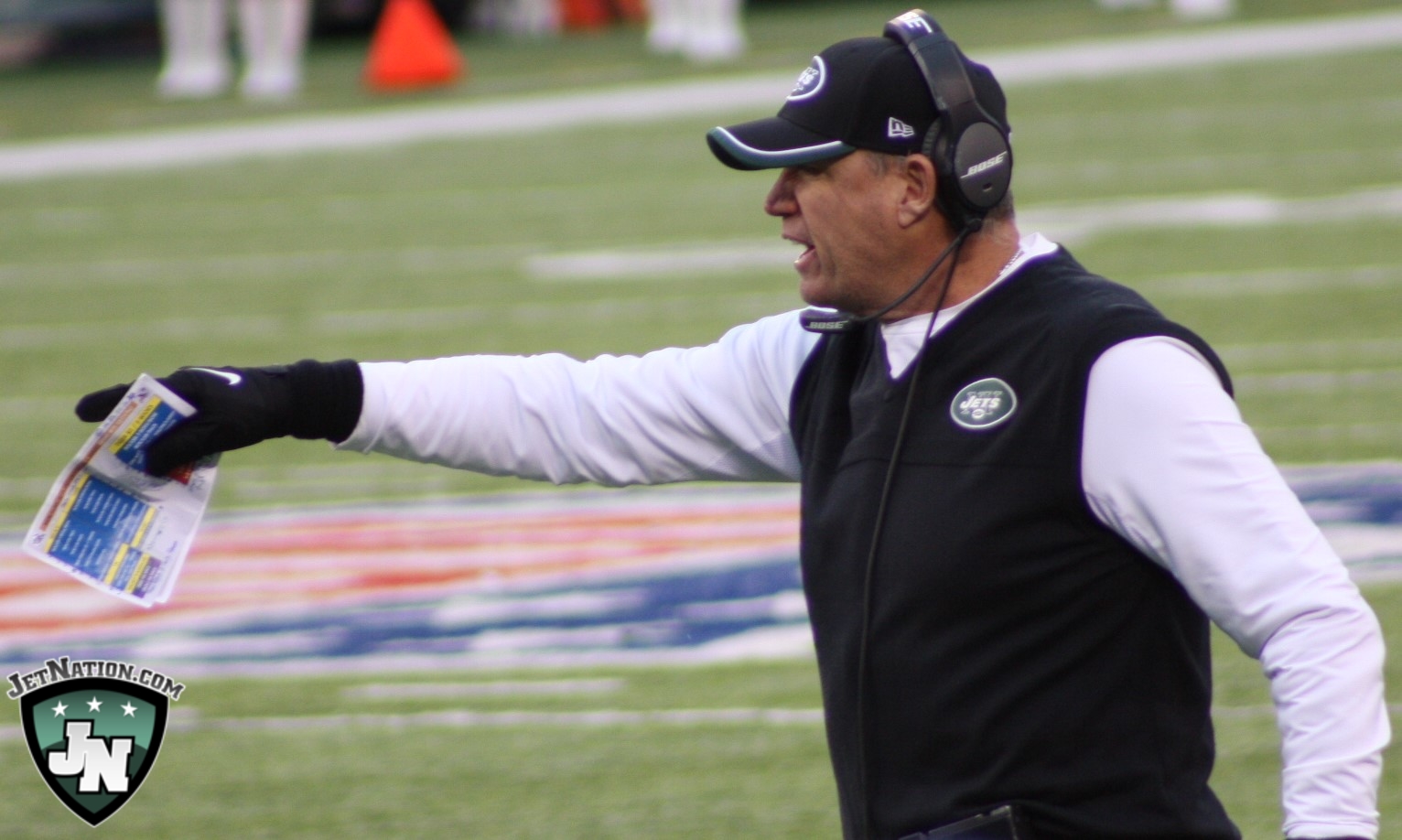 By Glenn Naughton (@AceFan23)
Few things fire up a fan base more than sitting back and watching while their team fills holes up and down the roster during the league's free agency period.  Perhaps the only thing better, is when those players added through free agency are being poached from within their own division.  Making your team better, while simultaneously hurting an opponent is the perfect scenario.
Conversely, losing a key contributor to another club is rarely a good thing, but it's only made worse when one of your own players signs on the dotted line to bolt town and play for a team you'll be facing twice a year.
With the Jets slated to have 20 players become unrestricted free agents, JetNation.com takes a look at a few possible departures to Rex Ryan's Bills, the New England Patriots or Miami Dolphins.
NT Damon Harrison- One of the reasons Bill Belichick and the Patriots were so stellar on defense during their Super Bowl runs was the presence of nose tackle Vince Wilfork whom the Patriots cut ties with as his age increased and his effectiveness decreased.  Belichick would like nothing more than to find another dominant nose tackle to anchor his front, and Harrison has proven he's capable of doing just that.
Prior to their late-season match-up earlier this year, Belichick had high praise for Harrison:
"He might be the best of all of them against the run," he said of Harrison, who has 62 tackles and a half-sack. "He's got great leverage, reads blocks well, hard to block, penetrates. He's not just a stay on the line of scrimmage guy. He makes plays in the backfield or knocks the blockers back into the backfield so the runner has to either give ground or cut back into unblocked guys and then they clean them up . . . .I'm not saying they're not good players, but he's not only disruptive but he's also been very productive. He's a major force."
With free agency and the NFL draft still to come, the Jets running back position will likely be far different from it was in 2015, but no matter who's carrying the ball for Gang Green, their fans don't want to see Harrison as the brick wall they'll be aiming to get through against the Patriots for the foreseeable future..
Even with all of Belichick's praise, don't rule the Buffalo Bills whose current Head Coach, Rex Ryan, was the man responsible for discovering Harrison.  Buffalo is a long-shot however, given the amount of money already tied up in their defensive front.
ILB Demario Davis- Davis, a Ryan draft choice, has been a solid starter for the Jets in his four pro seasons, but his presence hasn't
yielded the type of results Jets fans had hoped for when he was chosen in the third round (77th overall) of the 2012 NFL draft.
Davis has undeniable physical skills and is an emotional leader of the defense but  his struggles in pass coverage and lack of impact plays make him expendable.  In 64 games as a pro (51 starts), Davis has managed just 6 1/2 sacks, 1 interception and no forced fumbles.
With Bills linebacker Nigel Bradham set to test free agency, Ryan may attempt to persuade Bills General Manger Doug Whaley to make a run at one of his former pupils in Davis.
If Davis departs New York as expected, the Jets will likely look to the man who cut in to Davis' reps in 2015, Erin Henderson.
DB Antonio Allen- An afterthought to some after spending all of 2015 on injured reserve with a torn achilles tendon, Allen was selected in the 7th round of the 2012 draft by then-General Manager Mike Tannenbaum who is currently running football operations for the Miami Dolphins.
Miami suffered a major letdown in 2015.  After signing defensive lineman Ndamukong Suh, expectations were high in South Beach as many expected Suh's arrival to elevate the play of the defense as a whole.  As it turned out, the Dolphins moved up just one slot, from 20th to 19th in points allowed.
A defender with the versatility of a player that Allen possesses could appealing to the Dolphins who ranked 21st in the NFL against the pass.
The best case scenario for Allen and the Jets would be for the former South Carolina product to stick with Gang Green to find a niche role in Todd Bowles' diverse defense as a hybrid linebacker/safety, but don't be shocked Tannenbaum tries to convince Allen to head for the Miami sunshine.
RB's Chris Ivory and Bilal Powell- The two most effective runners out of the backfield last season, Ivory and Powell are both slated to hit free agency with the general consensus appearing to be that Ivory's return has been all but ruled out, and Powell is an unknown.  This is where Rex Ryan enters the picture again.
Jets fans are well aware of Ryan's affinity for the running game and despite having a crowded backfield with LeSean McCoy, Karlos Williams and Mike Gillislee, the Bills may be in the market for another back.
McCoy's status is up in the air at the moment as he and some friends were involved in a Philadelphia bar fight with what turned out to be a pair of off-duty police officers.
An arrest warrant has yet to be issued but it's not out of the question and with or without an arrest, McCoy is likely facing some type of disciplinary action from the league.
This, combined with Karlos Williams' concussion issues and an unproven Mike Gillislee being the next option, Ryan may reach out to Ivory or Powell not only because of what they bring on the field, but Ryan, having swept the Jets in 2015, would like nothing more than to do it again in 2016 with one of their former running backs playing a key role.
Depending on just how desperate they are for a feature running back if they should lose Lamar Miller in free agency, Ivory may show up on their radar as well.
DL Leger Douzable- A non-starter but a steady rotational lineman who Ryan or Belichick would likely be able to find a role for.
Videos
NY Jets Phase 3 OTAs, Expectations and a Minor Calf Tweak with Greg Renoff