Will Jets add Another Familiar Face for Gailey?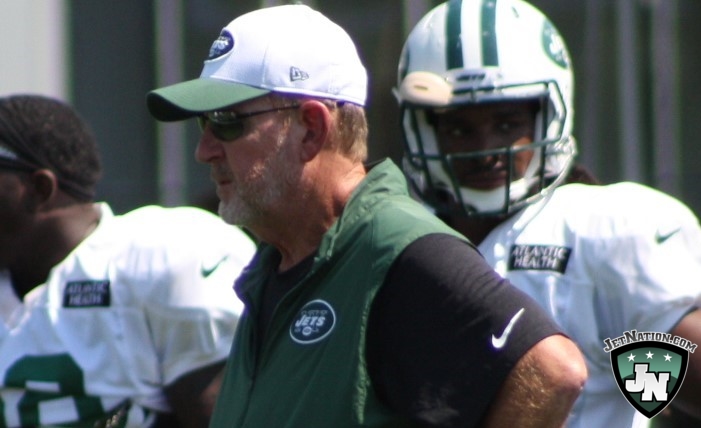 By Glenn Naughton
Last season's successful reunion of Jets offensive coordinator Chan Gailey and quarterback Ryan Fitzpatrick paid huge dividends for Gang Green as they finished in the top 11 in points scored for just the 4th time in 25 years.  Could that entice the Jets to add another familiar face to Gailey's offense?
With plenty of holes to fill as free agency and the NFL draft approach, one opportunity to fill a gaping hole may have recently presented itself when tight end Scott Chandler became available.  A former teammate of Fitzpatrick in Buffalo under Gailey, who was recently let go by the New England Patriots.
Filling the role of a part-time player last season, Chandler's production dwarfed that of both Jets tight ends, Jeff Cumberland and Kellen Davis, who combined for a paltry 8 receptions for 95 yards and just 1 touchdown.
As the Patriots no. 3 tight end with four starts sprinkled in, he produced  23 receptions for  259 yards and  4 scores.  Of course if the Jets did in fact make a play for Chandler, one would have to account for just slightly better quarterback play that he had in New England, going from Tom Brady to Ryan Fitzpatrick who is unlikely to depart via free agency.
While Cumberland and Davis lumbered through the 2015 season, many pundits referenced Gailey's lack of interest in incorporating a tight end into his offense, but that was simply not the case when he had Chandler with the Bills.  In 2011 and 2012 with Gailey and Fitzpatrick, Chandler logged some respectable totals, hauling in 81 receptions for 960 yards and 12 touchdowns.
Most importantly though, as Chandler has battled knee injuries (which is what led to his release), has been his production in the red zone, meaning he could still be a low-cost option should most of his snaps come inside the opponent's 20 yard line.  Of his 21 career touchdowns, 15 have come in the red zone, including 9 of 12 with Gailey at the helm.
The 6′ 7", 270 lb Chandler isn't  the pushover in the running game the Jets have deployed in recent seasons which should only help whoever it is they have in the backfield when the season kicks off.
Cumberland is expected to be released in the near future and Davis will likely walk in free agency, so is there another familiar face on the horizon?  If so, don't be surprised to see a dramatic improvement in production from the tight end position from 2015 to 2016.
Videos
NY Jets Phase 3 OTAs, Expectations and a Minor Calf Tweak with Greg Renoff