Featured Editorials Home Slider
Report: Jets Have "little or no faith" in Geno Smith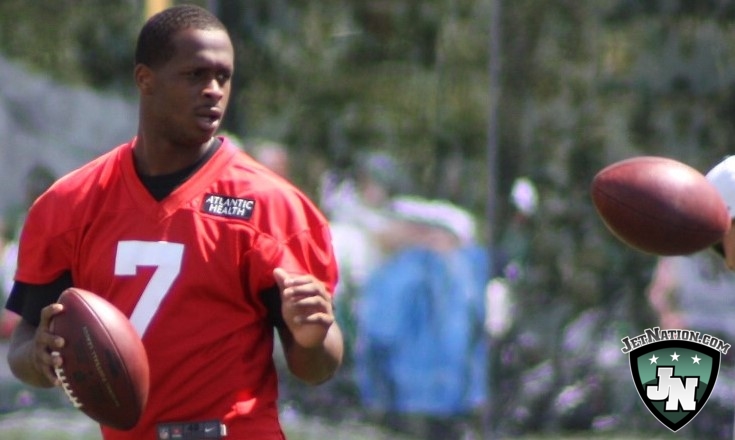 By Glenn Naughton
As the New York Jets contract saga continues to drag out with quarterback Ryan Fitzpatrick, several reports have surfaced stating Jets GM Mike Maccagnan has begun exploring multiple options to add a veteran signal caller, and if Jason Cole of bleacher report is accurate, we know exactly why, if we hadn't figured it out already.
According to Cole, there is "little or no faith within the organization" regarding Geno Smith's future as a starter.  For the handful of fans still hoping to see Smith under center, even if one were to question Cole's information, the statement itself has plenty of merit based on how the Jets handled Smith last season.
The team named Smith their starter when camp opened up, but we'll never know just how long his leash was going to be under a new regime with no loyalty to the former John Idzik draft choice.
Had Smith faltered in the early going, a week five bye would have given the team the perfect opportunity to turn the offense over to Fitzpatrick who knew Chan Gailey's play book from their days together in Buffalo.  As it turns out, Smith's well documented locker room run-in with linebacker IK Enemkpali put Fitzpatrick under center before the Jets' first pre-season game.
In the days following Smith's altercation, when it was still believed that he would be out for up to 10 weeks, Head Coach Todd Bowles was asked about the likelihood of Smith getting the starting job back upon returning.  Honest in his reply, Bowles said Smith would not get the job back if the Jets were rolling along at  "4, 5, 6, 7-0".  No surprise there, as no head coach would pull his starting QB after such a torrid start.  However, the time for Bowles to make a decision came far sooner than anyone had anticipated, as the Jets, sitting at just 2-0, learned that Smith had been medically cleared to get back under center.
Even having beaten only the lowly Cleveland Browns, and the Indianapolis Colts on short rest, Bowles had seen enough from Fitzpatrick and Smith to keep Geno watching from the sidelines while Fitzpatrick remained his starter.  Bowles' hypothetical scenario only told us what he would do from week 4 and beyond.  In reality, we saw that he needed only 2 weeks to be swayed.  Not a ringing endorsement of Smith.
Even five weeks later, when Fitzpatrick suffered an injury to his thumb on his non-throwing hand that would require surgery, the Jets opted to have Fitzpatrick fit with a custom-made  glove that would keep him on the field, rather than allowing for immediate surgery or time to the injury to improve.
The injury took place in a week 8 loss to the Raiders that saw Fitzpatrick, off to a hot start that day, completing four of his first five pass attempts, land awkwardly, injuring his left thumb on an ugly slide following a 12 yard scramble.
Smith would come in for what would be his only action of the season and while his stat line was respectable (27-42 265 yards 2 TD 1 INT),  his first touchdown drive didn't occur until the Jets were already down 28-6, and he repeated many of the same mistakes he was given a pass for by so many fans through his first two seasons, chalking it up to youth and inexperience.
Heading in to the contest, Fitzpatrick had been sacked a league-low 4 times in six games behind a shaky offensive line that his quick release and decision-making had been able to cover up for more often than not.
In his relief appearance, Smith was sacked three times in the second half alone, failing to display poise under pressure and opting to take a sack or run out of bounds rather than throw the ball away when the heat was on.  It was a discouraging development even for the most optimistic fan who'd hoped to see Smith display even moderate pocket awareness after spending two seasons as a starter and working with Gailey for months.
With Fitzpatrick injured, and the lowly Jacksonville Jaguars up next on the schedule, Bowles wouldn't have a better opportunity to get a
peek at Smith on the field after a full week of practice with the starters and one of the league's worst defenses on tap.  Even still, Bowles sent Geno back to the bench and chose to go with the injured Fitzpatrick who was reportedly unable to fully grip the football from under center due to the ligament damage in his thumb.
As if the in-season handing of Smith wasn't a clear enough signal, immediately following the season, knowing Fitzpatrick was due to hit free agency and with Smith still under contract, Bowles handed the starting job to Fitzpatrick.  There would be no competition, no controversy and no questions.  The job belonged to Fitzpatrick.
Making matters worse for Smith, Bowles was asked about the progress of rookie QB Bryce Petty, to which he said Petty showed enough as a rookie to be given and opportunity to earn the number two job next season.
For those of you keeping score at home, Bowles stuck with Fitzpatrick after just two weeks when Smith was cleared to return, then stuck with him again after suffering an injury and a defensive doormat on the schedule that would have been an ideal scenario to get a good look at Smith.
Then of course, he handed the starting job to Fitzpatrick, while giving Petty a chance to earn the back-up role.  Should that turn out to be the case, it would leave Smith of course as the Jets number 3 quarterback.  A dramatic plunge for a player who was named the starter just 8 months earlier.
So with the team leaving the door open for Smith to be demoted all the way to its number three QB, can anyone honestly question the level of commitment or faith the organization has toward Smith at this point?  Well, of course you could, but it just wouldn't make sense.
Videos
Aaron Rodgers Injury Fallout & Jets/Bills Recap