Draft Featured Editorials Home Slider
Jets Hold Local Pro-Day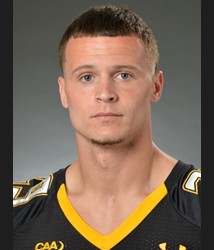 By Glenn Naughton
One of many under-the-radar events held prior to the NFL draft is the "local pro day" which gives NFL teams an opportunity to scout local talent by bringing in several players who are from, or attended college in the local area.
According to NJ.com, the following players are due to attend:
• DT Connor Wujciak (6-3, 300): Boston College; West Caldwell; Seton Hall Prep
• TE Doug Warrick (6-5, 250): Elon; Hamilton; Cheshire (Conn.) Academy
• OL Jake Schunke (6-5, 311): Towson; Wayne; Wayne Hills High
• WR Brian Dowling (5-10, 190): Towson; Wayne; Wayne Hills High
• LB Kassan Messiah (6-4, 240): Massachusetts; Orange; Orange High
• RB Savon Huggins (5-11, 203): Northern Iowa (transferred from Rutgers); Jackson; St. Peter's Prep
• FB Sam Bergen (6-0, 250): Rutgers; East Stroudsburg, Pa.; East Stroudsburg South High
• WR Leonte Carroo (6-1, 215): Rutgers; Edison; Don Bosco Prep
• OL Keith Lumpkin (6-8, 325): Rutgers; Montclair; St. Peter's Prep
• LB Quentin Gause (6-1, 235): Rutgers; Rochester, N.Y.; Bishop Kearney High
• LB Kaiwan Lewis (6-0, 230): Rutgers; Pleasantville; St. Joseph High
• LB Steve Longa (6-1, 225): Rutgers; Saddle Brook; Saddle Brook High
• K Kyle Federico (6-0, 190): Rutgers; Ponte Vedra, Fla.; Ponte Vedra High
• P Joey Roth (6-0, 180): Rutgers; Basking Ridge; Ridge High
• C Garrick Mayweather (6-3, 319): Fordham; Baton Rouge, La.; McKinley High
• LB Stephen Hodge (6-2, 212): Fordham; Medford; Shawnee High
• RB Terry Williams (5-10, 200): Kutztown; West Orange; Cosby High (Midlothian, Va.)
• DL Jake Ceresna (6-5, 295): Cortland; New Fairfield, Conn.; New Fairfield High
• DB Junior Lee (6-0, 209): Connecticut; Brooklyn, N.Y.; Boys and Girls High
• DE Mike Kozlakowski (6-3, 250): Maine; Lynbrook, N.Y.; Lynbrook High
• LB Randy Samuels (6-0, 220): Maine; Bronx, N.Y.; Mount Saint Michael Academy
• WR Kevin Francis (6-5, 207): North Carolina A&T; Brooklyn, N.Y.; James Madison High
• DB Jordan Lucas (6-0, 199): Penn State; New Rochelle, N.Y.; New Rochelle High
• C Angelo Mangiro (6-3, 321): Penn State; Roxbury; Roxbury High
One name that may look familiar to those who frequent JetNation.com is Towson wide receiver Brian Dowling, cousin of Brandon Dowling, the former host of JetNation radio's podcast.
As with many local pro day prospects, the 5′ 10" 190 lb Dowling is a long-shot, but he does have experience in an area of need for Gang Green as he has served not only as a wide receiver, but as a kick returner during his time at Towson.
Videos
New York Jets OTA Presser Takeaways, Aaron Rodgers' Impact and Summer Delusion