Jets add Free Agent Tackle Luke Marquardt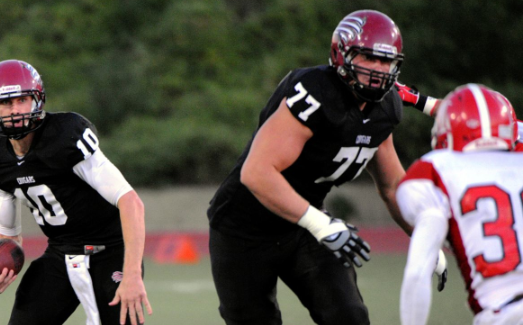 By Glenn Naughton
In a minor move earlier today, the New York Jets signed free agent offensive tackle Luke Marquardt.
A small school product out of Azusa Pacific University, Marquardt was formerly a member of the San Francisco 49ers before being released two seasons ago due to multiple fractures to the same foot.
Marquardt's NFL.com scouting report reads as follows:
OVERVIEW
Azusa Pacific University is a Christian institution not well-known for producing NFL talent; in fact, the last player drafted from APU was former Kansas City Chiefs star running back Christian the Nigerian Nightmare Okoye, in the 2nd round of the 1987 draft. But scouts have flocked to the small Southern California school to see Marquardt?s combination of size (6-9, 322) and athleticism. The fact he?s coached by NFL Hall of Fame offensive lineman Jackie Slater is no small item, as his technique is excellent for a player at the NAIA level -? making him an intriguing prospect to watch fly up boards during the draft process.
The son of missionaries hoped to play basketball at APU, but Marquardt fortuitously met with head coach Victor Santa Cruz, who saw potential in the then 230-pounder as a tight end. He grew out of that position after breaking his foot in the second game of his redshirt freshman season, and started every game at left tackle in 2010 and 2011, before missing the entire 2012 season.
ANALYSIS
STRENGTHS
Possesses prototypical height, length and a growing frame still able to add weight without losing athleticism. Flashes foot quickness to take away the edge in pass protection, but also mirror without losing knee bend to maintain balance and form. Redirects ends through the pocket inside, as well. Widens his base to anchor when on his game. Also uses his feet to change blocking angle on the move to create running lanes. Surprises with his straight-line speed when leading on pulls or getting downfield to block. Has a solid punch, and is also capable of keeping his feet active while landing it. Comes out of his three-point stance low and hard for his size, gets hands inside to bully defender out of the play. Greets blitzers instead of catching them. Uses strength and length to hold back one defender on double-team while waiting for edge blitzers.
WEAKNESSES
His height can cause him problems when trying to get leverage on quicker defenders, will need to prove he can avoid getting stood up off the snap in the run game. Gets narrow and comes out of his stance at times against quicker rushers instead of maintaining technique, often because he can against a lower level of competition. Must be consistent with his bend in pass protection and when approaching targets in space. Will occasionally stop his feet while punching, overextending in the process. Could finish plays more regularly, putting his man to the ground and keeping him there as he shows the ability to do.
NFL COMPARISON
King Dunlap
BOTTOM LINE
Marquardt could be the first player drafted from Azusa Pacific since Kansas City selected Christian ?The Nigerian Nightmare? Okoye in the second round in 1987. His size and length give him a chance to be a mid-round pick with upside -? if he can take the coaching imparted him by Pro Football Hall of Fame lineman Jackie Slater to handle the step up in competition.
A long shot to make the Jets final roster, Marquardt has never appeared in an NFL game.
Videos
NY Jets Phase 3 OTAs, Expectations and a Minor Calf Tweak with Greg Renoff