Biggest Takeaways From Mike Maccagnan's Pre-Draft Comments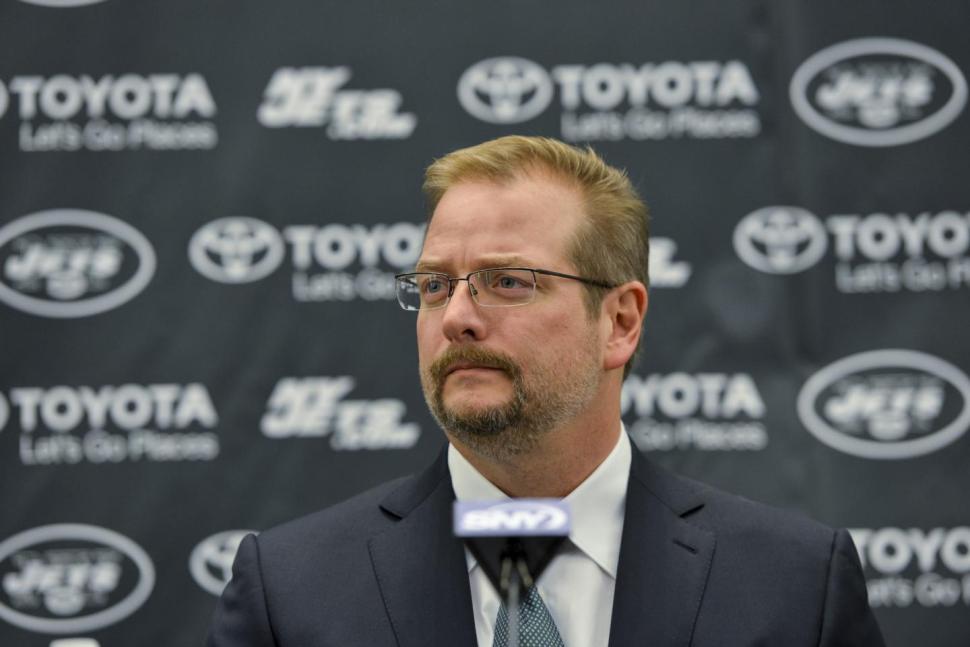 By Glenn Naughton
Jets General Manager Mike Maccagnan addressed the media yesterday for one last time prior to next week's draft in Chicago and covered an array of topics.   Maccagnan didn't reveal much that wasn't already known, but here's a look at a few of his key points and what they could mean for Gang Green moving forward.
Reiterating his comments from the owner's meetings earlier this month when he said retaining quarterback Ryan Fitzpatrick was a goal for the franchise, Maccagnan said "we feel as if we have a very good situation for Ryan here" and continued, "In a perfect world, we can get Ryan back".
After throwing a franchise-record 31 touchdowns last season, and with Geno Smith and Bryce Petty being the only other quarterbacks on the roster, it's clear as to why Maccagnan and the Jets are willing to wait on Fitzpatrick.  Even as the days continue to tick away, Maccagnan says there is no deadline for a deal with Fitzpatrick to get done.
Confirming rumors of some interest in moving up in the draft, Maccagnan acknowledged that the Jets did in fact place a call to the Tennessee Titans in regards to acquiring the first overall pick, one that would eventually be traded to the Los Angeles Rams, so clearly nothing materialized.
While twitter was flooded with Maccagnan's comments about the pick, it's much ado about nothing as he has made it clear that the team will always contact every team above and below them as a part of due diligence come draft time…nothing more.
When asked about Memphis quarterback Paxton Lynch, a 6′ 7" rifle-armed quarterback who many are projecting to the Jets with the 20th pick, Maccagnan stated a bit of the obvious, saying Lynch "has a degree of skill that's intriguing".  An understatement given the quarterback's incredible physical attributes.  A fall to 20 seems less and less likely with each passing day as he appears to be picking up steam as the draft's third-best quarterback and the top two, Jared Goff and Carson Wentz, all but locked in to be chose with the first two picks.
If available at 20, Lynch to the Jets makes a ton of sense, largely due to the fact that he'd have a chance to work with offensive coordinator Chan Gailey who has made a career of getting the most out of his quarterbacks.  Lynch would be the most talented QB Gailey has worked with since his first job as a pro coordinator calling plays for John Elway and the Broncos back in 1989/1990.
Of Course Maccagnan was also pressed on the status of pro bowl defensive lineman Muhammad Wilkerson who has been slapped with the franchise tag that he has yet to sign.
The GM said the Jets are not actively shopping Wilkerson, but of course he doesn't have to.  Every executive in the league is well aware of the Jets current cap situation (roughly $3,000,000 in space) and Wilkerson's desire to be among the top paid linemen in the league.  With that being the case, the Jets don't have to shop Wilkerson as any teams with interest wouldn't hesitate to reach out to Maccagnan.
No shortage of key issues addressed by the second-year GM and NFL executive of the year with the NFL draft just a week away.
Who the Jets tab with their choice remains to be seen, but with the potential trading of Wilkerson, the eventual re-signing of Fitzpatrick  soon after and the need for a quarterback like Lynch remaining  a pressing need, Maccagnan could have plenty more to say when he sits down for his first post-draft press conference just over a week from today.
Videos
Aaron Rodgers Injury Fallout & Jets/Bills Recap