Jets Choose Linebacker Jordan Jenkins in Round 3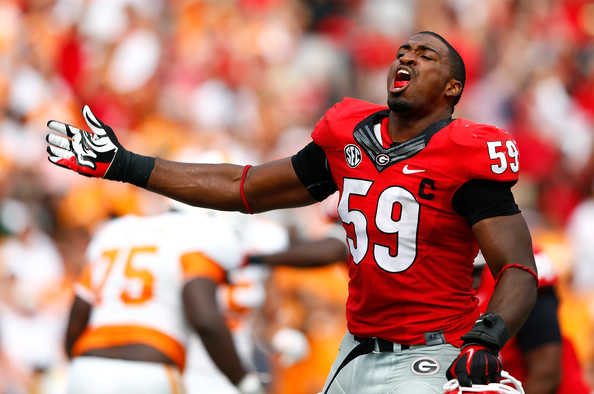 By Glenn Naughton
For the second time in three selections, the New York Jets have opted to address their defensive front-7 in going with Georgia outside linebacker Jordan Jenkins.
Jenkins, a 6′ 3" 253 lb linebacker racked up 19 sacks in four seasons in Georgia to go along with 204 tackles and six forced fumbles.
NFL.com player profile had the following to say about Jenkins:
OVERVIEW

Jenkins, Georgia's Most Improved Player for the 2014 season (9.5 tackles for loss, five sacks), came out in a flash as a senior, racking up 11 tackles, 5.5 for loss and two sacks against Vanderbilt. Groin and hip injuries limited him throughout the year, however (59 tackles, 10.5 for loss, four sacks), keeping him off all-conference teams. Jenkins started six games as a true freshman(eight tackles for loss, five sacks) and earned second-team All-SEC honors as a sophomore (12 tackles for loss, five sacks) before truly coming into his own as a junior.

PRO DAY RESULTS

40-yard dash: 4.77 seconds
Vertical: 38 inches
Broad jump: 10 feet, 3 inches
Short shuttle: 4.32 seconds
3-cone: 7.41 seconds
ANALYSIS

STRENGTHS

Very aware of what is happening around him. Has a high football IQ and has understanding of down, distance and tendencies. Physical at the point of attack and sets a strong edge. Has desired thickness and play strength to hold up against NFL edge blockers and freakishly long arms and big hands for his size. Won't sit on blocks and uses powerful hands to shed and get into the action. Has played standing and with a hand in the dirt and can handle himself in zone coverage. Team captain. Brings a pro-­ready play demeanor to the field each Saturday.

WEAKNESSES

Not a dynamic pass rusher. Has some knee stiffness in his rush and won't "out-­athlete" many NFL tackles. Upright play limits his speed-­to-­power effectiveness as a bull-­rusher. Average upfield explosion off the snap. Did not impress against Alabama. Dealt with a nagging groin injury this season.

DRAFT PROJECTION

Rounds 2 or 3

SOURCES TELL US

"I think he's a plug-and-play second-rounder who can play in an odd or even front. He reminds me of the type of guy Ozzie (Newsome) looks for with his toughness." — ­AFC Director of Scouting

NFL COMPARISON

Nick Perry

BOTTOM LINE

Three-year starter who has played both outside linebacker spots in the Bulldogs 3-­4 defense. With Jenkins length and outstanding power on the edge, he is a natural fit as an edge-­setting strongside 3­-4 outside linebacker in the pros. Jenkins may not be viewed as dangerous enough as a pass rusher to warrant a first round pick, but he's a safe pick whose toughness and football IQ make him an early starter candidate.
Care to share your thougths on the Jordan selection?  Log  on to our forums here to let your voice be heard.
Videos
Aaron Rodgers Injury Fallout & Jets/Bills Recap