Featured Editorials Home Slider
That's a Wrap! Recapping Gang Green's Draft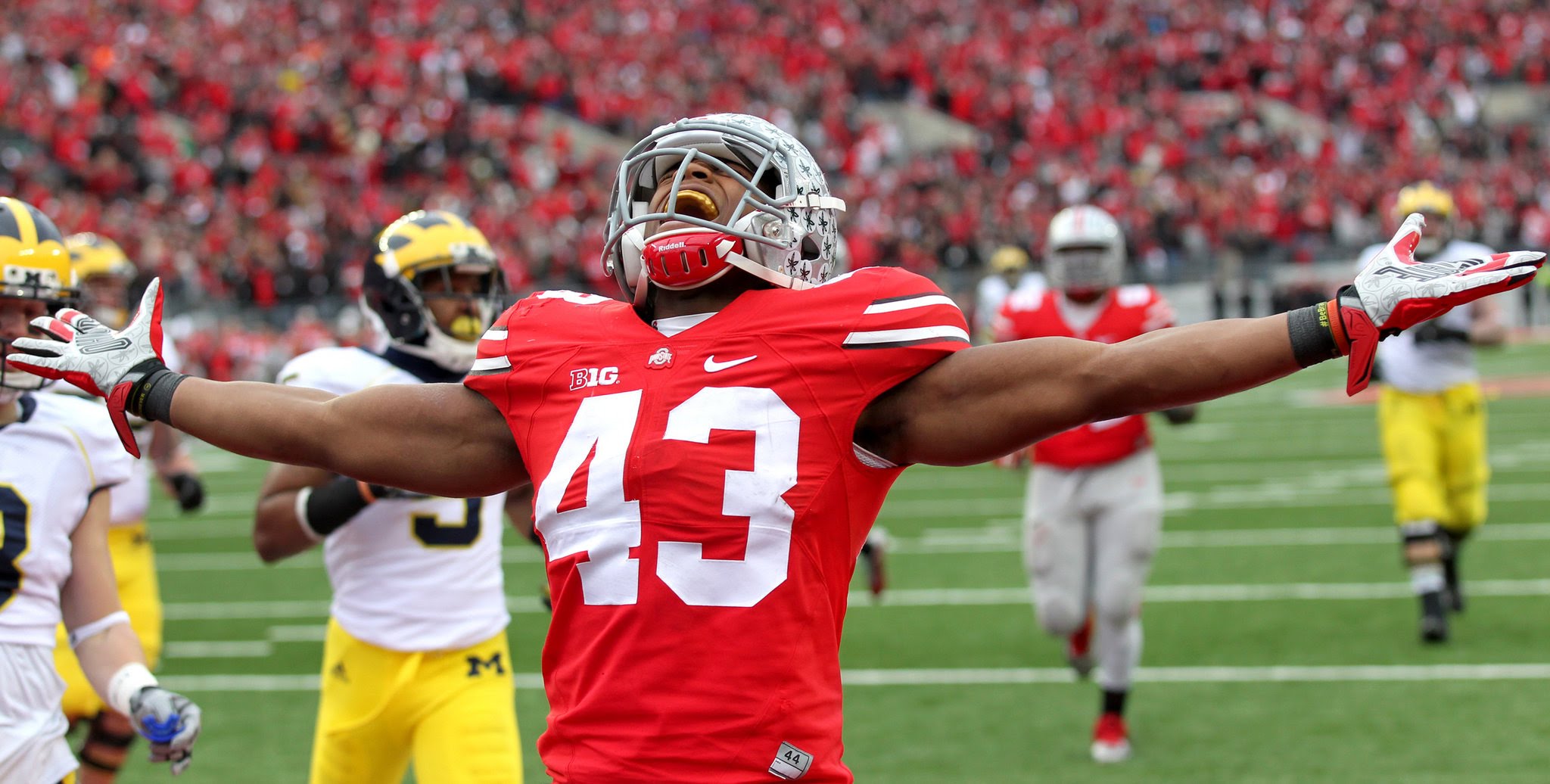 By Glenn Naughton
All Seven rounds of the NFL draft are in the books and Mike Maccagnan and the New York Jets came away with seven new players, most filling pressing needs for both the immediate and distant futures.
Here's a quick rundown on what the Jets come away from Chicago with the 2016 season looming.
Round 1- pick 20 – (20)
Darron Lee- Linebacker – Ohio State- 6′ 1" 232 lbs – Lee was a disruptive force during his time at Ohio State and he cemented himself as a first rounder when he ran a 4.47 40 time in Indy.  A sideline-to-sideline defender, Lee is going to work primarily at inside linebacker according to Head Coach Todd Bowles, but don't think for one second he won't be used to come off the edge on a situational basis.  Lee showed great burst in that role at Ohio State and gives Bowles another play making weapon for his defensive arsenal while adding a player who can cover running backs out of the backfield.
Round 2- pick 20 – (51)
Christian Hackenberg- Quarterback – Penn State- 6′ 4" 223 – With just Geno Smith and an unproven Bryce Petty currently on the roster, things look bleak for the Jets under center.  Adding Hackenberg didn't do a great deal to bring a sense of calm to the fan base as his time at Penn State was a nightmare after a promising Freshman campaign.  A Head Coaching change and a depleted roster spelled disaster for Hackenberg who saw his completion percentage drop every season of his college career, ending with a paltry 53.5% last season.  Even still, his prototypical size, plus arm-strength and excellent performance three seasons ago in a pro style system give some reason for hope moving forward.
Round 3- pick 20 – (83)
Jordan Jenkins- Linebacker – Georgia – 6′ 3" 259 – Veteran linebacker Calvin Pace is unlikely to return and Jenkins gives the Jets a player who they can hope will step in and fill the role of strong side linebacker immediately.  Jenkins compiled 204 tackles (39 for loss) and 19 sacks in his four seasons at Georgia while playing multiple linebacker spots.
Round 4- pick 20 – (118)
Juston Burris- Cornerback – NC State – 6′ 212 – A big, strong cornerback who struggles with technique from time, leading to some pass interference calls, Burris also played at a high level at NC state where he held opposing QB's to a 34.1% completion percentage.
Round 5- pick 21 (158)
Brandon Shell- Offensive Tackle – South Carolina – 6′ 5" 324
The Jets shipped a 2017 4th round pick to the Redskins to add a 5th round choice and address another position of need along the offensive line.  In doing so, they chose Shell, the great-nephew of Hall of Famer Art Shell.  An excellent run blocker in college who got the job done more often than not.  Less of a pass blocker at this point which make him a more natural fit at at right tackle, Shell should need some time to develop and provide depth along the O-line.
Round 7- Pick 14 (235)
Lac Edwards- Punter – Sam Houston State – 6′ 4" 209
Edwards is an Australian import who becomes the lone punter on the roster as the Jets made no attempt to retain Ryan Quigley.   According to NFL.com, Edwards dropped 38.9% of his punts inside the opponent's 20-yard line.
Round 7- Pick 20 (241)
Charone Peake- Wide Receiver – Clemson – 6′ 2" 209
Peake has a chance to be the biggest steal of this draft for the Jets.  An incredible combination of size and speed (4.45 combine/4.37 pro day), Peake is an ideal late-round pick.  Undeniable physical tools who struggled to get on the field early in his college career due to injuries and being buried on the depth chart, but who produced as a senior when he hauled in 50 balls for 716 yards (14.3 YPC) and 5 touchdowns in 14 games.
When all was said and done, the Jets addressed needs at linebacker in getting a player who can rush the passer and cover as well as what should be an immediate starter in Jenkins.
Hackenberg is polarizing, but it's comforting to know that Maccagnan appears to be a "take one until you get one" when it comes to quarterbacks after taking QB's in each of his first two drafts.  Depth at cornerback and along the offensive line were also needs, and bringing in another big target in the 6′ 2" Peake isn't a bad idea given Brandon Marshall's age and a lack of speed receivers on the roster.
With the draft in the books, it's time to monitor the undrafted free agent wire while waiting for the 2016 season to get under way.
Videos
Aaron Rodgers Injury Fallout & Jets/Bills Recap