Featured Editorials Home Slider NY Jets Training Camp
Bowles Addresses Media Following Day 2 of Rookie Mini-Camp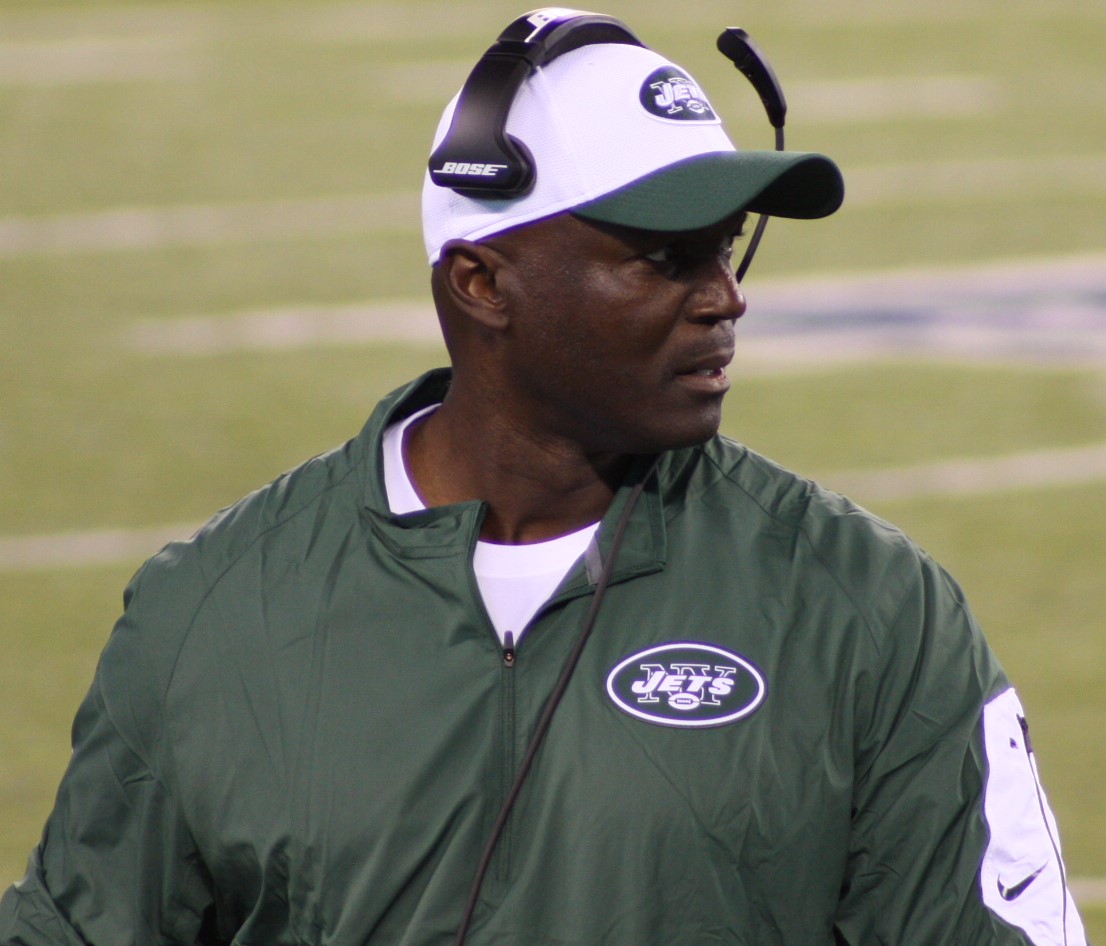 By Glenn Naughton
More of the same again today at day 2 or Jets rookie mini-camp as quarterback Christian Hackenberg was hot and cold while receivers Charone Peake and Robby Anderson flashed excellent speed.
Following the session, head coach Todd Bowles met with the media to discuss the session.  Below is a transcript of Bowles time in the media room.
On if any players have stood out during the first two practices…
Not in particular. You go back and watch the film after it's all done. Right now I am just looking to see if they know what to do as opposed to who is sticking out. You see some speed, you see some big guys out there, but no one in particular.
On if he anticipates signing any of the tryout players…
I can tell you after tomorrow. Right now we are still evaluating, so I have to go back and look at the film. I can't see them all out there at the same time.
On Christian Hackenberg's practice today compared to yesterday…
Same thing. We had a new install today so today was a lot like yesterday. They learned a whole bunch of different things. I didn't see much difference. (It's) obviously (about) and seeing if they can apply it out on the field.
On how much of a priority it was to revamp the linebacker position…
Well it was a priority for us to get better (as a team). We didn't know which position we were able to get (in the draft). We just happened to be able to get the linebackers that were available to us. We are happy with the guys that we got, obvioulsy. We're younger, there is a lot of experience that they have to replace and they have to learn a lot of things but we are happy with the guys that we got.
On if adding speed at linebacker was a priority …
I thought we wanted to have overall team speed. Obviously you want to be a little faster overall at each position. We thought we got better in the draft at overall team speed.
On Erin Henderson…
Erin was a tough player before he got put out of the league. He missed a year and when he came back he did everything the right way. He was a good teams player for us, he knows how to play the position inside and he was just one of those players, not so much a knock on Demario (Davis') play, but Erin was getting better and we wanted to put him on the field.
On whether he sees the punting competition stretching into training camp…
Yeah, it's definitely going to go on into training camp. Obviously you have two young guys that haven't done it in the league before. One has a very strong leg, the other is a very good directional punter. We will see what they do when they get under pressure and we get to rush a little bit and see if they can boom them out of there.
On converting Jason Vander Laan from quarterback to tight end…
He has some toughness, he has things on film. I think a lot of people convert and project. Some people use basketball guys, some people use big quarterbacks from smaller schools. We saw something in him that we wanted to see if we had the ability to learn it and the ability to grow and get better at it.
On comparing the number of sacks Freddie Bishop had under CFL rules to the NFL…
I don't know that you compare the number, but 11 sacks is 11 sacks. I was in Miami when Cameron Wake got there and we took him from Canada. Sometimes it takes guys time to develop and you can develop over there and come back over here and be good players or can develop over there and have a career over there. We saw some things in Freddie, not just the sacks, but as far as him playing the position and knowing how to play the position that made him appealing to us and made us want to sign him.
On how he views the outside linebacker position…
(There is) a lot of youth and a lot of inexperience. They have a lot of things to learn and a little bit of time (to do it). (They) have a lot of talent but nothing takes the place of experience, so they have a lot of work to do.
On if the door is closed on bringing Calvin Pace back…
No, (the door) is not closed. We just have not done anything (with him) right now.
On if the door is closed on Antonio Cromartie…
(The door) is never closed. Things could come up and you may end up calling a guy back.
On why the team waived Sean Hickey…
We needed the space (on the roster).
On if there was a particular reason that Coach Bowles decided to start Lorenzo Mauldin at Will linebacker and Jordan Jenkins at Sam linebacker…
(We did it to give them a chance to be) on the field at once, plus he (Jenkins) played (the strong side more) in college. He was (more) use to playing over the tight end a little more. They (move) the tight end so much they are both going to be interchangeable. You say Sam and Will by alignment, but what they do on offense dictates who is the Sam and who is the Will.
On why Jenkins did not record more sacks in college…
I can't really explain that. I was looking more at the player. Sometime schemes differ in college than they are in the pros. When you play over the tight end side, generally, they slide the protection that way quite a bit. I'm not saying he should have had more or shouldn't have had more. We just know he is a good football player. But I can't speak for them schematically.
On Darron Lee and Jenkins building a relationship as young linebackers…
I like the fact that teammates are getting along. I know they have a lot of work to do, but if they are willing to put in the work, which I think they are, they will be fine.
On if he is confident some of the young offensive linemen will continue to develop once the equipment is on…
Yeah, you want to try and develop the guys, especially those in their second, third and fourth years. You want to have some development there. Hopefully, when the pads come on (and) things start knocking around a little bit, they gain some more experience.
On when he expects Devin Smith to return to practice…
I'm not sure. Coming off an injury like that we will just have to wait and see. I just have to listen to what the trainers and doctors tell me and see how he progresses.
On if he thinks training camp is a possibility for Smith's return…
I'm not sure.
On if he knows Art Shell…
I know who he is. I met him a few times. I can't say I know him personally.
On if Shell had an impact on his nephew, Brandon Shell…
I'm sure he saw film and he knows (the) history of Art (Shell), but I think the kid is pretty good in his own right. (His uncle has) a history that he heard quite a bit about, but he wants to make his own name.
On when he expects Jace Amaro to be available…
He has been running around, so I'm hopeful he will be able to practice.
On if he expects the same with Zach Sudfeld…
Yes.
The Jets will wrap up their 3-day camp tomorrow which will have no media access.
Videos
Aaron Rodgers Injury Fallout & Jets/Bills Recap