Home Slider Jet News NY Jets Training Camp
Bowles Breaks Down Rookie Camp's Opening Day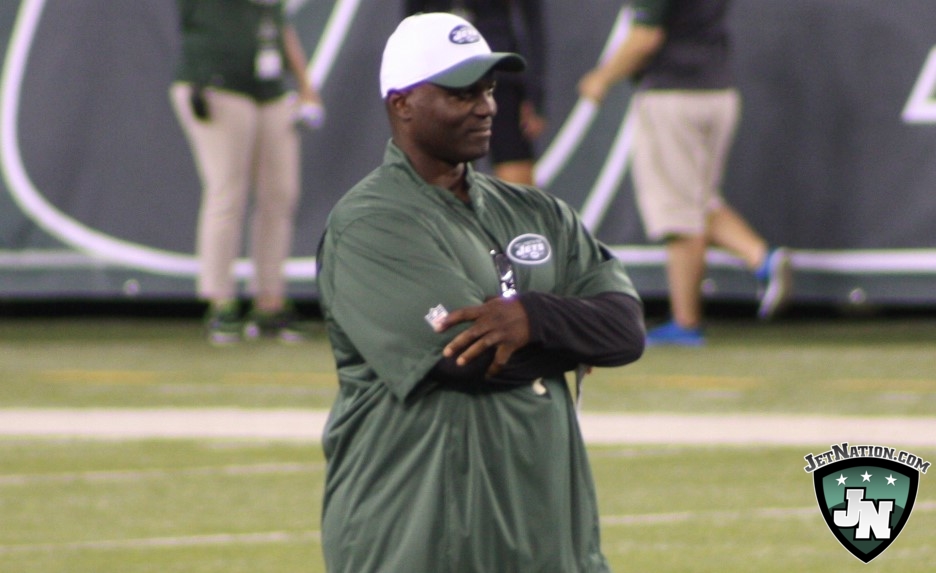 By Glenn Naughton
With their first day of rookie training camp in the books, Jets Head Coach Todd Bowles addressed the media yesterday following the team's first session.  Here's what the second-year coach had to say about his initial thoughts on some of his first-year players.
On how Christian Hackenberg looked during practice…
The first day, it was a healthy learning process for him. He threw the ball in individuals so he was fine.
On if he saw Hackenberg's arm strength during the draft process…
I mean we know he has a strong arm. Right now, it's all about learning, understanding the system and getting these guys acclimated.
On if the team needs to say anything on Hackenberg's behalf regarding the criticisms of Hackenberg's play his last two seasons in college…
No, there is nothing to say. You can criticize everyone in the draft. We understand his criticism, we understand (Darron) Lee's, we understand (Juston) Burris', we understanding (Brandon) Shell's, we understand everyone that was on the draft board. So, you take a hope at potential and understand that they're willing to learn and go with it.
On what they are looking to see from Hackenberg during rookie minicamp…
You're just looking for him to learn the system and get acclimated. You're not looking to see anything right now because none of them know anything. Right now it is about teaching and understanding what we do and processing it and then going out in a three-day span and seeing if they can maintain whatever they learned in the meetings. That's all this is about.
On he saw any "bad habits" in Hackenberg during practice…
We all have bad habits. I mean, you see mistakes, I don't know if you see bad habits. We can take every person in the draft and say they have bad habits, as well as ourselves. We saw enough that we are positive in what we have and we are willing to work with him, and we're fine with that.
On when Hackenberg will return after rookie minicamp…
He'll come back. In about a week, he'll come back and all the rookies will be back. And we will spend time with him, he'll get acclimated and he can understand how things work around here and get used to things we're doing.
On the Dolphins approach during rookie minicamp of not having the players practice…
Quite a few people have done it, I've done it before. There are a couple of teams that I've been with where sometimes you don't have enough people to do the process and sometimes you have to get too many tryout guys to go through the process, and sometimes you just start fresh with the veterans. It's been going on for a while.
On his thoughts on that approach to rookie minicamp and whether he consider doing that this year…
Yeah, I did, I thought about it. And I've said all this before, if we didn't draft a quarterback I wasn't going to have one either, but when you draft a quarterback, they have to go through the process and learn. It's good for them to go through the three days. Everyone else, you're going to see their work in camp. But the quarterback has to get acclimated mentally.
On Darron Lee…
Yeah, he's fast. We're not trying to tackle in camp. But Coach (Bruce) Arians always taught me it's better to say, "Whoa," then, "Sick 'em." We will tone it back and make sure that he's doing the right things.
On if he likes that aggressiveness…
Not out of pads. You don't want the aggressiveness out of pads. We have plenty of time to hit people. We just want to do the mental part and understand where you are positionally.
On having to manage Hackenberg after he was sacked so many times in college…
No, I think quarterbacks have taken a beating before and I give him credit for standing in there that long. You get sacked in this league and you get sacked in college, the fact that you stand in there tough and play, I don't look at it any differently. The sacks had nothing to do with the quarterback. Obviously if you get shell shocked, and some people have, that's one thing, but he's played through a lot of things so I don't have a problem with it.
On whether Hackenberg remaining committed to Penn State after the sanctions showed character…
He went through college just like everyone else and he played quarterback and he had some good games and he had some not so good games. But we saw enough in him that we believed in him so I think his character speaks for itself.
On Terron Beckham…
First day, obviously, he's quicker than I thought he was. I didn't know what to expect from him coming in. He's quick, he studies and he's learning. I'll be interested to see what he does the next two days.
On if any undrafted free agents stood out…
There were quite a few. Probably all of the ones that we signed we got have a chance to make the team. I'll wait until we get into pads before I can make that announcement going forward.
On if any of the draft picks will have a role on special teams…
Anybody that is not starting needs to play special teams. And some of the starters (old or young) need to play (on special teams).
On if he was surprised that any of the undrafted free agents where not drafted…
Not this year. There was so many that could (have) went, that didn't go. There are probably too much to mention.
On the challenge minicamp presents for Beckham since he did not play football in college…
It's probably different since he has not been in pads in a while. He looks like he knows how to play football, he's studious, he pays attention to detail and understands what he is doing.
On how he analyzes a running back in minicamp…
(I look at) more or less intelligence, understanding the scheme, is he taking the proper steps, running the right routes and picking up the right blitzes.
On Brandon Shell playing left tackle…
We like him as a right. Obviously we are short on numbers right now, so everybody has to fill in everywhere.
On how tough it was to release Joe Anderson…
It was tough. Me and Joe have a very good relationship. Obviously, this thing is all about business and getting the best players in here. Joe is a workaholic. We had a very good conversation – I think the world of the guy. It was one of the toughest things I had to do since getting here.
On what the team liked about Freddie Bishop…
He just had a knack for knowing how to play the position. I don't take too much stock into him getting pressure today, because we are out of pads. It is easy to kind of run around a guy that is playing two hand touch. We will wait until we get into pads, but what we saw on film and what we liked was, he had a knack for playing the position, he had a knack for getting to the quarterback. He was strong against the run. He was someone we wanted to work with.
On Jason Vander Laan…
We saw some toughness. We saw an athlete. We thought he was someone worth developing. That is why we signed him.
On if the plan is to use Vander Laan as a tight end…
Yes.
On if he could have made the Redskins as a tryout if he was given only a three-day tryout…
That is a good question. I like to think I (could). I can't honestly answer that question. Back then there was so many people in camp. I would like to think I would have made it, but you never know.
On the fact that it may take a week or two for a young play to get up to speed…
It's hard, but a tryout for three days in better than a workout for one day. You get a chance to learn somethings and understand somethings – even if you don't get signed immediately you may show enough that if something happens you might get a call back in camp if someone gets hurt. So it is worth it.
Day two of the three day camp will resume today at the Jets training facility in Florham Park.
Videos
Aaron Rodgers Injury Fallout & Jets/Bills Recap