Jets Announce Official UDFA List, Who's who?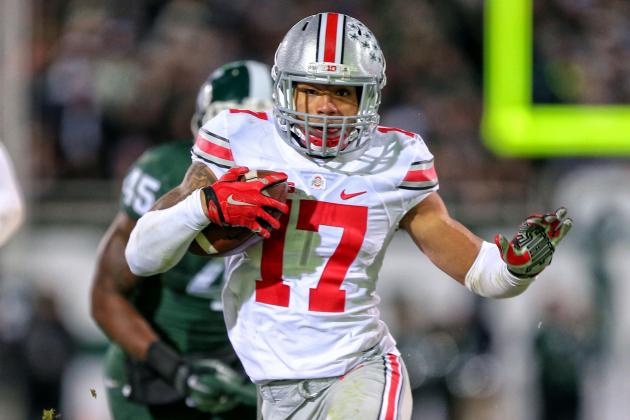 By Glenn Naughton
In the hours and days immediately following the NFL draft, teams get on the phones to quickly sign their top undrafted choices who are officially free agents.  JetNation.com took a look at some of the names being reported by the Jets as well as multiple social media outlets. However, with the Jets releasing the official list, we take another look and who's who and what players could stick with Gang Green.
Robby Anderson- Wide Receiver – 6′ 3" 190 – Temple
An extremely intriguing prospect out of Temple, Anderson's size speed combo (4.28 40 at his pro day) make him worth a look.  He'll make plenty of dazzling catches but will also suffer the occasional drop on what should be a routine catch.  Anderson faced lower competition at Temple, but he did face off against first-round cornerback William Jackson III and had quite a day.  Matched up against one another for most of the day, Anderson hauled in 12 catches for 150 yards, including a 51-yard grab that saw Anderson scream past Jackson III lined up one-on-one.  Of all the undrafted players brought it, Anderson may have the best shot to stick.
Tarow Barney- Defensive Lineman – 6′ 1" 306
In just 13 career games at Penn State, Barney picked up 16 tackles to go along with  2.5 sacks.
Quenton Bundrage- Wide Receiver – 6′ 2" 192 – Iowa State
Bundrage had a strong 2013 season (48-676-9) before missing all of 2014 with a torn ACL.  Coming back from the injury, he saw his numbers slip to 41-548-4 which may have prevented him from being a late-round pick.
Kyle Friend- Center/Guard – 6′ 2" 305 – Temple
Without an established backup center on the roster and Nick Mangold's advanced age, it makes sense to bring a guy like Friend in to camp.  An experienced starter and three-time team captain at Temple, Friend is a high character player with incredible strength, ripping off 41 reps of 225 at his pro day.
Tom Hackett- Punter – 5′ 10" 198 – Utah
Hackett joins seventh-round draft choice Lac Edwards in trying to take over Ryan Quigley this season.  The two-time Ray Guy award winner averaged 47.9 yards per punt with 45.9% of his kicks landing inside the 20-yard line at Utah.
Jalin Marshall- Wide Receiver – 5′ 10" 200 – Ohio State
Yet another Ohio State product heading to the NFL, only this time not via the draft.  Marshall is listed is a wide receiver but is more likely to get a look at H-back in the pro's.  He logged 25 carries as a running back as a freshman before seeing that drop to just 2 in a Sophomore with most of his production coming as a receiver.  In two seasons at Ohio State, he totaled 74 receptions for 976 yards and 11 TD's.  Also a return specialist, Marshall averaged 12.7 yards per punt return on 52 attempts, and had a 30.7 YPR average on 92 kick returns.
Ross Martin- K – 5′ 10" 185 – Duke
One of countries most accurate kickers, Martin hit 83% of his kicks at Duke.
Helva Matungulu- Defensive Tackle – 6′ 5" – 290 – Western Carolina
A native of Nairobi, Kenya, Matungulu is a raw prospect with just four years of football under his belt.  The 6′ 5", 290 lb defensive lineman grew up playing rugby, soccer and basketball before heading to Western Carolina to pursue an interest in molecular biology.  As you'll see in this piece on Matungulu, his route to the NFL has been far from traditional, but he has still managed to interest several NFL clubs.
Doug Middleton- Safety – 6′ 210 – Appalachian State 
A big hitting safety who does his best work in the box, Middleton didn't play against top competition at Appalachian State, but his fiery playing style and leadership traits were bound to get him a look somewhere.
Julien Obioha- Defensive Lineman – 6′ 4" 280 – Texas A&M
Obioha spent four seasons at Texas A&M where he played inside and outside along the defensive line, picking up  4.5 sacks and 137 tackles, 2 forced fumbles and 1 fumble recovery.
Claude Pelon- Defensive Lineman – 6′ 4" 310 – USC
Pelon moved around a little bit on the Trojans defensive line from end to tackle so he does have some versatility.  Not ultra-productive after picking up just 45 tackles and 4 sacks in two seasons, Pelon is unlikely to be much more than a camp body.
Lawrence Thomas- Defensive Lineman – 6′ 3" 286 – Michigan State
Thomas didn't see much of the field through his first two college seasons as a linebacker but saw some action as a D-lineman during his Junior and Senior seasons, picking up 72 tackles, 9.5 tackles for loss and 6 sacks.  Also played fullback as a Freshman.
Jason VanderLaan – QB/TE – 6′ 4" 244 – Ferris State
Tiny Ferris State's starting quarterback is college football's all-time leading rushing quarterback with over 5,000 yards but is said to be looking at a move to Tight End with Gang Green.
Videos
Aaron Rodgers Injury Fallout & Jets/Bills Recap