Featured Editorials Home Slider
Eric Decker Receives The Hometown Hero Award At The United Way NYC's Annual 23rd Gridiron Gala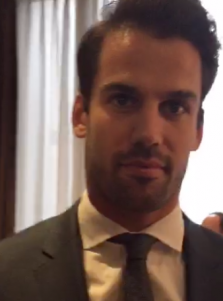 Once again the New York Jets and New York Giants teamed up with the United Way of New York City for the 23rd Annual Gridiron Gala at the Midtown Hilton, New York. Jets wide receiver Eric Decker, and Giants running back Rashad Jennings were being honored as Hometown Heroes. Their dedication to community service has earned them this prestigious title.  Darryl White of BMO Capital Markets and Bob Kueppers, Retiring United Way of New York City Board Chair were also recognized.
Student participants from the United Way of NYC's ReadNYC Initiative were honored as the evening's MVP's. The event was emceed by W-CBS TV's sports anchor Otis Livingston. Appearances were made by Joe Namath, Willie Colon, and Nick Folk, among many other notables.
The Gala featured a silent auction that included Coaches Club tickets to the Jets-Giants preseason game and tickets to the Broadway Musical, Hamilton. All proceeds benefit the United Way of NYC and support New York City's low-income children.
United Way of New York City and the Jets and Giants have been hosting the Gridiron Gala for 23 years. During this time they had raised over $27mil (before last night). Last night's event raised $1.8mil, which brings their 23 year total to close to $29mil. You can donate year round by visiting unitedwaynyc.org.
JetNation.com was front and center Periscoping from the red carpet. As always, JetNation would like to thank Jake Oliver and Rida Bint Fozi for inviting us to this event, and help raise awareness for an important cause.
Watch our interview with Eric Decker below. You can see the rest of our interviews from the red carpet by visiting our YouTube channel.
Videos
Aaron Rodgers Injury Fallout & Jets/Bills Recap