Featured Editorials Home Slider
Fitzpatrick Camp Using Geno Smith as Leverage?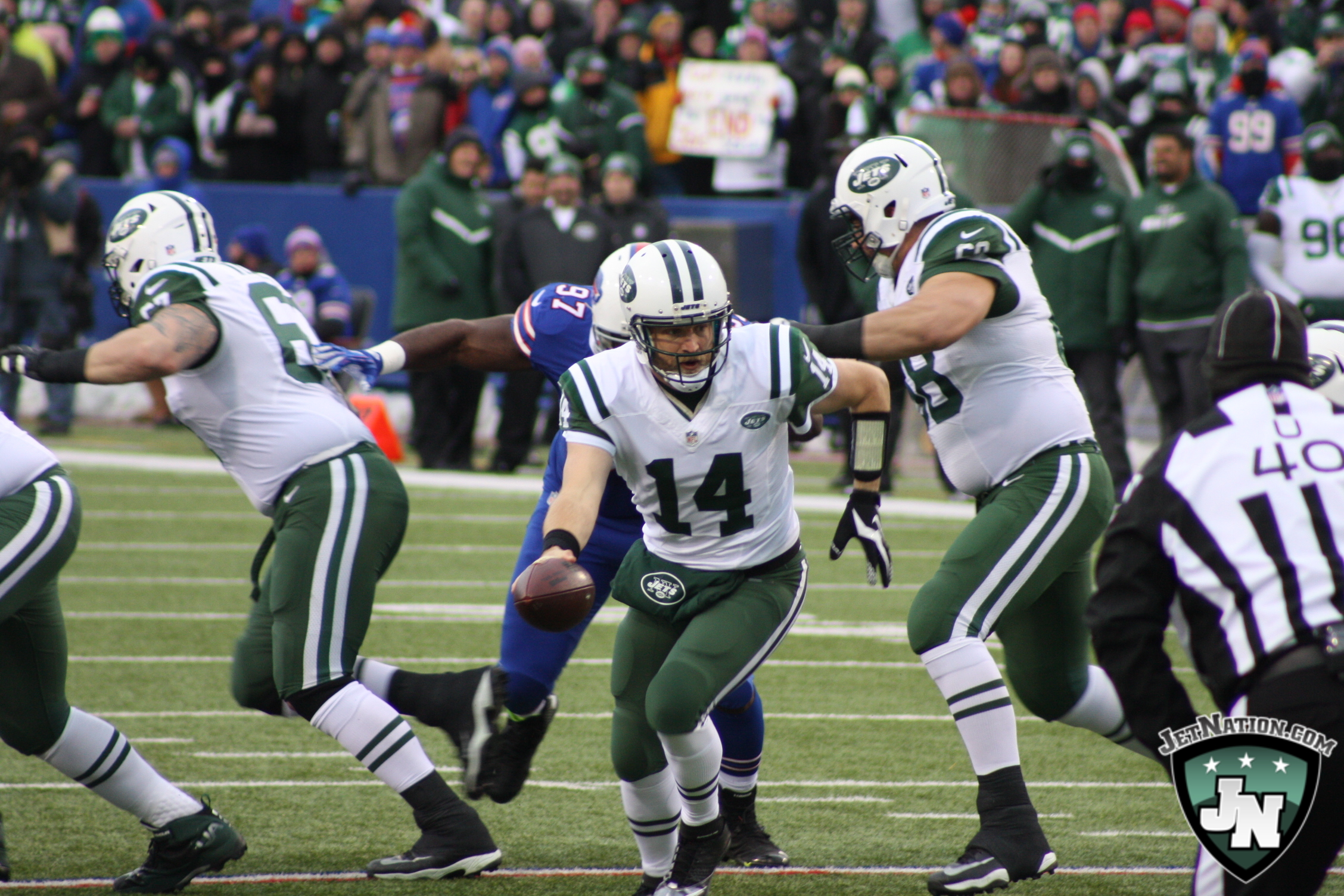 By Glenn Naughton
So now it's being reported that the New York Jets have offered free agent quarterback Ryan Fitzpatrick a 3-year contract with a year-one value of $12 million.  The initial report came from Mark Cannizzaro of the New York Post, before Ian Rapoport of the NFL network not only confirmed the offer, but reported that it has been on the table since March.
A shocking development as previous stories had the team's offer as low as $7.5 million with some believing even that was too much given the lack of a market for Fitzpatrick as other teams have already settled their starting QB situations through the draft of free agency.
We repeatedly heard the word "leverage" in regards to the contract talks and how Fitzpatrick lacks any.  With no other offers on the table, the Jets supposedly held all the cards and could wait Fitzpatrick out, forcing him to take a low-ball offer.  Now, it seems Fitzpatrick and agents are using the only leverage they have…Geno Smith.
If the Jets were to walk away from Fitzpatrick, Smith becomes the de facto starter, and his performance through his first three NFL seasons suggest that would be a bad spot for the Jets to be in, and clearly that's what Fitzpatrick and company were counting on.
Two seasons in a row, Smith was voted the NFL's worst starting quarterback, not by fans watching from their couches, but by NFL coaches and insiders in a poll conducted by ESPN.  After learning he was viewed as the worst signal caller in the league, Smith said he thought it was "hilarious".  Right about now, Fitzpatrick's representatives probably feel the same way.
While Smith's time with the Jets has been hampered by a lack of weapons and a dysfunctional coaching situation in Rex Ryan's final season, there's no disputing the results he has posted, which in some cases, have been so bad that it's impossible to ignore.
Even with the lack of experience and talent Smith had to work with as a rookie, he once had four consecutive contests in which he failed to complete 10 passes.  Yes, you read that right.  In four consecutive NFL football games, in 2014, a quarterback failed to complete just 10 passes.  A stretch that saw the Jets go 1-3 with their lone touchdown pass during that time came on a 13-yard strike from Matt Simms to Jeff Cumberland against the Buffalo Bills.  In all, Smith went without a touchdown pass in those four games while throwing six interceptions.
It seems almost impossible given the number of rule changes on defense in recent years to increase pass production, yet Smith pulled  it
off, becoming  just the third quarterback in franchise history to achieve such a dubious feat. He joined Bob Davis who did it in 1971, and Richard Todd in 1976.  In fairness to Davis and Todd, Smith is the only one of the three quarterbacks to attempt at least 10 passes in those games.
It's not as if that four game stretch was a bump in the road either.  There have been numerous largely forgettable moments for Smith.
Despite having played in just 31 career games (29 starts), Smith has managed a staggering 43 turnovers while producing just 34 scores (27 passing, 7 rushing), another number the Jets brass is keenly aware of.
In those 31 games, Smith has led the Jets offense to fewer than 21 points on 19 occasions, or 61% of the time.  Don't think for one second that Ryan Fitzpatrick's agents don't know that Gang Green posted 21 points or more in 10 of the 15 games that Fitzpatrick played from wire to wire last season, a 66% clip.
If the Jets defense can be the dominant unit many expect it to be, any game that sees them post 21 points should give them every chance to come away with a win.
Having missed most of the Jets match-up against the Oakland Raiders last season, Fitzpatrick played just 15 full games.  In those fifteen games, he threw 3 or more touchdowns three times, or one more time than Smith has manged to in 29 pro starts.  Even in looking for games in which each quarterback threw for more than 1 touchdown, a relatively modest feat in today's NFL, Fitzpatrick pulled that off 12 times  in his fifteen starts last season.  Smith has thrown 2 or more touchdown passes just six times in his 31 appearances.
Despite the fact that Smith is the more physically gifted of the two, his lack of production up to this point doesn't represent just Fitzpatrick vs. Geno to the Jets front office, but "hope vs expectations".
In Smith, Fitzpatrick's camp knows the Jets have so little on-field production to go on, that the number one thing the front office can hang their collective hat on his hope.
They can hope he's matured enough to the point that they can move on and forget about last season's ugly incident with teammate IK Enemkpali that saw Smith get his jaw broken over a disagreement regarding a $600 loan.
They can hope that he has the support of his teammates, an unlikely hope at this point with two of his key receivers opting not to attend OTA's.  Of course anyone who is asked will support Smith publicly, but what player comes out and tells the media he has no faith in his quarterback?
In each of his first two pro seasons, the Jets saw Smith show what they believed to be signs of growth as he combined for 10 touchdowns and 4 interceptions in each of the two season's final four games.  They can only hope…really hope, that the 15 TD's to 30 interceptions he threw in the weeks preceding those performances were just a fluke.
They can hope that opponents will no longer be "bummed out" when Smith exits a game, as they said they were when he threw 3 interceptions against the Buffalo Bills on just 8 pass attempts two seasons ago when he was "staring down his receivers" according to Bills players.
Hard to argue with that based on the results, and this was in NFL game number 24 for Smith.  Some will undoubtedly point to Smith's lack of options on offense which sadly has nothing to do with scanning the field and looking off a defender before letting it fly.  One more thing the Jets can hope he's no longer doing.
In Fitzpatrick, it's fair to say the Jets shouldn't expect to make the post-season, but that is of course, a team accomplishment, albeit one that is impacted by the quarterback more than any other player.  As far as individual achievements go, he's a much better option than Smith, and his asking price shows it.
With the track record Fitzpatrick has established on the field in recent years, the Jets can expect more touchdowns than interceptions as he had a better than 2/1 ratio last year at 31-15, and 133-89 in the past six seasons, never throwing more INT's than TD's.
They can expect him to complete 60% or more of his passes, even coming up a handful completions short of that number last season when he came in at 59.61%.  That being an aberration as Fitzpatrick has connected on 60% or better in each of the four seasons leading up to last year.
The Jets can also expect Fitzpatrick to lead and galvanize the locker room, and let's be honest, as an unsigned free agent, he is still viewed favorably enough by his teammates that they're willing to sit at home to support him.
Most importantly however, is that the Jets can expect Fitzpatrick to set an example for their young quarterbacks to follow in terms of work ethic and preparation.
He is far from the long-term solution on this team and everyone knows that.  However, he's a pro's pro and a respected leader in the locker room.  With three young quarterbacks on the roster who need mentoring, Fitz is the perfect option for the Jets.  Even thought nobody knows which of the three will lead this team down the road, the Jets are clearly placing a value on Fitzpatrick's presence over Smith's.  See, there's more of that leverage again.
Whether it's Fitz vs. Geno or hope vs expectations, it's primarily Smith's poor track record that gives Fitzpatrick the leverage he needs in asking for the money he wants.  Otherwise, the Jets could simply walk away, pay Smith his $1.7 million, and save a lump of cash that they wouldn't be spending on Fitzpatrick.  Even if that does end up happening in the end, it's clear as day that it's not the scenario the Jets favor, otherwise they would have taken that option months ago.
"In reality, hope is the worst of all evils, because it prolongs the torments of a man"
–Friedrich Nietzsche
Here's to hoping the torment for the Jets and their fans will come to an end sooner rather than later.
Videos
Aaron Rodgers Injury Fallout & Jets/Bills Recap