Featured Editorials Home Slider NY Jets Training Camp
Minicamp Preview: Questions to be Answered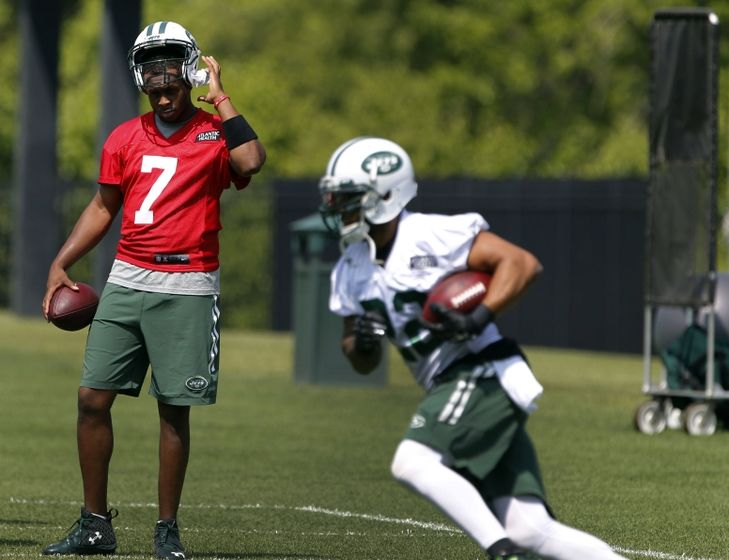 The first week of OTAs have wrapped up, and week two is now underway. With minicamp on the horizon we take a look at some story lines developing or coming to a head. OTAs will continue until June 9th, then from June 14-16 the Jets will hold their minicamp. Unlike OTAs, minicamp is mandatory for all players on the roster. Here are some interesting developments as we look forward to minicamp:
The Fitzpatrick Dilemma
This is by far the most talked about subject as the Jets move further into their offseason program. Recently more details about the current contract offer from the Jets to Fitzpatrick became public. According to reports from the NY Post and NFL insider Ian Rapoport, The Jets' current offer to Ryan Fitzpatrick is a three-year $24 million deal with incentives to reach a three-year $36 million deal.
While #Jets have OTAs, this offer waits for Ryan Fitzpatrick: 3 yrs, $24M that can be $36M with incentives. $12M in yr 1. More than $15M gtd

— Ian Rapoport (@RapSheet) May 31, 2016
By now everyone knows that the Jets hold most of the leverage in the situation with there being virtually no market for Fitzpatrick. Fitzpatrick needs the Jets, and the Jets need Fitzpatrick. It's been said over and over again, yet here we are. It's reported that this offer has been on the table for months, and hasn't been altered. That's not good news for anyone hoping that a deal will be done before minicamp. There have even been recent rumblings that Fitzpatrick could forgo signing with the Jets altogether. Manish Mehta of NY Daily News reported that some players believe Fitzpatrick would take less to play elsewhere in order to spite the Jets.
Sources: Some @NYJets believe Ryan Fitzpatrick could sign elsewhere on principle. Story: https://t.co/nHXgL2iy5R pic.twitter.com/9sRAZeFchL

— Manish Mehta (@MMehtaNYDN) May 31, 2016
It appears that the situation is starting to take a turn for the worse if the report is true. Meanwhile, Geno Smith is receiving first team reps at OTAs. According to those in attendance at the OTAs so far Smith has looked on point, but is still showing immaturity with how he's handled the media. If rumors of Fitzpatrick's discontent continue and no agreement is reached by minicamp, the possibility of Geno Smith reclaiming the starting job could begin to look like a reality. Many people forget that Smith began last year's training camp as the starter and was outplaying Fitzpatrick statistically. Smith was being praised by most of the media outlets, and looked to have locked up the job until the locker room incident.
How Will Todd Bowles Incorporate the Rookies?
The Jets added seven players through the draft. A few of them will likely sit out their first year, or be restricted to special teams. Over the next few weeks, and particularly in training camp, we will see how Todd Bowles plans to incorporate his rookies. It's likely that Christian Hackenberg (QB), Juston Burris (CB), and Brandon Shell (OT) will see limited to no action this season. On the other hand, Darron Lee (ILB), Jordan Jenkins (OLB), Charone Peake (WR), and Lac Edwards (P) will all have opportunities to get significant playing time, or even a chance to start.
Naturally, all eyes will be on first-round pick Darron Lee this offseason seeing as it's highly unlikely that Christian Hackenberg will get a starting opportunity. Lee is the only player from the Jets' draft class whom remains unsigned. Lee played outside linebacker in college, although Todd Bowles has stated Lee will play inside. Bowles did say that they will move Lee around the field, and he will have an opportunity to play outside a bit as well. One of the more interesting developments this offseason will be how much they actually do move Lee around the field. Coming out of college Lee was compared to Arizona Cardinals' safety Deone Bucannon, who is a safety/linebacker hybrid. With an eye-popping 4.47 40-yard dash, Lee certainly has the ability to rush the passer as well as drop into coverage.
How Do the Newcomers Fit in?
Just like the rookies, it will be interesting to see how the Jets' free agent signings are integrated into the team. Unlike last offseason when the Jets had money to throw around, they were more conservative in free agency this time around. The only 'splash' moves the Jets made were bringing in Matt Forte after Chris Ivory left for the Jacksonville Jaguars and trading for left tackle Ryan Clady. Both moves were reactionary, and both players will have pressure on them to live up to the players they're stepping in for.
The Jets potentially upgraded their backfield with the signing of Matt Forte. Unlike the Jets' former premier running back, Forte is just as dangerous catching the football as he is running it. Throughout his eight-season career, Forte has over 8,000 rushing yards, and over 4,000 yards receiving. The only knock on Forte is his age, at 30 Forte is entering the twilight of his career. Forte already has over 2,000 rushing attempts on his treads. Forte isn't short on confidence though, stating he hopes to capture the rushing title as Curtis Martin did at age 31. The Jets would likely be satisfied with something similar to the two-year stint LaDainian Tomlinson had with them during their back-to-back AFC Championship runs.
Roll Call
It was well documented that both Jets' star wide receivers Brandon Marshall and Eric Decker missed the first three days of OTAs. It has been speculated, but not confirmed, that both wide receivers skipped the first three days in protest for free agent quarterback Ryan Fitzpatrick. Decker and Marshall were both spotted at team facilities on Monday for the beginning of week two of OTAs. It's highly unlikely but possible that the wide receiver duo, who developed good chemistry with Fitzpatrick, could stage a mini-holdout if the negotiations with Fitzpatrick turn south. The other player to watch is Muhammad Wilkerson. Wilkerson hasn't signed his franchise tender, and wants a long-term deal. It's very likely Wilkerson won't be at minicamp, and possibly training camp depending on how his contract situation plays out. Other players such as Darrelle Revis, Sheldon Richardson, and Nick Mangold missed a day or two for OTAs, but will be in attendance for the mandatory minicamp.
OTAs will run until June 9th, then the Jets will break with a minicamp and reconvene in late July for the beginning of training camp. The dates for training camp haven't been announced yet, but last season the Jets began camp on July 30th. Some questions will be answered throughout OTAs and minicamp, but the real answers come in July and August when teams are gearing up for the season.
Videos
New York Jets OTA Presser Takeaways, Aaron Rodgers' Impact and Summer Delusion