Featured Editorials Home Slider
Jets Options to Get O-line Right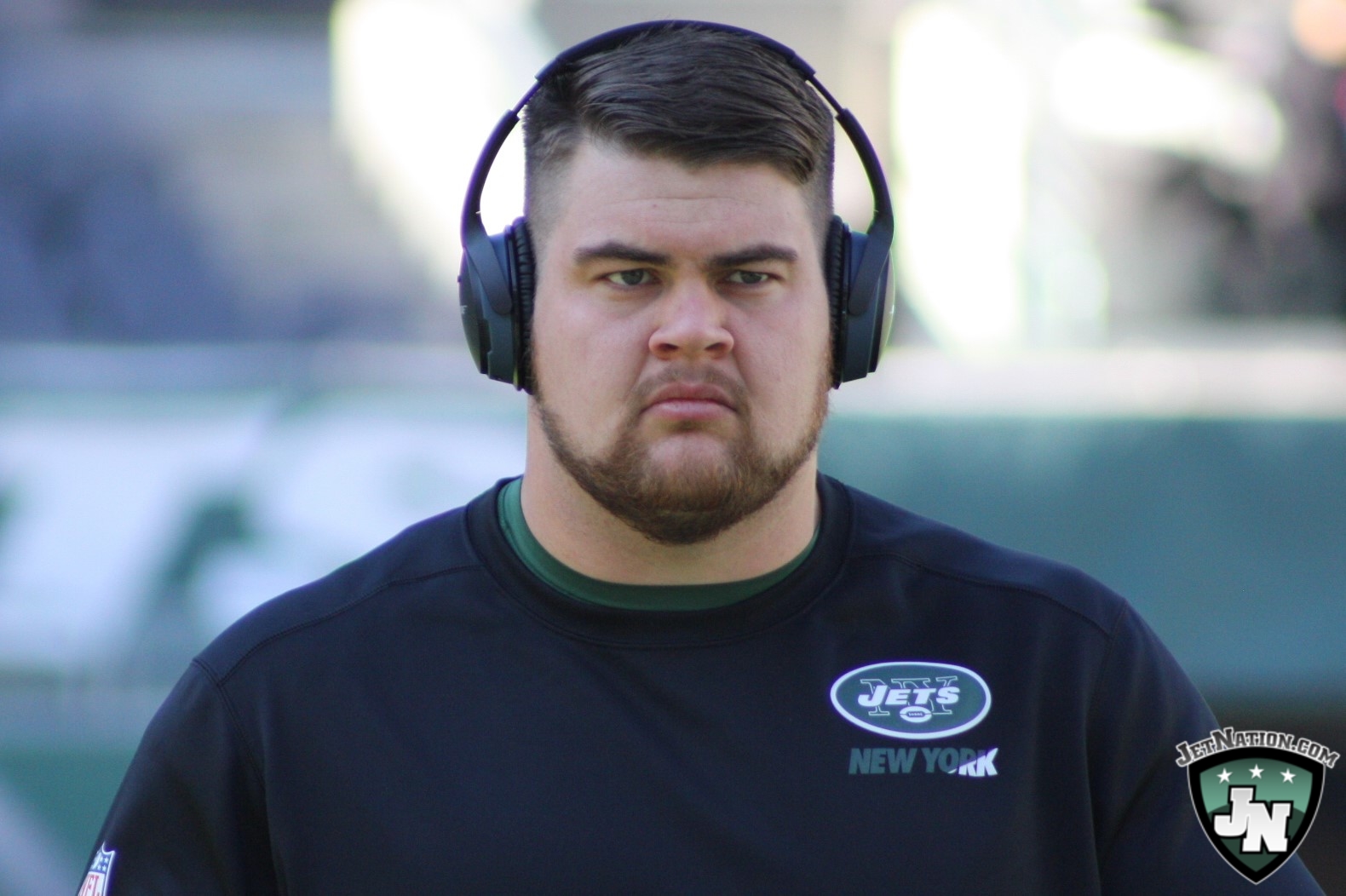 By Glenn Naughton
The Jets roster, as currently constructed, doesn't appear to have many spots that could allow a surprise back-up to steal a job away from an anticipated starter, but that could all change in time, especially along the offensive line.  More specifically, the right side of  the offensive line.
If healthy, Ryan Clady will start at left tackle with James Carpenter holding down the left guard spot and Nick Mangold at home taking care of the center position.  Right guard and right tackle however, aren't quite as cemented as Brian Winters and Breno Giacomini could be replaced for different reasons.  Winters because of a logjam of young players at guard, and Giacomini's situation could come down to dollars and cents.
Should the Jets eventually come to terms with free agent quarterback Ryan Fitzpatrick at or around the rumored $12 million price tag he would come with, Mike Maccagnan will be forced to free up over $10 million in salary cap space, and Giacomini appears to be the low hanging fruit.  An inconsistent presence at right tackle, Giacomini's release would free up $5 million in cap space according to overthecap.com.
Winters started ten games in place of the injured Willie Colon at right guard and was much a much improved version of the player he had been in each of the two previous seasons.  After struggling (especially in pass protection) in seasons one and two, Winters was solid in 2015, while turning in a pair of respectable performances against Ndamukong Suh of the Miami Dolphins.
However, with the Jets having several young players who have experience playing the guard position, Winters could find himself in a dogfight to stay in the starting lineup.  Should Winters and/or Giacomini find themselves out of the job in 2016, here are a few names who could claim their spots.
OG Jarvis Harrison-   A fifth round pick out of Texas A&M last season, Harrison is believed to be a highly talented young player who dominated in college but he fell to the fifth round due to concerns regarding his work ethic.  Things didn't bode well for Harrison as a rookie as he not only failed to get on the field, but also saw himself demoted to the practice squad late in the season.  Not what you might expect from a player of his stature if he had made progress in dispelling those concerns over his attitude.  Even still, Harrison has the tools to play in the league and will likely be given every opportunity to become a steal for the Jets moving forward.  Playing LG and LT in college, Harrison could be a candidate to get some reps at RT at some point as well.
OG/OT Craig Watts-  Watts is a player most Jets fans are unfamiliar with as he was signed to a futures contract after the end of last season.  A former San Diego Charger, Watts has yet to play a regular season NFL down, but don't let that fool you.  Watts dominated lower level competition at West Texas A&M where he played over 650 snaps as a senior without yielding a single sack.  Having never played football before his junior year in High School, Watts is raw and will need some seasoning, but he's had some of that with the Chargers.  San Diego took an extensive look at Watts at both RT and LG where on film, he flashed the ability to hold  his own at the point of attack once locked on, especially in short yardage situations, but he did struggle at times against bull-rushers and in space.  At 6′ 3", 335 pounds, Watts has the prerequisite size to mix it up in the trenches, and if the Jets can iron out the kinks in his game, don't be shocked if he finds his way on to the field as a starter or at least a jumbo package lineman.
OG/C Dakota Dozier- At this point, the Jets might be doing Dozier a disservice by asking him to move yet again.  Drafted out of Furman University where he played offensive tackle, Dozier was converted to guard as a rookie before Todd Bowles and company moved him even further inside as Nick Mangold's backup at center.  Oddly enough, when Mangold went down with an injury last season, the Jets promoted Wesley Johnson from the practice squad and opted to start him over Dozier.  It was somewhat of an odd move for Dozier, but in all reality, it shows that the Jets see something in him they're willing to work with.  To keep a developmental player on the roster despite being hesitant to use them on game day shows that there is, or at least there was, a belief that he'll eventually turn in to a serviceable player.  With undrafted rookie free agent Kyle Friend coming to camp, Dozier may find himself competing at guard once again.
OT Brent Qvale- An undrafted free agent holdover from the Rex Ryan/John Idzik era, Qvale did enough to impress the Jets current regime to the point that they kept him on the 53-man roster while getting him on the field sporadically as a swing tackle.  A former guard and tackle out of the University of Nebraska, Qvale would be the early favorite to win the RT job should Giacomini get his walking papers.  Head Coach Todd Bowles was asked about Qvale earlier this off-season and expressed a willingness to give Qvale a shot at either tackle spot if necessary.  Now, how much credence you give to a coach's presser in the middle of the off-season?  That's up to you.
OT Brandon Shell- A rookie out of South Carolina, the Jets liked Shell enough to give up their 4th round pick in next year's draft in order to grab  a fifth-round pick in this year's draft, so that they could choose Shell.  It's highly unlikely Shell would win a job out of camp given some of his struggles at South Carolina, but any time a regime moves up to grab a player in a spot that may be vacated sooner rather than later, you can't help but wonder if the Shell pick was made with the eventual departure of Giacomini in mind.
So come opening week, when the Jets take on the Cincinnati Bengals at MetLife stadium, it could be the first of many business as usual weeks, with Winters and Giacomini manning the right side of the Jets line, or there could be some newer, younger faces tasked with opening holes and protecting quarterbacks for both the near and distant future.
Videos
New York Jets OTA Presser Takeaways, Aaron Rodgers' Impact and Summer Delusion