Featured Editorials Home Slider
Jets' Khiry Robinson, Craig Watts Look to go from Small School to big time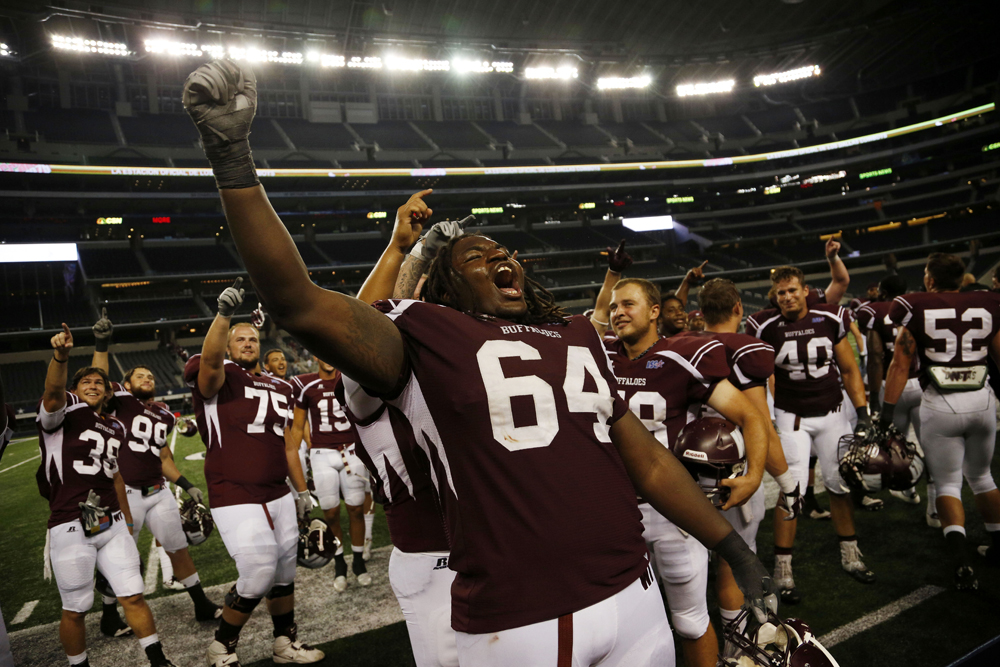 By Glenn Naughton
All 32 NFL teams are currently able to carry up to 90 players on their expanded rosters, meaning roughly 2,800 spots are filled as of this moment. Of those players, just 9 played their college football at Division II West Texas A&M, or .003%, with two of those nine residing at 1 Jets Drive in Florham Park.
A pair of off-season additions, former Saints running back Khiry Robinson signed as a free agent and ex-Chargers offensive lineman Craig Watts came on board when the Jets signed him to a future/reserve contract following a workout with the team in January. Robinson is the more established of the two, but Watts could turn out to be an under-the-radar addition who surprises some Jets fans.
Having been buried on the Saints depth chart, Robinson has seen action in just 28 pro games (3 starts) and performed well, averaging 4.1 yards per carry on 186 attempts while Watts has only seen reps in a handful of pre-season tilts while with the Chargers.
With limited game film available but wanting to learn more about the pair, JetNation.com reached out to West Texas A&M Buffaloes head coach Mike Nesbitt, who has spent each of the past three seasons helping carry on a winning tradition in Canyon, Texas.
In 2014,  the Buffaloes finished with a winning record for the tenth consecutive season, just one year after an 11-3 campaign that earned them their second straight NCAA playoff berth, the seventh in school history.
Below is a transcript of our interview with Coach Nesbitt regarding the two current New York Jets:
Glenn Naughton: Coach Nesbitt, first of all I'd like to thank you for taking the time to speak with JetNation.com.
Mike Nesbitt: My pleasure, Glenn.
GN: Craig Watts is a player you know well from his time with West Texas A&M and he's not very well known to Jets fans.  Could you start off by giving us a general overview on the type of person and player he is in terms of character and work ethic?
MN: Super character and a fantastic person with great work ethic.  We always thought Craig could make it once he hit his stride.  He's a guy who was a late bloomer because once he was away from here, he really blossomed and he grew up a little bit.  Now he fits the mold of a guard or center.  He's got great work ethic, great temperament, fantastic team guy who will definitely make your team better just by having that type of guy who can play multiple spots.  He's very intelligent and was a fantastic student here who will spend that extra time in the film room to put in extra work.  It's no surprise that he got picked up by the Jets after sticking with the Chargers for a while and I think he's got a very high ceiling.
GN: He is a guy who the Jets likely saw something in because they gave him a $20,000 signing bonus which isn't very common for players given future/reserve contracts.  I think the thing you mentioned, his versatility, gives him added value.  In going back to watch his game film with the Chargers, they worked him extensively at both left guard and right tackle.  As you might expect, he did some things well and he had some things he would need to clean up, but the thing that makes him interesting to me is the fact that he was a late starter and didn't pick up football until his Junior year in high school, so to have come this far so quickly is very impressive.  As somebody who has worked with him up close, what would you say are some of his strengths and weaknesses?
MN: I think he's not just an in-line blocker.  If you get him on the perimeter he'd be a good zone guy who's great on screens, fantastic in open space with excellent feet.  Just putting him on the edge out there where he has to get to the second level, it fits for the type of guys he'll have to play against in the NFL.  He's just got really good athleticism, so that's not an issue.  He's got a good body type who can match up well against those big 3-techniques, and to me he has the power to play on the interior and he can really, really run.  I think the toughest thing for him is going to be that his length and reach aren't ideal, but he's a super talented guy who played with another one of the Jets' players at tailback, Khiry Robinson.
GN: Yes, Khiry is a guy who is interesting to a lot of Jets fans because of the similarities between  him and Chris Ivory.  They're both from Texas, both physical backs who played for the Saints and ended up with the Jets after being buried on that depth chart in New Orleans.
MN: Khiry is a fantastic player, complete back and a powerful kid, a true NFL tailback all the way.  Super runner inside the tackles and has super speed.  You guys got two really good football players from WT.
GN: With Matt Forte and Bilal Powell in the Jets backfield, we know that they can catch the ball out of the backfield.  Is Khiry a guy who has reliable hands in passing game?
MN: Absolutely.  He did a really nice job of catching the ball out of the backfield here for us and the thing with him is that he actually played a little defensive back in junior college so he's got some really good athleticism and some really good skills.  He has the body type and that downhill power/finesse game that you guys will really like.  He played well in New Orleans too, so it's not like he hasn't shown he can play in the NFL.
GN: Coach, thanks so much for taking a few minutes out of your day to talk about a couple of your former pupils catching on with the Jets and continued success in 2016.
MN: Okay Glenn.  Thanks a lot.
Once again, JetNation.com would like to thank coach Nesbitt for his time and insight.
Videos
Aaron Rodgers Injury Fallout & Jets/Bills Recap