Featured Editorials Home Slider
Dynamic Duo: Can Marshall and Decker Repeat?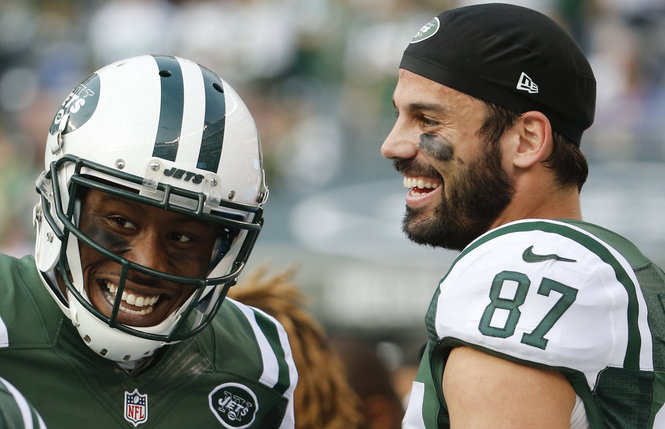 Can Brandon Marshall and Eric Decker Live up to the Hype?
Not since the likes of Keyshawn Johnson and Wayne Chrebet have Jets fans had a pair of receivers as explosive and exciting as Brandon Marshall and Eric Decker. Marshall and Decker were the first Jets wide receiver duo to both hit the 1,000 yard mark since 1998. They had opposing defenses spinning and if you like that you should check out this offer 100 no deposit free spins. The last two were none other than Johnson and Chrebet. Last season Brandon Marshall broke all types of Jets' single-season records including: receiving yards (1,502), catches (109), and 100-yard games (10). He also tied the team record for touchdowns (14). While Marshall broke team records, Decker had an impressive season with 80 catches for 1,027 yards and 12 touchdowns. The tandem combined for 189 catches, 2,529 yards, and 26 touchdowns in 2015. Their league-leading season solidified their spot as one of the top wide receiver duos in the league. The question now is can they do it again?
As of right now, and possibly as training camp rolls around, Marshall and Decker will have Geno Smith throwing them the football. Many fans see Smith as a significant downgrade from Fitzpatrick, but that might not be the case. Smith definitely has the upper hand in the arm strength category, and many forget that Smith was actually outplaying Fitzpatrick in last year's training camp. It could also be argued that Smith never really had an adequate supporting cast around him. For a good portion of his rookie season Jeremy Kerley and Stephen Hill were the top targets. To be fair to Fitzpatrick though, he did set records for the Jets last season too. Fitzpatrick set the record for most touchdown passes by a Jets quarterback with 31. Fitzpatrick has also developed good chemistry with Marshall and Decker which is important for things like timing, and trust. Even with Fitzpatrick back in the building, he only has so many years left to be the guy. If Geno Smith does get the nod, it will be interesting to see what he can do with a vastly improved receiving group. Either way, the quarterback situation will play a significant part in whether or not the dynamic duo can duplicate such a productive season.
The addition of seasoned running back Matt Forte will provide another dimension for the offense this season. Forte has reached both 1,339 yards rushing and 808 yards receiving for his season highs. Unlike his predecessor, Chris Ivory, Forte is just as dangerous catching the ball out of the backfield as he is running it. Forte also spent many years playing with Brandon Marshall in Chicago. Having Forte will help free up Marshall and Decker, but at the same time could eat away at their potential receptions. Another factor could be age. Marshall is 32 years old, and while he had a great season last year he could start to decline over the next couple of years. Or he could hold off father time a little bit longer and continue to play at a top-tier level. Decker on the other hand, will be looking to eventually emerge into the number one wide receiver spot once Marshall begins to decline. All things considered, Jets fans will be hoping the duo have yet to hit their peak. They'll get their first glimpse July 27th once training camp begins.
Videos
Aaron Rodgers Injury Fallout & Jets/Bills Recap