Featured Editorials Home Slider
Taiwan Jones, the Hitman's Heir Apparent?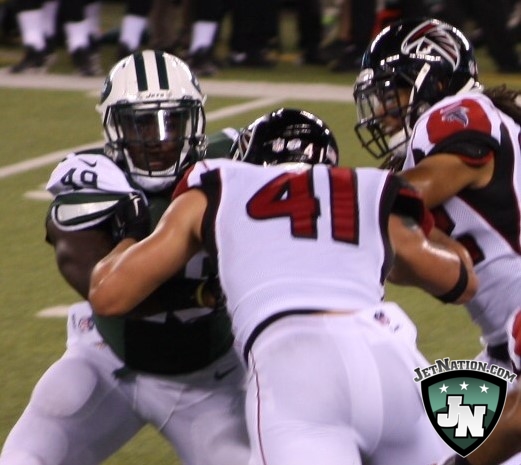 By Glenn Naughton
New York Jets inside linebacker David Harris is preparing to enter his 10th pro season with the only team he's ever known.  A second round pick (47th overall) for Gang Green in the 2007 draft, Harris has amassed over 1,000 career tackles in a career that has seen him start every Jets game since 2009.
With so much wear and tear on the tread, Jets fans can't help but wonder how much longer he'll be making the calls in the middle of the defense while simultaneously peeking at the Jets roster for his possible replacement.
It could be that his replacement is still a sophomore or junior in college.  It's also possible that it's a younger player being groomed for the role even sooner than that.  If so, the logical name wold be Taiwan Jones.
An undrafted free agent out of Michigan State, Jones spent the majority of last season on the Jets practice squad before being added to the 53-man roster later in the season.  He didn't see much playing time, but judging by how the Jets have addressed the position since last season, Jones may get the first crack at replacing Harris.
Yes, the Jets did use their 2016 first-round pick on an inside linebacker when they chose Ohio State product Darron Lee, but the athletic Lee will likely be deployed in a multitude of roles as his size (6′ 1" 232) prevents him from replacing Harris who is the "thumper"  in the Jets' front-seven.
As productive as Jones was at Michigan State  (183 tackles, 25.5 TFL, 5.5 sacks), it was likely stunted by having him switch from outside linebacker to inside linebacker where his weight fluctuated along with his assignments.  Even still, NFL.com had jones pegged as a mid-to-late round pick but his name wasn't called during the draft, so the Jets inked him almost immediately after.
In significant pre-season action, Jones was one of the team's top tacklers including this big hit against the Philadelphia Eagles at MetLife Stadium.
Significantly bigger than Lee the 6′ 3" 252 lbs, Jones welcomes the opportunity to blow up offensive lineman and does a solid job of shedding blocks to get to the ball carrier.
He'll have another pre-season to put those traits on display to further his opportunities with the Jets because Harris, like every player before him, can't keep going forever.  Eventually, somebody is going to have to fill his shoes one day.  With a bit of good fortune, Jones will be that somebody.
Videos
Aaron Rodgers Injury Fallout & Jets/Bills Recap