Home Slider NY Jets Training Camp
Pair of Undrafted Free Agents Flash Early in Jets Camp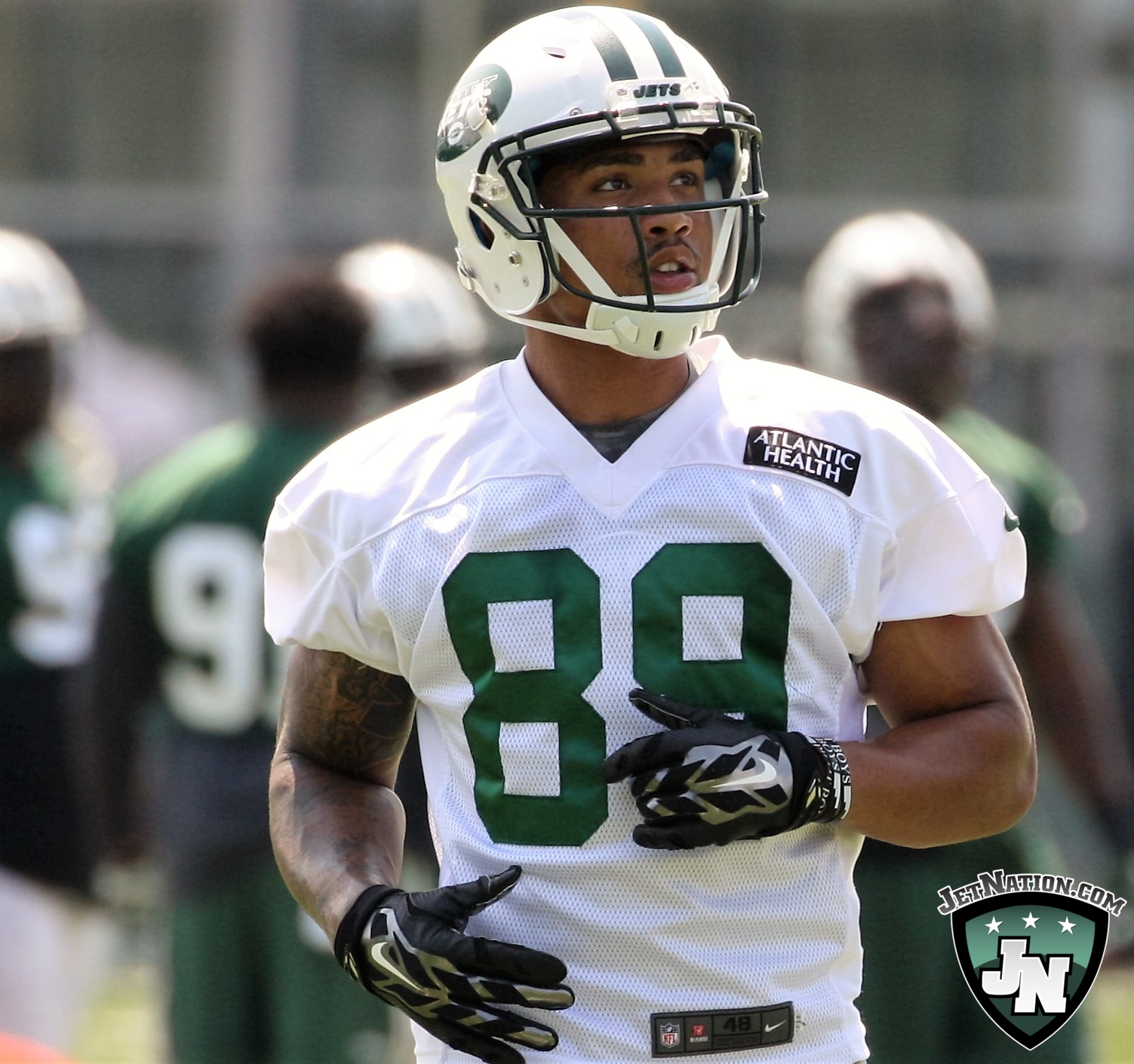 By Glenn Naughton
With New York Jets camp opening up two days ago in Florham Park, the majority of media attention has been focused on the quarterbacks as the newly re-signed Ryan Fitzpatrick slid right back in to his number one spot on the depth chart with Geno Smith, Bryce Petty and Christian Hackenberg rounding out the group.
Just because all eyes were on the QB's doesn't mean that's where all the plays were being made.  As a matter of fact, a couple of undrafted free agents hoping to find a way to stick on the 53-man roster, made some plays the drew praise from fans and coaches alike.
Leading the way was Ohio State Wide Receiver Jalin Marshall who has made one spectacular catch after another.  Whether it's been on a high pass over the middle that has seen him elevate above surrounding defenders to come down with it, or a jump ball along the sidelines that Marshall has been able to pivot and high-point to snatch out of the air, he's been the name most frequently mentioned by onlookers.
Any time you're dealing with a player from a major college powerhouse such as the Buckeyes, you always have to wonder what kind of players are buried behind a slew of talented players at the same position who may have pro-level ability.  As early as it is, it looks like Marshall may fit that description.
In just two seasons at Ohio State, Marshall was buried behind a loaded group that consisted of a pair of second-round picks that included current Jets receiver Devin Smith and New Orleans Saints 2015 second round choice, Michael Thomas.  Also on that offense was first-round choice, running back Ezekiel Elliott, who was another lethal target out of the backfield.   Even still, Marshall managed to haul in 74 receptions for 976 yards and 11 touchdowns in two seasons.  Now with Marshall, who also returned kicks and punts in college, in the fold, the Jets will look to benefit from his decision to leave school after just one season.
Another player who has had his share of moments in the early going is North Carolina running back Romar Morris.
The 5′ 9", 190 lb Morris wasn't present at the NFL combine, but reportedly blazed a 4.36 40 time at his pro day, and his college play suggests he has no problem playing at that speed.
Morris was another player who was stuck behind a future NFL talent at North Carolina as current Bengals running back Gio Bernard, who ran for over 2,4oo yards during his two seasons as a Tarheel made it difficult for Morris to get significant carries.
Bernard's departure would have likely meant more playing time for Morris if not for the fact head coach Larry Fedora shifted his offensive philosophy, allowing his quarterbacks to rack up the majority of his team's carries while Morris served as a situational runner and special teams standout.
Even still, Morris made the most of what little playing time he had, averaging 4.8 yards per carry during his four seasons at North Carolina, carrying the ball 213 times for 1,024 yards and 12 touchdowns.  In the right offense, Morris has the ability to make plays out of the backfield not only as a runner, but as a receiver.
In what was one of his best collegiate performances,  Morris torched a Louisville defense that consisted of current New York Jets Calvin Pryor and Lorenzo Mauldin.  Against the 19th ranked Cardinals, Morris had just five receptions, but still piled up a whopping 149 yards and a pair of touchdowns through the air.
After watching Morris over the course of the past two days, it's hard not to be reminded of former Jet Leon Washington who carved out quite a role for himself with Gang Green before moving on after suffering a major leg injury in 2009.
After one of his first carries on day one, a play that had Morris dart up the middle between defenders, fans and members of the media quickly glanced down at their player rosters, clearly wondering who it was.  Then there was a 40 yard run for Morris yesterday that didn't mean much as there were no pads or tackling, but Morris took the time to show off his speed as he hit fifth-gear going down the sideline.   It was difficult not to imagine what a player with that skill set could do for the Jets in the open field.
While Morris hasn't been perfect (he had a ball stripped free by Dee Milliner following a catch and run yesterday), he has shown some of the traits that led to the Jets picking him up for a look-see this summer.  The Jets have a crowded backfield, but Morris played a big role on special teams for the Tar Heels as both a kick returner and punt team blocker.  The Jets were also said to be intrigued by Morris' ability to cover kicks as a gunner in the future, so he's far from a one-trick pony.
With their stated goal of getting younger and faster this off-season, early as it may be, the Jets have to be happy with their decision to have Morris and Anderson flashing some impressive skills right out of the gate.
Videos
Aaron Rodgers Injury Fallout & Jets/Bills Recap