Home Slider NY Jets Training Camp
Petty's Performance Highlights Jets Thursday Camp Session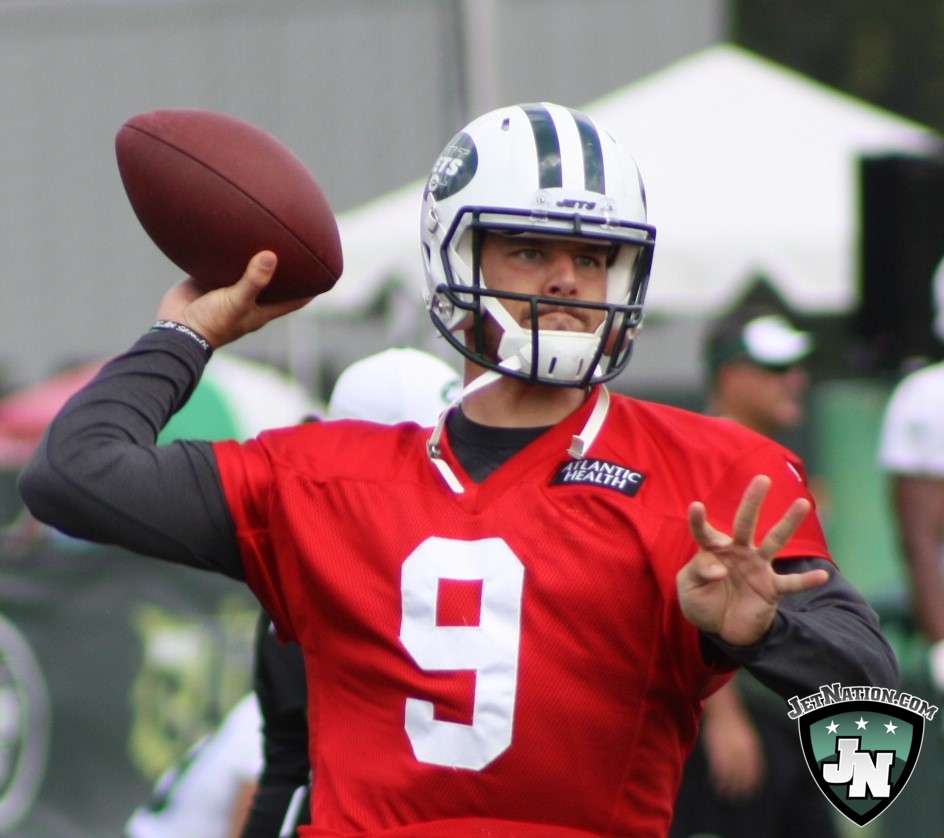 By Glenn Naughton
Following several days of practice in full pads, the Jets were back in shells for Thursday's session which was essentially treated as an off-day for some of the team's elder statesmen.  Ryan Fitzpatrick, Brandon Marshall, Eric Decker and David Harris, to name a few, did little more than stretch with the team.
The most encouraging part of the session was the overall performance of second-year quarterback Bryce Petty who came on strong after a slow start.  After misfiring on his first several attempts, sometimes by a sizable margin, Petty settled down and made some of his best throws of the team's early camp.
One of Petty's first better throws came on this pass down the right sideline to rookie receiver Charone Peake who also made what was his best play of camp this far, hauling in the pass with an impressive one-handed grab.  Later in the day, Petty led the offense during red zone drills and fired a 19-yard laser for a touchdown to wide receiver Titus Davis.
One good performance may end up meaning very little in the grand scheme of things, but just one day after failing to complete a single pass on seven attempts, Jets fans are surely hoping today was a turning point of sorts for the former Baylor product.
First-round draft choice Darron Lee also opened some eyes with some rather physical play given the fact that players weren't in full pads.  At one point, there was a near-confrontation between the offense and the defense when Lee didn't hold back against Dominique Williams and Romar Morris.  Lee may have a friendly demeanor off the field, but his on-field mentality is the complete opposite.  Lee almost always looks angry once the helmet goes on, and today he played like it.
Petty wasn't the only quarterback who flashed some big plays.  Back-up quarterback Geno Smith audibled from a pass play to a quarterback draw, a decision that paid off as he shot up the middle untouched on what would have likely been a long TD run.
On the undrafted rookie front, Jalin Marshall had a few more drops than we've seen from him up to now, but he followed up one drop by hauling in Geno Smith's best pass of the day, a bomb down the right sideline over Juston Burris in coverage for what would have been an 80-yard score.
Geno drops a bomb over Juston Burris to Jalin Marshall for a "TD"

— JetNation.com (@JetNation) August 4, 2016
Burris wasn't quite as solid today as he had been through previous sessions as he allowed several catches, but we still spotted him breaking up his share of passes, continuing to show excellent timing and aggressiveness.
After what was a rough day trying to hang on to the football through the air as he had multiple drops, running back Romar Morris finished strong when he pulled in a short pass from Petty over the middle and took it 60 yards to finish the session on a positive note.
The  team will be out on the field once again tomorrow at 1:50.
Videos
Aaron Rodgers Injury Fallout & Jets/Bills Recap